06 February 2008
McCain for Republican, Hillary and Obama still dead heat for Democrats.
I think this is going to be very interesting election.
I don't think Republican candidate would win because of the war in Iraq. In fact, Mr. McCain is too old, I think. He is over 70. Can he do 2 terms?
So the point is who is going to be Democrats candidate?
The first woman president or first Black president?
I am afraid to say Hillary is not fitted to a new president. Not because she is a woman because she seemed to be too much influenced by her husband, the former president of the U.S.
Yes, she is smart and independent and worked as a senator. But because she was a first lady, she does not seem to be a self-made politician. She also seem to be hysteria and too strict. Cannot find the open-minded motherhood.
Obama is a great candidate. I don't know if he is really qualified for the presidential candidate.
But if he is elected, this is going to be a great revolution for the U.S. It can change the image of the U.S. No one calls your country "white-dominated racist society" which I did. It can drastically improve deteriorated image of the U.S. caused by the war in Iraq.
As far as I've seen the recent Hollywood films, Americans wish to have a Black candidate like the one in "Deep Impact" and FOX's real-time drama series "24."
But I just don't care, it is up to you to decide.
My country is not presidential system. The parliament members choose the leader of the nation. The head of the ruling party becomes the prime minister. I think it is good system. It is like Nancy Pelosi becomes the president of the U.S. You don't have to spend too much time, money and energey to choose the leader. In fact even if you choose a quality leader, unless the parliament members get along with him or her, politics don't work out.
15 October 2007
I rented DVD of the old time TV Mini-Series "Roots." It was aired in 1977. The story is based on Alex Hailey's novel. He wrote the story of generations of his family going back to late 18th century when an African tribe boy, Kunta Kinte was born. Kunta Kinte was captured by slave merchants and transported to America.
He was sold as slave to the plantation owner. He tried to escape but in vain. Then he left an offspring. Generation after generation, a story of Kunta Kinte was succeeded to an author, Alex Hailey. Between Kunta Kinte and Hailey, the family experienced enormous oppression by American society.
More than 10 years ago, when I was a college student, I took the course titled "Black Studies." It was very interesting course, the most interesting of all I took in my college days. A Black woman was an instructor. The below is what I learned.
1. Anything what you learn outside Black Studies is white studies.
2. Whenever you type "black", you have to capitalize the first letter "B." Don't care about "white."
3. U.S. doesn't want to provide Black people good education. Even the schools are integrated, the school districts are divided by racial residential areas. In the slavery time, it was illegal to teach Blacks how to read. It is easier for whites to control Black people when Blacks are uneducated.
4. Founding fathers, George Washington, and Thomas Jefferson were hypocrats because they owned slaves.
5. Christianity is not good religion because churches supported the slavery in the South, and didn't even treat Blacks better than other people.
6. IQ tests are culturally biased towards East coast white people. That is why Black students scored less than white students. IQ tests cannot be a good tool to measure one's intelligence. When someone talks about intelligence, ask him or her what the definition of it. In fact, there is no such thing. Very ambiguous.
7. Whites may be fearful of Black people because they do not want to know they are inferior to Blacks in terms of intelligence and human body conditions.
8. According to the Cress Theory, the anscestors of whites were albinos of Africans who later migrated to Europe.
9. In the past, it was believed that first man on earth was born in Europe, not in Africa because they did not admit Africans were the anscestors of whites. Now they say whites are advanced creatures of Africans. They twisted the theory not to give up their supremacy.
Her lectures were very radical so she had been criticized even by African students in class. I did not agree with all of what she taught. But I learned very important things. I learned how to counter ridiculous things in the world, how to overcome oppressions. Everyone is biased and everything in the world is political. Nothing is neutral, even in the academics.
Thanks for Black Studies, I survived in this hell.
08 March 2005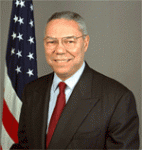 Mr. Colin Powell is one of my favorite politicians.
Although he was born in poor immigrant family, he worked hard and made brilliant accomplishments in his career, he became the first Black Secretary of State in US history. This is what the 60's movie "Guess, who's coming to dinner?" predicted.
Although, he was Republican, he was pro-choice of abortion issue, against forcible praying at public schools, against CA proposition 209 that bans affirmative action.
He was not only a great politician, but a cool war strategist, that is why he successfully led the Gulf war. That is why he was against the Iraq war.
The most memorable thing to me was the comment he made to 3 Japanese hostages captive in Iraq, April last year. They were kidnapped near Fallujah and the insurgents' demand was pullout of Japanese forces dispatched in Iraq. One of them was human aid worker. The other 2 were journalists. The human-aid worker was helping street children in Baghdad. She was on her way to meet the children.
8 days later, they were released, but at the time they were released, they became the scapegoat of hysterica of Japanese politicians and society. The hostages' travel to Iraq was very much criticized because the government released the warning of not to go there. Their respectable activities as human-aid worker and journalists were ignored.
The Prime Minister of Japan was so angry with the human aid worker's comment that she wanted to continue her activity in Iraq although she had a hard time being kidnapped. He said "How dare she could say that, many people worked hard not sleeping and eating to rescue her." The PM just gave up his duty as leader of Japanese government. Some politicians even ask them to pay the expense to rescue them.
Mr. Powell's comment was totally opposite.
"I am pleased that Japanese citizens were willing to take risk to do better thing. Japanese people should be very proud that they have citizens who are willing to do this. Very proud of soldiers in Iraq. If nobody takes the risk you can't move the world forward. You take the risk, you are captured, it is your fault. No. We still have obligation to do everything we can to recover them safely. They are the citizens and our neighbors."
He knows the duty as politician unlike our PM.
He is in fact the great human asset of dynamic American society, isn't he.
I want to receive his message as given to me "If nobody takes the risk, you can't move the world forward."
06 March 2005
Have you seen the movie "Guess who's coming to dinner?"

I saw it last week on TV. The story is one woman took her fiance to her home. Her family were rich and liberal. The problem was her fiance was Afro-American. Sidney Poitier acted as the fiance. Katherin Hepburn was mother of the woman.

Although her parents were liberal and not racist, they were shocked. They were not prejudiced against the fiance but they were worried about hardship the couple and their prospected grandchildren would face.

Finally, the parents approved their marriage. The father (acted by Spencer Tracy) said, "The worst thing is knowing what you are, knowing what you feel about each other, you didn't get married."

I liked the movie a lot. The story took place almost 40 years ago, but it seems interracial marriage is still difficult in US, especially between Black and white. When I was studying in US, 90's, it was very rare to see Black and white couple. Asian and white couples were seen so often.

I've heard prejudice against Afro-Americans does not come only from skin color difference but also historical and cultural aspects. But there are many Americans who are breaking such barriers to change the society better. I think that is one of the good things about America.

How would you react if your child or brother or sister introduces you his or her fiance who happens to have different skin color?