11 July 2010
Directed by Spike Lee. A story of Black soldiers fighting against Nazis in Italy during WW II.
Although the film wasn't well-edited but I could learn so much about WW II history in Europe, especially Italy's position in the war.
I also could learn how Black soldiers are treated in the war. They were never treated equally. Their white superior never trusted his Black comrades. Back home, they were not allowed to dine in the restaurant while enemy German POW were. They were actually treated better in the enemy line, Italy than in their home country.
Their motive of joining the war was not patriotism. They did it to better their people's social status in their home country.
The story portrays the war between Nazis and partisans in Italy. Italians were loyal to Mussolini's Fascist party which was allied with German Nazis but at the same time there was resistant movement like Partisans.
The reason that I get interested in this film is because I recently learned Italy shares the similar issue with our country in relation to the U.S. military base presence. Both of Italy and Japan are defeated nations in the war. In the city of Vicenza, Italy there is expansion plan of the U.S. military base which localies oppose just like Okinawa island in Japan. If you want to know the detail of what is happening in Okinawa, please read these articles.
The below is trailer of recently release documentary film "Standing army." Description of the article is here.
Standing Army documentary (2010) english trailer from enricox7 on Vimeo.
09 August 2009
American dolphin trainer named Ric O'Barry is taking on Japan's traditional culture.
He loves dolphins so he doesn't like Japanese dolphin hunting in Taiji, Wakayama Prefecture.
He came to the town and shoot the scenes of hunting and made documentary film.
Here comes again after whaling in Antarctica. This time within Japan's territory. It seems he and his friends think Japan is part of US territory.
I don't eat dolphin meat. But the localies hunt and eat them for centuries. That is their culture and tradition. Japanese government provides the license to them. It doesn't matter whether their hunting method is cruel or not. We, human eat animal meat in order to survive. You can see as graphic scenes as that in beef processing factories.
Well, I believe such protestants are small portion of all. When I was in the U.S., Americans I met said they don't care about cultural thing. Unless the species is endangered, they don't care who eats what. I think that is the ordinary people's response.
I was against Japan's whaling in Antarctica because it is not worth it. There is not high demand any more and it hurts Australia's tourist business. I never agree with Aussie's idea that whales are cute and intelligent mammals so we shouldn't kill. It can mean you can kill less intelligent animals? Sounds racist.
Is it white Christian ideology that once you believe one thing is good, force others to follow?
Interesting thing is in 19th century westerners came to Japan and Southern Pacific islands and criticized local gay culture as "uncivilized" from their standard. Then the gay culture declined.
Now what are westerners doing about gay issues now?
If Mr. O'Barry really cares about Japan's cute mammals lives being threatened, he should go to Nago city, Okinawa. There are many mammals that are threatened by construction of US Marine base. He doesn't even have to visit Japan, he can go to Washington first. Actually WWF sued US Defense department for that matter. He should forget the dolphins but saves dugongs. Or he wouldn't because dugongs don't do the tricks he teaches?
WWF-Japan leader calls for dugong research by halting USMC training exercises
Dear Dave: I don't buy US goods, either lately. Whaling in Antarctica or dolphin hunting in Taiji are not illegal. Internationally and domestically. Americans are exporting beef with mad cow disease to the world. They let cows eat bones of dead cows, that cause mad cow disease.
I haven't seen the movie. I want to see the movie anyway. Documentary can be biased.
30 November 2008
That was DVD of the reality program broadcasted in U.K.
Ordinary people experience early 20th century life of rich family who owns a very big country house and their servants for 3 months.
They live exactly the same style as the old days wearing the same clothes.
The gap between the family and the servants was very obvious. The servants have to work all day long without day-off.
The family never know how hard their life is. That is like working poor of present days. They had work in such terrible condition with meager pay. Not only that, in those days there was no law to prohibite such slave-like treatment. Even if servants got sick, their masters can easily lay them off.
The other interesting thing is that how the relationship of Britons and colonial Indians in those days. It was imperialist time.
Great Britain colonized India. Indians seem to have had very hard time by British imperialism. But interesting thing is some Indian people admired British Empire. Some of the parliament members were Indian at that time.
Exploring old times is really fun thing. It is like doing time-travelling.
My interests in history inspired me to write some interesting novels such as below.
I am planning to write novel which a story takes place in 1930's Germany when Nazi came into power. A young Japanese woman and a Jewish man met in Berlin. They fell in love but Nazism got in their way. What do they do?
Or I may be writing a story that takes place in 1950's America. Young Japanese Fulbright exchange student rent a room in a middle class American couple. He was treated well by them. But the couple had some problems. He tried to help them out.
Or two young Japanese men came to London in late 19th century to study very sophisticated western science and culture. One was a big admirer of Western civilization and the other was very samurai-minded man who prided himself as Japanese but at the same time he thinks he should learn great things from the West for modernization of Japan. They met a British man who was Western supremacist who looked down upon other civilizations. They had to deal with him.
Wouldn't that be interesting?
04 August 2008
On 2nd of August, I went to U.S. Navy Base in Yokosuka city, 30 kilometers from Tokyo.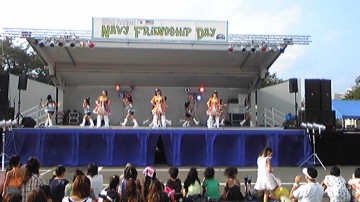 On that day, "Navy Friendship Day" festival was held there. "Friendship?" Huh? Are they our friends?
The navy is bringing very dangerous ship to the sea near our capital. That is CVN 73, George Washington.
They were providing comic books that describe life of the crews, how much they are excited to live in Japan, how much they love Japan. Such a cliche just irritated me.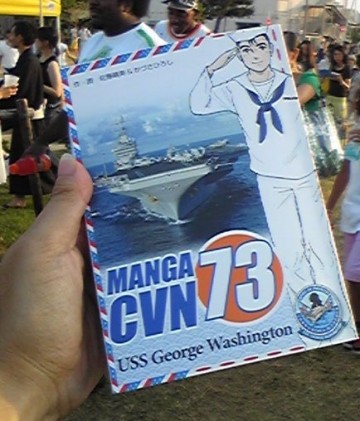 In fact the story were all fiction including the scene of the fire in laundry room. A crew extinguished the fire from a dryer immediately and prevented it from spreading.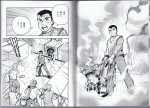 In May the CVN 73 caught a big fire on the sea near South America. The fire spread out to 80 compartments in the ship. It took 12 hours to extinguish the fire. The cause of the fire was announced 2 months later and it was from cigarette in non-smoking area. The fire was flashed off flammable fuels near it. The fuels were placed in prohibited area.
The morale of the crews was proved to be terrible. We can never rely on such crews for controlling the dangerous nuclear ship. I've already written a post about danger of nuclear aircraft carrier on this blog several times. I also posted You Tube video clip for this issue.
At night I saw fireworks lighting over the sea. It was very beautiful scene. I really enjoyed especially because I could see it lying on the football field inside the base.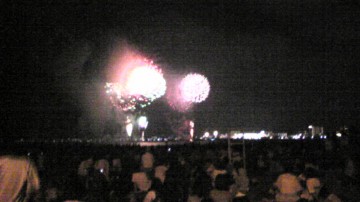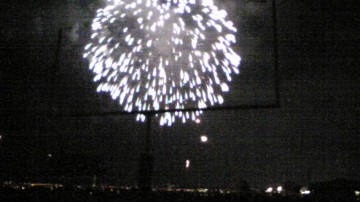 The cost of maintaining the base facilities came from our tax. If they are protecting our land, I wouldn't care. But they just use that for their purposes and threaten our lives. We don't want them around us any more.
America should change their policy. They have to care about their own people rather than people outside their country. Abondon foreign bases and go back to traditional isolationism.
Last month I saw the documentary film featuring the U.S. soldiers and their miserable lives. The title was "AMERICA BANZAI, crazy as usual." The film featured Iraq war veterans who ended up being homeless after they came back home. Young soldier who refused to go to Iraq and dishonorably discharged. I hope this would be shown in the U.S. The director of the film is Japanese.
Living as American seems so hard except being Paris Hilton.