31 January 2021
President Joe Biden and Vice-President Kamala Harris were sworn in.
That is a good news. No more Trump's stupid administration.
Biden decided that US return to Paris Accord and WHO. The Democrat President should have better policies for the world.
But will he reunite America after Jan. 6 US Capitol riot in which thousands of white supremacists stormed into US Capitol building to take over Congress to stop officially electing new president.
In fact that was the true figure of America, dominated by white supremacists. America has been that way since independence.
America is fundamentally White Christian society. That is never changed.
Because Trump was too bad for his position, people ousted him but still as many as 75 million people supported him, most votes among sitting US presidents in history. Most Republican Congressmembers and Senators opposed impeachment of Trump.
Trump actually opened Pandora's box. A big "Go back to White America" movement is already on.
When Biden was sworn in at the inauguration ceremony, he placed his hand on a bible book. It means US President must be Christian.
That is OK. I always thought America is white dominated Christian society. I condemn racism but I do not think America should try to become more diverse society accepting more of different kind of people.
That is America's choice. That is part of reason that Harvard restricted admission of Asian students by using racial quota affirmative action because the university does not want its campus dominated by Asian students.
Black Lives Matter movement is met with disagreement since it is known more Black people were shot by police officers because they tried to fight back the police more often than other people.
Racism comes with social economic inequality. If one is born in a poor family, he or she has less opportunity to have good education including social manners. That resulted in less opportunity to obtain higher income jobs.
Things are getting complicated, not easy to resolve.
Meanwhile, America will be further divided by white America and Anti-white-America movements. That division, I think would not be amendable. Which America is better to deal with?
31 December 2020
I just happened to watch the old time TV show on internet. The TV drama-series "Little House on the Prairie" was first aired in 1970's US and later dubbed version of it was aired in Japan as well.
I liked the show but it seemed the stories in the show were mostly fiction or modified for the dramatic effect.
But the very first episode seems not since I read the original novel written by Laura Ingalls Wilder and compared to the episode.
It started with Ingalls family departing from the woods and found the place to settle down. They could have owned the land by cultivating the fields in accordance with Homestead Act of late 19th century, a pioneer period.
But they had to live in a very wild environment and had to deal with native people and wild animals. They had to dig the ground to make a well for water. They had to cut trees to make logs to build the house.
In a very small house, at first there was no floor boards and the roof was hood taken out from the horse carriage. What they had was only basic needs.
Our civilization is now on the edge due to the deadly flu and global climate change. It was because we try to have too much destroying the natural ecosystem. The modern system we rely on too much was found to be very vulnerable to such crisis.
It is time to rethink our way of life. "Little House on the Prairie" may be a good model of how one lives one's life without luxuries modern people have gotten used to.
The answer may be somewhat of that little wooden house or Native People, whom the family called "Indians" in the show.
19 November 2020
New vaccines were recently invented for the flu. I guess things might be going back to pre-COVID-19 period.
But there should be three major lifestyle and system changes, which may remain in our society even after the pandemic is gone.
1. Basic Income; Wordwide lockdown measures let the world governments compensate their citizens for loss of income because they couldn't go to work or open restaurants. People and governments realized everyone needs basic income to prepare for such crisis, which may come unexpectedly in the future.
2. Online education and work; People realized there is no needs to spend extra-time or fees for commute to do the same things as we can easily do on internet.
3. Less crowded space to stay; People realized the more crowded place one is in, the higher risk of infection of the flu. Let's always make a social distance everywhere, every time. Too many people gather in a small space is not desired. No more events like a rock concert in a big stadium. For businesses holding of big events to invite so many people is considered a great risk. That may have to be cancelled due to another pandemic resulting in a huge loss.
Designs of streets and buildings have to contain such notion. So in post-COVID-19 era, wider streets and corridors, bigger seats in less packed rooms and auditoriums. Conventional city layout should be drastically altered.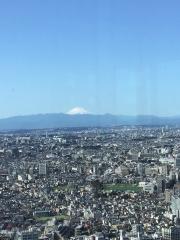 In that sense, rural lifestyle transcends urban one. More people will live in countryside and be able to work from home online not worrying about money because certain amount of money is paid or you can produce food on your farms so you do not die by losing jobs.
That is the very 21st century lifestyle.
25 October 2020
Last September I visited Fukushima Daiichi Nuclear Power plants being in the process of abandonment. 9 and half years ago, diesel generator for emergency that had run 4 of 6 plants were destroyed by tsunami and released massive amount of radioactive to surrounding area in Fukushima prefecture, located about 200 kilometer away from Tokyo. What happened was inside these reactors, nuclear fuels lost coolants and melted and then hydrogen was touched with oxygen of air, that caused explosion.
I joined two-day tour to the Fukushima nuclear plants and its nearby area. On the first day, my tour group was escorted by workers of TEPCO, which is responsible for the accident and current abandonment, to the site.
Surprisingly, visitors were not required to wear protective suit to enter the site because most of the sites are already cleaned up. Even workers there do not need to wear ones.
I could bring my own radioactive counter to back side of the plants. The photo was just taken behind the No.1 plant which exploded first followed by No.3, No. 4 and No.2 explosions. All of the crippled 4 plants (No.1 to 4) were capped but nuclear debris are still inside the reactors and planned to take out a few years later.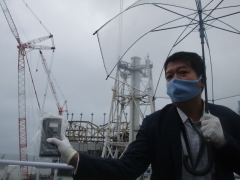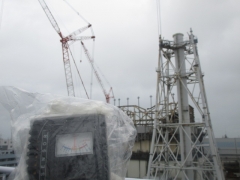 Compared to the level measured in Tokyo (photo below), it was detected extremely high level, over 80 micro SV.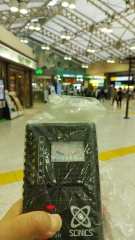 That night we stayed at J Village sports athletes accommodation and training facility located 20 km away from the site, in which TEPCO and Japan's defense force used during the crisis. Now the facility is back to normal as had been before the disaster.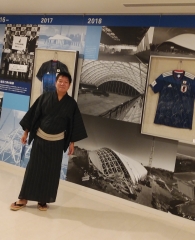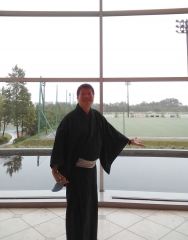 Last year some foreign Rugby teams used the facility during the Rugby World Cup tournament. It has a hotel-like accommodation and several field grounds for soccer or Rugby. Hotel room was cozy with a shower room. But the hotel has nice view big communal bathroom on top floor.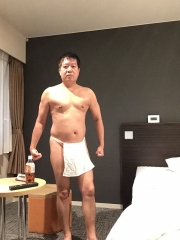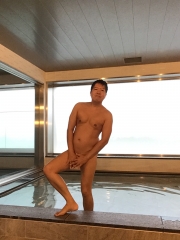 Next day we visited the cattle farm named Kibo no Bokujo (The Cattle farm of Hope) of more than 200 oxen abandoned after the disaster. It is located in Namie town, 10 km northwest of the nuclear plant site. The owner of the farm, Mr. Yoshizawa we met said he takes care of the abandoned oxen even the government instructed him to kill them. The farmland is enclosed by high-voltage electric wire to prevent oxen from escaping. Before the accident, Fukushima was known as one of greatest breeding place for oxen that had produced delicious beef.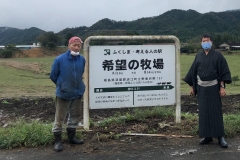 He said he wanted to keep them until they naturally die to symbolise the responsibility of humankind who breed them and established nuclear power plants that affected their lives.
He gets no income but pays annual cost of more than 10 million yen (around 100 thousand Euro or US$ worth). All the cattle are castrated so no more offspring will be created. The cost was funded mostly by donation.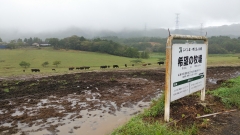 This tour is not only for learning about the nuclear accident but the big earthquake and tsunami disaster. Over 20000 people in Northeast region Japan died or are still missing by that.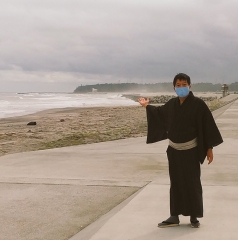 On the sea coast, 6 km away from Fukushima Daiichi plants there still remains of what happened in tsunami hit residential area.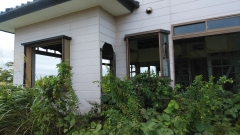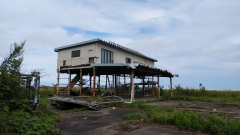 The new museum in memorial of the disaster and nuclear accident was established and opened in September.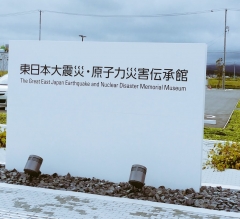 However, the disaster never ended. As fore-mentioned, the abandonment is still halfway and might even take another decades to finish.
Just recently TEPCO announced it will release processed contaminated water in which hazardous nuclear substances was filtered out but still tritium is contained to Pacific Ocean. They claim it is not hazardous to environment because tritium has very low-level of radiation, which experts claim outrageously wrong.
When I visited the crippled nuclear plants, I was requested to take a photo with a water bottle that contained tritium to appeal it is safe.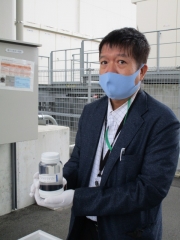 Well, it seems we have to continue fight against the nuclear industry.
If you are interested in the tour, contact me through this blog or twitter. I can refer you to the travel agent. The cost is around 45000 yen (400 Euro or US$). Dark tour or I would say, good Study tour for you.