31 October 2014
A biographic story of Grace Kelly who left Hollywood when she was a top star and got married to the Monaco Prince.
I remember TV documentary on her life a long time ago. It was her family's philosophy that leaving the business when he or she is on the top ranking. Not letting anyone see you downgrading.
Indeed, she did.
The film was criticized for historical inaccuracies, so it was noted as fiction based on facts.
But I enjoyed the film because Nicole Kidman who played Grace Kelly was really beautiful.
I first learnt that Monaco's official language was French. The kingdom always had struggles with its fearful neighbor, France.
Maybe getting Grace Kelly married to the royal family was one of biggest strategy to secure their kingdom's soverignty.
Monaco never had military but such a big weapon, the world's most famous celebrity so that no one wanted to destroy the kingdom including her.
A country image is a big thing. Japan has monarchy, emperor Akihito and his family.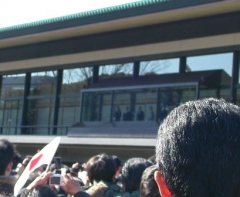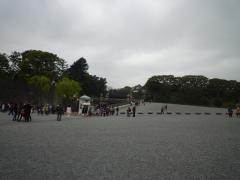 Their residence is size of Monaco. One family occupied huge area in the capital but they contribute a lot to the nation. Former emperor, late Hirohito was about to be accused of war criminal but the U.S. force did not indite him because of fear of rebellion from his people that might make occupation difficult.
The film made me think about Monaco whenever I go to the imperial palace in my city. Actually I am a guide who escorts foreign travelors to the imperial palace. If you want to know more about the tour, please visit this site.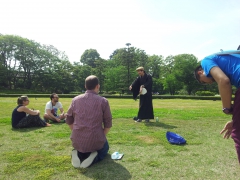 29 September 2014
I could never understand why a girl like her has become so popular internationally.
Her name is Kyary Pamyu Pamyu.
She is like Lady Gaga of Japan. Her sales points are very unique custumes.
But her singing is not music, just high tone voices.
Last Sunday I went to Tokyo Metropolitan Gymnasium. There was a festival of concerts, fashion shows and exhibitions. Those were awesome but the biggest event was her concert in the final session.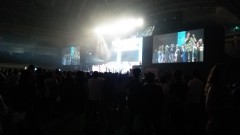 What surprised me was there were many audience from abroad including Europeans. Some wore custumes like she wore.
Can they understand and enjoy her singing?
It seems they did.
I can never follow what they are doing.
What is going on in this world? I felt like Alice in the wonderland.
31 August 2014
The film was released last February. Recently DVD was released so I rented and watched that.
Animated film of famous Andersen story "The Snow Queen." The queen who had magical power which can freeze anything around her and cover her country with snow and then escaped to the top of a mountain. Her sister tried to save her.
It was as good as expected. Great thing is music because it is a musical film. "Let it go" was really great and aspiring.
However, I personally do not like such film. It is just an ordinary story of fairly tale except the prince being evil. I do not like computer graphic animation. It is OK to watch it on TV screen but not in theatre.
Computer graphic animation is very shallow image. Not very substantial.
Furthermore, this film just made me sure that American culture is after all, plastic replicas of European ones.
When we image American scenes of towns, people. Typical ones are very replicas of European ones. Not exactly Europeans but looks newer, modern and cleaner. But replicas are replicas.
Just plastic things with no souls.
When I visited European countries such as England, France, Switzerland and Germany from the U.S. during my college study years in US, 1990's. I felt that very strongly by comparing the two.
Maybe that is good things about America. Not being bound by tradition, and easy to join.
I really like such things in my younger days but not any more, I am over 40.
I want more substantial and traditional things in life.
In fact, America seems not giving good influence on our country like US military bases and global free market economy policies. We should make a distance from the U.S. Not too much being brainwashed by American things.
I do not enjoy replicas any longer but more substantial, real things.
Not easy to find that but I will find ones in order to make my life better.
31 July 2014
I saw the dragon there, in Henoko, Okinawa prefecture, southernmost chain of the islands in Japan.
You might not believe that. This is the proof.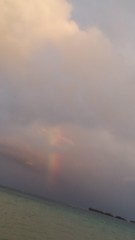 Yes, it looked like rainbow. But the sea is known to be sacred place for the dragon. The locals worship it and established a shrine on the sea coast.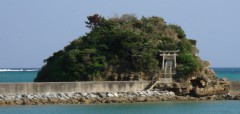 Recently the dragon seems not very comfortable living there because of construction project going on his or her place. On the sea coast is US Marine training camp base, Camp Schwab. There is a plan to expand the base by reclaiming the sea where he/she lives.
The locals oppose the plan because their environment would be deteriorated as well. However, US military and the Japanese government never mind local resisitance movement.
Will he/she leave as the things are? I doubt it.
The sea reminds me of what I experienced 3 years ago in Kaminoseki, Yamaguchi prefecture in the mainland of Japan. Actually I learnt about that town when I joined environment activists meeting in Henoko. I met Kaminoseki activists who protest the construction project that reclaims the sea to build nuclear power plants there. They did the same things as locals in Henoko do, kayaking the sea to prevent construction work from proceeding.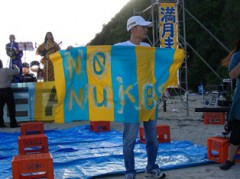 So I visited Kaminoseki later. There I saw the same scene.
Activists on the beach calling for the halt of the project but the authorities and power company never minded their voices. The project was about to be proceeded and the beach might be destroyed sooner.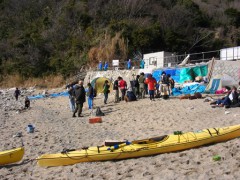 I felt something when I was on the beach. I sympathized, and then prayed to call for the help.
Two weeks later a big earthquake and tsunami occurred in Fukushima. 4 nuke plants were destroyed by the nature and massive radioactives were released to the environment.
Now the construction is halted in Kaminoseki (not yet terminated.) No nuke plants are operated in Japan at present.

In that town, there enshrined the sea dragon.
Was it just an coincident? I just don't think so. That is why I've been feeling fear.