05 January 2011
I watched documentary program on America's new movement in relation to 10th anniversary of 911 attack. In New York, there is a big controversy over opening of new Islamic Center located 2 blocks away from Ground Zero. People overlap image of Al Quaida with Islam.
Anti-Islam activist, Pamela Geller was interviewed by a Japanese journalist. She said "It is not a matter of freedom of faith, it is a matter of emotion. Why should we figure them out? It should be defeated."
Sounds scary! After I watched the program on TV, I accessed her blog and emailed her the below question.
"Your response and comments sound like what Nazi people said to Jews.
Aren't you using the same propaganda as Nazis did? Aren't you creating another holocaust like Israel is doing on Palestineans?"
Her response as follows,
"The Jews weren't blowing people up, slaughtering thousands in countries across the world, and killing their own if not devout enough.
Get a grip on reality."
Pamela Geller is Jewish American according to her blog.

According to the program, people like her is getting popularity. I think it is not just because of terror threat but also frustration caused by bad economy and failed wars. This is like 1930's Germany when Anti-Jew propaganda had been common like the below photo.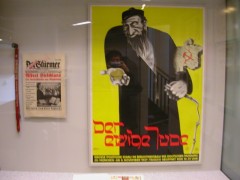 This time, the target is Muslims or Arabians.

Well, America is becoming like Nazi-Germany. It is devastating.

It is time for us to make a distance from America or totally stay away from the country.

America is no longer place of tolerance. It is becoming dangerous.
03 May 2009
A woman named Hester lived in a small Puritan Village in 17th century had been accused of adultfully. She had to wear scarlet letter "A" all the time because of the sin she committed. She and her daughter, Pearl were always harrassed by the villagers.
Local villagers and its headman wanted to know who was the father of Pearl. At last the villagers found who he was and got shocked.
It seemed that the film revealed the true nature of America. The origin of America was Puritans. Puritans were exiles from England.
They lived under the faith of God because of fear they experienced in England. They created a very closed society with very strict rules. As a result they became hypocrits.
In last scene of the film, Hester and Pearl ran away from the land of hypocrisy, not freedom.
That represents feeling I have right now. I am losing interest in America and growing contempt for it.
American is not a dream country to me any more since 911, war in Iraq, deployment of USS George Washington in Yokosuka, and financial crisis.
Good-bye, America! A country of Hypocrisy!
Now I wonder where I am heading. The film gave me a hint.
The film was produced by Germans. It was all German version although the story took place in America.
It is just like holocaust films in English version made by Hollywood.
I am now studying German and getting more interested in Germany than ever.
31 January 2009
According to Germany's prominent magazine, Spiegel, there has been a controversy over Roman Catholic Pope Benedict, who is German recovered ties with English bishop, Richard Williamson who is holocaust denier. Mr. Willamson claims there was no gas chambers, and the number of holocaust victims is 300,000 far lower than 6 million, which most historians suggest.
Pope Benedict seems to like stirring relations with other religions, a few years ago, he made some statement that insults Islamic prophet, Muhanmad. Does he represent German's still Nazi ideology?
Interestingly enough, such historical argument has been going on in Japan in regard to relationship with its neighbor, China.
China claimed that Japanese imperial army mass-murdered 300,000 innocent people in Nanking, 1937.
But Japanese right-wingers claim it was only 40,000 or less. Some extremists claims no such mass-murder occurred.
Recently Air Force chief in Japan was dismissed by the government over his publicly released essay which claimed Japan's invasion of China was legal. But he's been well-received by the public since then.
Germany and Japan were the losers of the Second World War. It is natural that such pheomenons occur.
People in both countries feel they have been forced to have negative point of views on their histories by victors of the war.
The title of the novel would be "Bauhausler". Hope you enjoy it. I am reading Ian Kershaw's book on Nazism for the research.
I think history should be viewed objectively. That's the very way of learning history.
Soon, I will start a novel which a story takes place in 1930's Germany. Japanese woman who travelled to Berlin to study Bauhaus art met a Jewish teacher and a Nazi-officer and then she got involved with the both men.
09 November 2008
I love this Commerical.
Great and creative!
Think about it. Things went too far. It usually takes so long for ordinary people to accept new idea.
They rushed and that resulted in the failure.
Why do they demand so much? They've had enough already. After all, marriage itself is discriminatory institution.
and this one, too. That partly represents my opinion.