02 November 2008
Suprised to know our prime minister, Taro Aso is Catholic. I just recently learned that. He was elected on 25 of September this year.
But none of Japanese media reported his religious faith. He's been known as potential candidate for PM long time before. It has never become the issue.
I learned that by reading articles in BBC, CNN, FOX and Roman Catholic website.
Maybe you wonder why. Only a few percent of the population is Chrisitian in Japan. They are minority and experienced oppression during 16 to 19th century. But the thing is we really don't care. Are we atheist? No, actually Japan is known to be Budhist society and has many many Budhist temples. But native religion of Japan is Shinto. Shinto is polytheist. We welcome any kind of religion and personal religious faith doesn't matter to politics or so on. We rarely talk about religion in our daily life.
In recent politics, PM's visiting Shrines that memorize A-class war criminals has been controversial. He visited there, too although he is a follower of monotheist religion. Shiton has been considered kind of festivity or national symbolic spirit, not as religion you should be dedicated to.
In Western society, religious faith seemed to be a very big deal in politics and social issues such as abortion, homosexuality.
To tell you the truth I am Christian, too. I do not support him nor his party. Strangely I just feel intimate to him although I think he is most unqualified PM in history. Iraq war has been regarded as "Wholly war" by crusaders. Scary!
As far as I've checked his action and speech, I cannot find him practicing Christian. He caused tensions with neighboring nations by making provocative statements. He insulted the victims of the disastors, altzheimer patients and many others. He called opposition party as Nazis. His prime mister status wouldn't last so long because he is very, very unpopular so is his party. Soon enough, the parliament would be dissolved and new election will be coming up.
The nation would judge him and his administration and choose who to rule Japan. He will learn true meaning of the wholly bible words "Judge not others lest ye be judged."
Then he will shout "Jesus Christ!"
16 March 2008
It is been reported that Obama's long time inspirer, Pastor Rev. Jeremiah Wright made very controversial remarks in his Gospel speech. Obama denounced his remarks and he never knew the pastor did it until recently.
I can't find anything so controversial in his sermons.
He, himself is Afro-American, so there is no problem that he uses the word "Niger." He said America is founded on racist culture. I think he talked about slavery and masscre of Native Americans.
The most impressive to me, was he said "We bombed Hiroshima, we bombed Nagasaki, and we nuked far more than the thousands in New York and the Pentagon, and we never batted an eye," he said. "We have supported state terrorism against the Palestinians and Black South Africans, and now we are indignant. Because the stuff we have done overseas has now brought right back into our own front yards. America's chickens are coming home to roost."
This pastor is ex-marine. He knew what the war is like. He just criticized the U.S. foreign policy in his radical way, I think.
I don't think he meant to insult America.
For Japanese like us, Americans criticizing Hiroshima and Nagasaki were kind of impressive. Obama was spritually influenced by this pastor. Well, that sounds nice to us. Very humble attitude of Americans. He knows how the oppressed feel. That is why he is becoming popular among the impoverished layer of society including whites.
But I want to tell this pastor he should condemn not only the U.S. for dropping atomic bombs but also Japan who slaughtered many innocent Chinese and attacked on Pearl Harbor in the name of "justice." That is what I expressed in this post on this blog.
I understand why Mr. Obama had to denounce the pastor because today's America is no longer open-minded to radical leftist speech. This is sad thing to know. Isn't America free country any more? You can't criticize your government's policies because such acts are considered unpatriotical.
That is just like Nazi-Germany. I would be proud of a citizen of a country if the country is democratic and tolerates free speech including the things critical of itself.
Sometimes, by becoming anti of your nation, you will know better of your country and drive your country into right direction.
"God Damn America!" can change your country better after being tired of saying "God bless America."
16 December 2007
Can you believe Japanese celebrate Christmas?
As you know, our people are predominantly Budhist. And even among Budhist, only a small portion of them practice it seriously. Most of our people are atheist.
Unlike Europe and the U.S. Japan's Christmas is basically commericial event. Good for business.
History goes back to late 19th century, Christmas was imported from the West. The below photo is taken from the top page of newspaper in December 1937.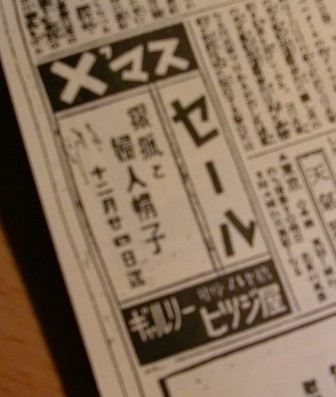 As you see, it says "X'mas," that is misspelling. No ' is needed to spell Xmas (Christmas.) That is the ad of lady's boutique. "Christmas sale for lady's hats and furs." Surprisingly the same page posted the news article of Japanese imperial army's victory in Nanjing battle, former capital of China. That is where Nanjing massacre took place. I can't believe people celebrated the war victory and Christmas at the same time.
I "You Tube" today's Christmas in Tokyo.
Please click on Christmas in Tokyo.
First scene is the flyer for Christmas mass in church.
Second scene is brass band playing Christmas song.
Third scene is Santa Clause from Finland spoke and translater translated what he said.
He said, "I was surprised that there is no snow in Japan. So I had to use good Japanese automobile instead of a sleigh. In Finland, fairies are making presents for good children."
Last scenes were illumination of famous shopping mall, Shinjuku Southern Terrace.
Anyway, MERRY CHRISTMAS!
28 November 2007
I rented the DVD of Morgan Spurlock's reality program titled "30 Days." People in the program experience different worlds including film producer Spurlock himself. He is tall and looks like cock bird.
I first know him by the film "Supersize me." The show described his experience of eating only McDonald's hamburgers for 30 days. He described the obessity issue of America. How McDonald made Americans so fat and unhealthy.
After the success of this film, he then made the documentary programs with the same rule, that is people experience different worlds for 30 days.
There are 3 programs I liked.
1. Morgan and his girlfriend decided to live their lives by minimum wage. They learned minimum wage cannot support standard level of lives and the law should be amended to increase the minimum wage level. If you would be so poor that you cannot even afford to see a doctor.
2. An atheist woman lived in dedicated Christian family's home. There are not so many atheists in America, whereas in my country most people are. Dedicated Buhdists, Christians and other believers are minority and sometimes regarded as weird. In the U.S. Chrisitanity has strong influence in life. Christians cannot understand atheist way of living. Atheists feel oppressed in America. Kind of surprising to us, because America is a new country, why is it so religious?
3. The most impressive program, Cuban immigrant American who came to the U.S. legally when he was a child lived with illegal immigrants family. The Cuban man hates illegal immigrants and supports the governments tougher measure on the illegal immigrants. The family was just normal and happy loving people. The oldest girl was brilliant and thinking about going to the college. It was a big surprise to know that illegal immigrant girl could go to high school and got good grades and participate in golf tournament. Her school teacher supported her goals to achieve. She applied for Princeton and local college.
When I was in California, during 1990's, there was a referendum named Proposition 187, that bans providing services to illegal immigrants. There was a big anti-immigrants movement going on. I kind of understood people's anger towards illegal immigrants. They did not come to the U.S. legally. I never consider them good citizens.
In the program, the Cuban man went to Mexico to meet the relatives of the illegal immigrants family. Where they used to live was like rubble, I could understand why millions of Mexicans crossed the border just like the Cuban man did.
Blaming them cannot really solve this problem. This is the issue of global economy.
The program may include some kind of set-ups just like other documentary shows. But you can learn the importance of learning different worlds by real experiences.
Thank you, Morgan.