06 July 2008
I was right! That was racist ad!
Last month, I mentioned the below ad was racist using monkey as OBAMA in presidential election campaign.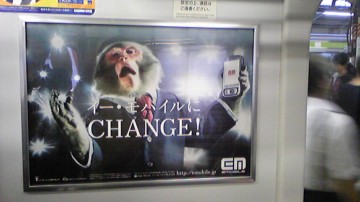 The company that uses the ad, EMOBILE admitted the commercial was offensive to Afro-Americans considering the historical fact that monkey character had been used to portray Blacks as inferior creature to other people. Then early this month, they announced they would not air the commercial on TV and pulled the ad. However, they said they never meant to insult Black people by this ad because monkeys has been their maskots in their company's products.
I've mentioned this issue last month on this blog, see this article posted on June 21. I also mentioned on Japan's well-known internet newspaper, JANJAN. This is the article (in Japanese.) Some people object my view because I seem to make extreme interpretation of the ad concept. There are a lot of commercials that use animals to portray human characters.
But as a result, I was right. EMOBILE received so many complaints from Americans living in Japan. CNN covered this story. I knew that would happen because I used to live in the U.S. and learned so much about history of racism. I took Black Studies course.
Well, that helped. Most Japanese are ignorant about this issue because our society is much less diverse than the U.S. in terms of race and ethncity.
EMOBILE wasted so much ad budget but they learned good lesson. So did many Japanese citizens.