21 June 2009
"Auld Lang Syne" is very nice song
This was in fact Scottish folk song.
The song for rememberance and friendship. In 19th century the song was introduced to Japan and was used as martial song.
Japanese translated version "Hotaru no Hikari, The glow of a firefly" was for promotion of patriotism and imperialism.
I learned this song when I was small. Recently I enjoyed the song in the war story film "Umi-yukaba."
The story took place in early 20th century, when Japanese sailors fought against Russian fleet.
When the battle ship departed from Japanese imperial navy's port, Sasebo. This tune was played on the ship by its brass-band.
The sailors were waving their hand to the local people who were waving national flags to them.
The battleship was called "Mikasa." I have strong spritual connection with the ship.
I remember when I first visited Yokosuka to join the protest activity against deployment of USS George Washington last year.
I was invited to the ship by the souls of the sailors. At first I tried to get to the office of the activist group from the train station, but I got lost and after a while I found myself standing in front of the ship exhibited in the marine park.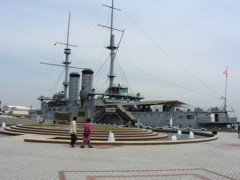 The Mikasa was flagship of Japanese imperial Navy in early 20th century. During Russo-Japan war (1904-05) the ship and its fleet struck down Russian imperial navy's Baltic fleet in Sea of Japan. Japan won Russian Empire. The ship was built by British. Japan was supported by Great Britain in the war. British did not allow Baltic fleet to pass Suez Canal so that the Russian fleet had to spend more time, supply and coals to reach Japan's sea.
We owe a lot to Great Britain but unfortunately two nations fought against each other in the war later.
I recently found a good video clip for the song. The background image is scenes from a classical film "Waterloo Bridge" which Vivien Leigh, an actress who also starred in the very famous classical film "Gone with the Wind." I don't know who sang the song. I wish some day I would be able to listen to the song sang by a famous British singer, Suan Boyle.