31 August 2014
The film was released last February. Recently DVD was released so I rented and watched that.
Animated film of famous Andersen story "The Snow Queen." The queen who had magical power which can freeze anything around her and cover her country with snow and then escaped to the top of a mountain. Her sister tried to save her.
It was as good as expected. Great thing is music because it is a musical film. "Let it go" was really great and aspiring.
However, I personally do not like such film. It is just an ordinary story of fairly tale except the prince being evil. I do not like computer graphic animation. It is OK to watch it on TV screen but not in theatre.
Computer graphic animation is very shallow image. Not very substantial.
Furthermore, this film just made me sure that American culture is after all, plastic replicas of European ones.
When we image American scenes of towns, people. Typical ones are very replicas of European ones. Not exactly Europeans but looks newer, modern and cleaner. But replicas are replicas.
Just plastic things with no souls.
When I visited European countries such as England, France, Switzerland and Germany from the U.S. during my college study years in US, 1990's. I felt that very strongly by comparing the two.
Maybe that is good things about America. Not being bound by tradition, and easy to join.
I really like such things in my younger days but not any more, I am over 40.
I want more substantial and traditional things in life.
In fact, America seems not giving good influence on our country like US military bases and global free market economy policies. We should make a distance from the U.S. Not too much being brainwashed by American things.
I do not enjoy replicas any longer but more substantial, real things.
Not easy to find that but I will find ones in order to make my life better.
21 June 2009
This was in fact Scottish folk song.
The song for rememberance and friendship. In 19th century the song was introduced to Japan and was used as martial song.
Japanese translated version "Hotaru no Hikari, The glow of a firefly" was for promotion of patriotism and imperialism.
I learned this song when I was small. Recently I enjoyed the song in the war story film "Umi-yukaba."
The story took place in early 20th century, when Japanese sailors fought against Russian fleet.
When the battle ship departed from Japanese imperial navy's port, Sasebo. This tune was played on the ship by its brass-band.
The sailors were waving their hand to the local people who were waving national flags to them.
The battleship was called "Mikasa." I have strong spritual connection with the ship.
I remember when I first visited Yokosuka to join the protest activity against deployment of USS George Washington last year.
I was invited to the ship by the souls of the sailors. At first I tried to get to the office of the activist group from the train station, but I got lost and after a while I found myself standing in front of the ship exhibited in the marine park.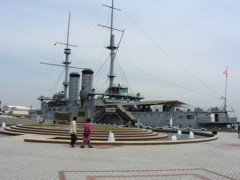 The Mikasa was flagship of Japanese imperial Navy in early 20th century. During Russo-Japan war (1904-05) the ship and its fleet struck down Russian imperial navy's Baltic fleet in Sea of Japan. Japan won Russian Empire. The ship was built by British. Japan was supported by Great Britain in the war. British did not allow Baltic fleet to pass Suez Canal so that the Russian fleet had to spend more time, supply and coals to reach Japan's sea.
We owe a lot to Great Britain but unfortunately two nations fought against each other in the war later.
I recently found a good video clip for the song. The background image is scenes from a classical film "Waterloo Bridge" which Vivien Leigh, an actress who also starred in the very famous classical film "Gone with the Wind." I don't know who sang the song. I wish some day I would be able to listen to the song sang by a famous British singer, Suan Boyle.
04 August 2008
On 2nd of August, I went to U.S. Navy Base in Yokosuka city, 30 kilometers from Tokyo.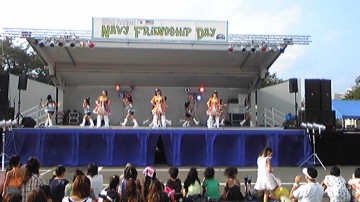 On that day, "Navy Friendship Day" festival was held there. "Friendship?" Huh? Are they our friends?
The navy is bringing very dangerous ship to the sea near our capital. That is CVN 73, George Washington.
They were providing comic books that describe life of the crews, how much they are excited to live in Japan, how much they love Japan. Such a cliche just irritated me.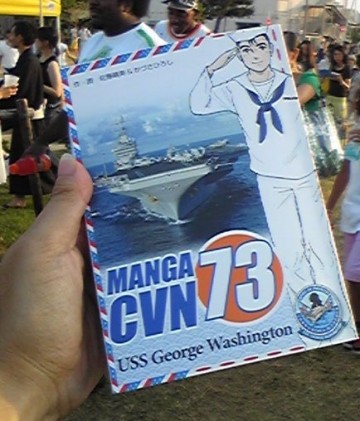 In fact the story were all fiction including the scene of the fire in laundry room. A crew extinguished the fire from a dryer immediately and prevented it from spreading.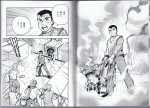 In May the CVN 73 caught a big fire on the sea near South America. The fire spread out to 80 compartments in the ship. It took 12 hours to extinguish the fire. The cause of the fire was announced 2 months later and it was from cigarette in non-smoking area. The fire was flashed off flammable fuels near it. The fuels were placed in prohibited area.
The morale of the crews was proved to be terrible. We can never rely on such crews for controlling the dangerous nuclear ship. I've already written a post about danger of nuclear aircraft carrier on this blog several times. I also posted You Tube video clip for this issue.
At night I saw fireworks lighting over the sea. It was very beautiful scene. I really enjoyed especially because I could see it lying on the football field inside the base.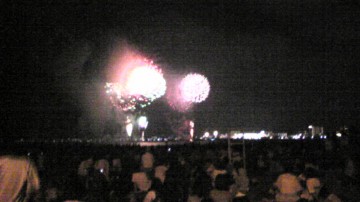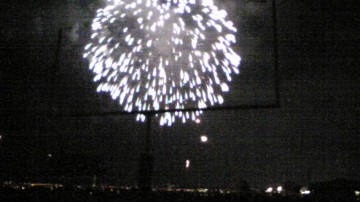 The cost of maintaining the base facilities came from our tax. If they are protecting our land, I wouldn't care. But they just use that for their purposes and threaten our lives. We don't want them around us any more.
America should change their policy. They have to care about their own people rather than people outside their country. Abondon foreign bases and go back to traditional isolationism.
Last month I saw the documentary film featuring the U.S. soldiers and their miserable lives. The title was "AMERICA BANZAI, crazy as usual." The film featured Iraq war veterans who ended up being homeless after they came back home. Young soldier who refused to go to Iraq and dishonorably discharged. I hope this would be shown in the U.S. The director of the film is Japanese.
Living as American seems so hard except being Paris Hilton.
31 August 2005
I rent the DVD of this movie. I did not like this movie.
Yes, it was gorgeous but there was no story in it. Especially the ending was not so good. It was like documentary film.
The worst of all is DiCaprio did not fit into that Howard Hughes character.