20 February 2017
The German title means "He is back again." In Japan it was titled "Hitler Returns."
The story is based on a novel of the same title. Adolf Hitler time slipped to 21st century Berlin and became a popular comedian. His comments were provocative but come with humor. People considered him imposter of Hitler, but he was a real figure.
At first it seems revival of his appearance looked comical, but in the end, it was found very serious matter. A lot of innocent people were killed by his action. Not a laughing matter.
But this reflected current trend of the world.
The very example is US President, Donald Trump who took office last month.
He is anti-Muslim, anti-Mexican, racist, sexist and America First, especially white men First. Kind of horrific figure after first Afro-American President retired.
But that was a reality of America. America has been that way from the past. He said he wanted to build the wall on Mexican border. No more Hispaics. But until 1965, America had accepted mostly white immigrants from Europe.
Liberal and cosmopolitan America is very recent phenomenon which now started to fade by this man.
In 1960's America was very rich, and countering Russian communism so liberal policy prevailed.
Today America is no longer a rich nation. Cannot afford generousity and diversity.
Like Hitler's slogan, "One Nation in One State." Americans, especially whites want to go back to White Anglo Sacson Protestant America.
Just like America, other nations follow suit. Europeans have become anti-Muslim. They are basically predominantly Christian people. Why should they accept non-Christian immigrants or refugees for humanitarian purpose? Immigrants bring different culture and language and do not easily adopt to traditional community.
In every nation, priority is traditional majority. Race, culture, and language surely matter.
Society cannot be easily changed. When things change too quickly, it is natural that backlash comes.
Change should have been done at appropriate speed.
Whether it is good or evil, it is the law of human nature. Japan accepts very small number of immigrants or refugees compared to US or European nations. We are really natural and honest nation. But cannot be proud of that.
As for the film, I like the ending scene that Hitler waved his hand to the crowd with the song of the same title. It was 1960's German ballard song. That was really nice. I was lucky to know this song. I am studying German by this song.
24 August 2015
I bought a DVD of it. It was released in Germany and China, 2009. Until now it was never released in Japanese theatres. Only shown at one-time meeting by peace activist meeting or symposium. DVD version was released, which individuals purchase on internet.
The drama is based on real events and people involved in Nanjing, China, capital of Republic of China, December 1937.
John Rabe, a German businessman who worked for Siemens decided to be a leader of foreign nationals' committee that managed Refugee Safety Zone in Nanjing, that was about to be occupied by Japanese imperial army.
Because he was German, it was a better choice. In those days, Japan and Germany were allies.
Together with Rabe, some American men and women were in the comittee. They were eager to save Chinese people.
After Japanese army occupied Nanjing, its soldiers did terrible things to Chinese citizens such as theft, arson, rape and even murders.
They tried to help Chinese as barricades to keep soldiers out of Safety Zone. Because they were western civilians from countries neutral from China-Japan war, Japanese soldiers could not hurt them.
Rabe took notes of the events in his diary. The film was mailny based on his diary.
What Rabe and his comittee people experienced is what is known as "Rape of Nanjing." It is estimated 100000 to 300000 people were mass-murdered by Japanese army. As the film depicts, Japanese army had a policy of no alive enemy soldiers.
In Japan, the scale of the massacre has been controversial. Mainly because it is politically sensitive. Just like other nations in the world, such historical facts are considered "masohistic."
I became very interested in this massacre since US invasion of Iraq, 2003. How Japanese army proceeded to Nanjing from the coast was pretty-much like how US army proceeded to Baghdad. What happened to the citizens there was very similar.
I went to Nanjing 11 years ago and met survivors of the massacre. Some of them witnessed Japanese soldiers killed their parents in front of them.
2 years after Rape of Nanjing, Rabe's homeland, Nazi-Germany attacked Poland and occupied surrounding nations. Mass-murdered so many innocent citizens, known as "Holocaust."
By changing position, people could be hero or evil. That is human-history. That is human-nature as well.
Good lesson for all the people of the world.
31 March 2015
I recently bought and read a very interesting book on Germans living in Japan during 1930's and 40's, when Japan was in war with China and the USA. The Japanese title is "Senjikano-Doitsujintachi." It illustrates very unique history between Japan and Deutchland.
There were estimated over 3000 Germans living in Japan in that period. That is as much as number of Germans living in Japan now.
During that time Japan was allied with Nazi-Germany. But the German law did not apply. So Jews could live safely in Japan. Not only Jews but exiles did like a former judge who convicted Hitler in 1920's. Other European nations were too close to Nazi-Germany so anti-Nazi people escaped to Japan crossing the Russia.
For them, Japan was like a paradise. Japanese respect Germans because Germany was considered a civilized nation that Japan should model after and was indeed the most important ally for Japan.
Nazi influence was already there. Nazis established a branch in Japan, early 1930's. However, in order to arrest anti-Nazi German citizen, they needed to ask Japanese police to do that. The Japanese at that time did not get along with Nazi ideology, expecially anti-Jew stuff.
Japan and Nazi-Germany made a Cultural agreement that bans using Jew-related materials in education. But even in 1940's Heinrich Heine poems were taught in Japanese colleges. No Japanese could not see the difference between Jews and non-Jews.
The wife of Foreign minister of Japan at that time was Jewish German. Japan was reluctant to corporate with Nazis in terms of oppression on Jews.
Not only Jews and anti-Nazi Germans but Germans who had lived in Indonesia which was former Dutch colony came to Japan after they were freed by the Japanese military. Germans in Indonesia were put in internment camp after Germany invaded Netherland. They were welcomed as citizens in an allied nation.
Japanese praised Hitler as a good and powerful allied nation's leader but did not care about details of Nazis policies. The Japanese government at that time corporated with Germany mainly to counter the U.S.
But after Gemany surrendered in May 1945. Their situation was drastically changed. Japanese thought Germany betrayed them. Some were arrested as enemy spies.
I am thinking of writing a fiction novel based on these facts.
Where the story took place is in Karuizawa, Nagano prefecture, highland resort for high-society in 1945. But there were Germans staying to escape from air-raid in ciities.
Some were Jew or anti-Nazi and some are nazi-sympathizers or nazi-officials dispatched from their homeland. They got along with Japanese who welcomed them feeling complicated. Some were very thankful but at the same time not very happy because Japan was allied with Nazis and some thought Japanese were second-class people not being white.
I guess it is going to be very interesting. In order to write a good story, I am now learning Heine's poems. It may be a main topic of the story.
14 November 2014
Biographic story of Bayern king in 19th century Deutschland (Germany).
A young Ludwig succeeded Bayern crown after sudden death of his father.
Unlike his father, he never liked war and loved music and art. He believed art and music could maintain the peace but at the same time he had to struggle with the reality of the world.
Ludwig admired a opera music composer, Wagner. He became a patron for him. He liked Wagner's most famous opera "Lohengrin." He was a romantist.
But his kingdom faced wars and its sovereignty was weakened by defeats of the wars.
Then he tried to escape from such harsh reality and in his late years he ordered to build his own imaginative castle Neuschwanstein. Neuschwanstain was modeled after the castle on "Loengrin" stage. In Japan it is famous for model of Cinderella castle in Tokyo Disneyland.
I visited Neuschwanstein in April, 1995. Before visiting the castle, I went to Ludwig's home castle nearby. Luckily I was the only visitor so I could speak with the local guide about Ludwig's life. She told me the relationship between his dynasty and commoners was not bad so there was no bloodshed revolts like France. I asked if Ludwig was gay. The guide just laughed. Actually he was and that thing was portrayed in the film.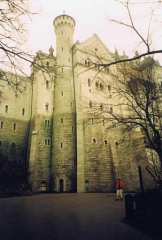 It was of course, a taboo in his society at that time. He struggled with that thing as well.
Lesson of this biography is no one can avoid reality. We all have to deal with it. If you try to escape from it, in the end you will be like Ludwig.
But art and music are really important in our real life and energize us.
Wagner's "Lohengrin" and Neuschwanstein in fact became German's most glorious heritages. Ludwig indeed contributes to his nation even after his death.