07 June 2010
A true story of German woman who lived through in Russian occupied Berlin, 1945.
Women in Berlin were raped by Russian soldiers. But they have to go through that because they were defeated.
Not only that, their nation was in fact aggressor of the war, which killed many Russian civilians.
The main character took note of that horrible days. As time passes by, they felt normal in their situation.
Well, I guess the same is true in Japan after the war. Japan was defeated nation, too.
Although more than 60 years have passed, we still feel occupied by the U.S.
Recently there was a dispute between the two countries over military base on Okinawa island.
See the articles on Okinawa tag to know the detail.
After months of turmoil, Japan seemed to give in. Many felt very humiliated by the outcome, that resulted in resignation of prime minister.
However, there is a difference, we do not get used to the defeat any more.
I think because of this, more Japanese have become hostile towards the U.S. rather than accepting the defeat.
I am one of them. So I will not accept the outcome but work hard to change the course.
In fact, Japan is not very dependent on the U.S. any more. Japan lends so much money to the U.S.
So this gave a great chance to make a distance from the U.S.
I recently feel so close to German. The both countries started aggression and invaded neighboring nations. The both countries were allied during the world war II. They both are defeated and then occupied by the former enemy states and lived through humilation after the war.
Stupidly I can even feel close to Hitler.
Well, every nation has a story of survival. I am studying German recently.
Ich liebe Deutschland. Danke. The below photo is Reichstag in Berlin, where I visited in July, 2008.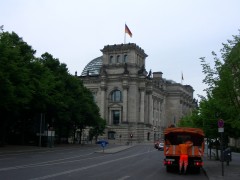 Deutschland uber alles in der Welt fur me!
14 September 2009
Recently controversial Manga (Comic) book was published in Japan. The comic was digest version of what is written on original thick book, "Mein Kampf (My Struggle)."
Left one is comic and right one is Japanese complete translated version.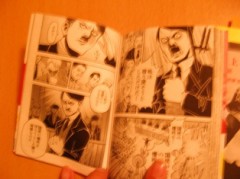 As you know it was written by Adolf Hitler, dictator of Nazi-Germany, the book described his biography from when he was childhood until imprisonment after Munich rebel in 1923. It contains so much of Anti-semitism.
The pictures of the book reminds me of CBS Minis-Series "Hitler, The Rise of Evil." Surely the book and the drama should somewhat overlap because both are at least partially based on the same book.
In Germany publication of the book is banned. Actually the book wasn't very popular one at the time it was published.
This comic version is one of the series of classic literature including "Crime and Punishment," and "Faust."
I am recently very interested in Hitler and Nazi-Germany. How he got on the top and why such atrocities happened.
Recently Japan experienced similar phenomenon, an Air Force Chief was fired because of his provocative essay released in public which contradicts Japan's position of war responsibility and justified what Japan did to neighboring nations such as occupation and colonization.

His statement to the government's treatment was really similar "Strangely I was fired because I've made good statements for the nation."
After he left defense ministry, he became an icon among right-wing people. He published several books and made speeches all over the nation. I am sure he will run candidancy for next coming election. Strangely I, not so conservative person have been very much attracted to him since his public appearance. I bought one of his books. I went to his speeches and shook hands with him. Please read this if you want to know more about my passion for him. That is why I am feared. He has charisma and intelligence to lead people.
So that is why I am studying things about Hitler and Nazi-Germany.
I am now writing a novel which the story takes place in 1930's Germany on this blog. The theme of the novel is Nazism versus liberalism such as Bauhaus art. Please read "Bauhausler" if you are intereted.
05 September 2009
I went to the theatre in Shibuya to see the film.
I really enjoyed it. German films are enjoyable if you know history of Germany such as Nazis, Berlin Wall, and 1968 anti-imperialist movement.
So far, what I have seen are as for Nazis "Sophie Scholl," "Der Untertgang" and as for Berlin Wall, "Lives of others," and "Good-bye, Lenin."
This time I watched post-war radical movement that took place in 1968, Germany. Youngsters became so radical because they believe they could wipe out imperialism and change the world better. One female liberal journalist with two daughters joined the movement.
But the consequence was disastrous. They became terrorists, bombers and hi-jackers, later ended up with commiting suicide in prison cells.
Japan had the same movement in the same era. The consequence were very similar. These days youngsters are not interested in such radical way of movement.
Germany and Japan went through the same path since 1930's in that sense. The country was dominated by militants in pre-war era. After the war, youngsters provoked radical social movement.
Recently my interest to foreign things was shifted from the U.S. to Germany.
I went to Berlin last year. I was really impressed. I get acquainted with German people in business. I am studying German now.
Germany has a lot of things we, Japanese can learn from. One of notable things is how they dealt with war review and compensation.
Other things are local sports club, farms, and ecology policy. Germany is leading producer of solar PV in the world.
Germany succeeded reduction of CO2 emission as it scheduled following Kyoto Protocol while other nations failed.
I want to know more about this country.
Deutcheland uber alles in der Welt!
20 August 2009
See this videoclip! He is Japan's new hero. Sorry, only Japanese version.
His speech in Hiroshima. Scenes of anti-nuke group activities, and Uigurs who protest nuclear tests done by China (time code: 3:42) in the city come first.
And the people who protest and support his speech (time code: 6:34) and then scenes in the convention hall which his speech took place.
He was Japan's Airforce chief but was dismissed because of his provocative essay he released in public.
I've already introduced him in other article on this blog. Please read this.
He is passionately patriot. But his statements were too provocative.
But he and I have things in common. Both of us want to get rid of U.S. military bases from Japan to protect our sovereignty and tradition.
He even claims Japan should arm with nuclear weapons.
I've met him twice and shook hand with him. I could take a picture of him. The below is what I took at Kudankaikan hall in Tokyo, where his speech was held.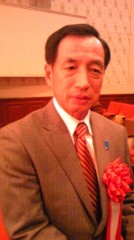 He was very polite and gentle. His speech was filled with passion.
Second time was the meeting for journalists. He has made a similar speech. I was given a opportunity to ask a question. I denounced his statement about denial of Nanking Massacre because I've met some survivors of the atrocities. But I said to him, I am for Article 9 amendment so that Japan can possess legitimate military but it was illegal to cause civilian casualties even at the time Nanking Massacre occurred. Why not we swear not to repeat the same mistake like Germany did?
His response was kind of surprise. "I've met a military official in China. They spoke so ill of what our military had done over there. I wanted to tell him, why not they spoke the same things about Britain? We are better than what Britons did. The Convention treaty was signed between the two countries. It was done. Why can't we forget about it?"
He seemed to admit the fact that the atrocity occurred. He was kind of honest and clever, I think. He just try to use this history issue to change his country's military policy. Interesting guy!
Thanks to him, I rethink about what patriotism is and what our tradition is. I became patriot and traditional.
Recently I started to wear Japanese traditional clothes including swim suit of the below. The suit became unpopular since the U.S. occupied Japan because Americans thought such Japanese tradition was barbaric. Now I am trying to recover this tradition. I am proud of wearing it and showing myself in it in public. This suit makes any man sexy and real Japanese traditional man, so called Nihon Danji. It is not only used for swimming but participating in festivals. The below is how I wear it, please enjoy watching.