26 March 2009
I went to see Tom Cruise's movie "Valkyrie." The film of actual event which took place in Germany during World War II.
German military officer, Colonel Stauffenberg tried to assassin German dictator, Adolf Hitler to remove Nazi Party from power and bring peace in Europe. The consequence was he failed and was executed.
I've seen German film of the story before. Then I went to Berlin and saw the memorial of his execution.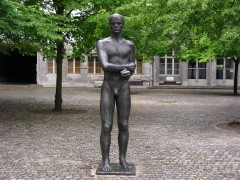 Tom Cruise wasn't fitted to his role in the film. Not bad actor but his image could not overlap with the real person in that event.
In fact, it is odd that a German officer spoke in English, which was their enemy's language in those days.
The most important thing we have to learn is why we could not stop expansion of that tyranny and how Hitler and Nazis got popularity.
How very civilized people could be manipulated by them, how good people could do brutal things for good reasons.
I am now writing a novel which a story took place in Berlin between 1932-33 using real persons and organizations in that period.
If you are interested, please check My Novel category.
I am now exploring Germany by writing a novel. That's fun and giving me great insight to this exciting country.
Deutcheland, uber alles in der Welt.
09 March 2009
A new novel after 4 American Hostages in Baghdad
A story of Japanese woman who experienced Bauhaus art and love romance in Berlin, early 1930's when Nazis came to power.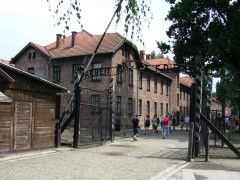 Auschwitz Museum in Oswiecim, Poland November 2009
"Ladies and Gentleman. Thank you for gathering today. We are here to honor the biggest contributor to this museum in our history. Late Madam Masako Chikano."
A man spoke in Polish and English in front of tens of people, mostly journalists gathered in the conference room. The speaker was the head of the museum. Auschwitz-Birkenau, The World Heritage, death camp built by Nazi-Germany.
Late Madam Masako Chikano was called "Hotel Queen". She died of natural causes last month. She was 98 years old when she died. She established one of world's most biggest hotel chain, Chikano Hotels, which have franchises in most of major cities in Japan and the rest of the world. The chain ranges from high-class to cheap business purpose only style. But all the hotels she owned had one thing in common, every room, lobby, and some of the corridors placed interesting pipe chairs, usually called Wassily Chair. It is one of most symbolic Bauhaus furniture.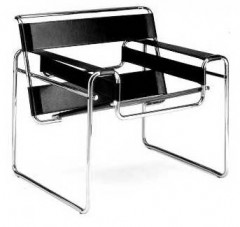 Some of the hotel buildings were designed in the way of Bauhaus concept. Modern, functional, minimumal ways.
It was one of the mysteries of the hotel queen, why she liked Bauhaus style. She was very mysterious woman.
Other mysteries are,
Although she had been known as most energetic business woman in Japan until her retired age 80, she had been single for her life. She dedicated her life to hotel business, but she was actually very beautiful woman that could attract any man. Indeed she was once married when she was 20 to 21. But she never was remarried after the divorce of first marriage.
The will she left said that she wanted to donate all her fortune to the Auschwitz Museum. That may be a biggest mystery of her. What made her want to do such thing?
The speaker held the will in his hand and said,
"To begin with, we have to talk about her connection between this museum and her early life experience. This is the part rarely known about her life. She never wanted to talk about that part in her life. But that was most important part in her life as mentioned in the will. Now let us unveil one of the most important mysteries of this woman."
Berlin, Germany, October, 1932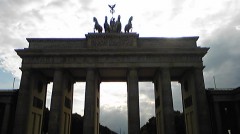 Masako Chikano arrived in Berlin. She came to capital of Germany, Deutcheland all the way from Yokohama, Japan. First by ship, almost 1 month travel to Marseille, France via Colombo, Ceylon (Sri Lanka) and then from Marseille to Berlin by train for a few days.
She was heart broken after the divorce. Because of the divorce just a year after marriage, she was treated as embarrasment of her family, Baron Chikano. Noble which succeeded highest rank of samurai. Her father, Baron Kozo Chikano was a member of House of Lords and ran business of finance and military equipments. Her family belonged to elite class in Japan.
The reason that she got divorce was she had an affair with her husband, Yoshio's best friend Takeshi. Actually Yoshio regarded him as his sworn brother. Both of them belong to Japanese Imperial Navy. Her affair with Takeshi made him angry and kick her out. After she came back to her home, her family had to kick her out because of biggest blunder in the family's history. She dishonored her family's name. They had to hide her until the bad reputation would fade away. Her father ordered her to leave Japan for several years. She had to stay in foreign country where no one knew her.
She had good command of English and Germany since she learned those languages from childhood as part of upper class education. She chose to go to Berlin, Germany. She did not have specific reason to choose it. She just prefers learning modern art. She heard good reputation of German born modern art, Bauhaus.
Here she was in Berlin. She opened a door to her new life. She believed she could forget about all the mess.
Continued to Chapter 1.
This novel is copywrighted by this blog's manager, Masagata.
11 February 2009
In Berlin film festival, a very controversial film would be shown.
The title is "John Rabe." The story of German business man who saved tens of thousands of Chinese in Nanking when the city was invaded by Japanese imperial army. He and other westerners set up International Safety zone in the center of the city. He became the leader of the committee that managed the zone. He is like Oskar Schindler in China.
The movie is scheduled to be released in April in Germany and China. Release in Japan seemed not be determined.
I think it should be shown in Japan, too at least in mini-theatres or civil conventions like No More Nanjing people did last December.
Please see the article for that event.
In September 2004, I actually visited the house Rabe lived.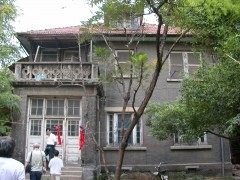 It may be very hard for Japanese to see the bad past.
Many right wingers denied the existence of the massacre. They say Rabe was liar.
John Rabe was kind of complicated figure of the history. He was loyal to Nazism. He used Nazi flag to avoid bombing from Japanese army. He reported Nazi officials the atrocities in Nanking. But he was detained and interrogated by that act because Germany at that time was allied with Japan. Actually Nazis has done more of Nanking things so called "Holocaust" afterwards.
The film would be very interesting in the sense a good man loyal to the evil organization has done good thing. The below is trailer of the film.
31 January 2009
According to Germany's prominent magazine, Spiegel, there has been a controversy over Roman Catholic Pope Benedict, who is German recovered ties with English bishop, Richard Williamson who is holocaust denier. Mr. Willamson claims there was no gas chambers, and the number of holocaust victims is 300,000 far lower than 6 million, which most historians suggest.
Pope Benedict seems to like stirring relations with other religions, a few years ago, he made some statement that insults Islamic prophet, Muhanmad. Does he represent German's still Nazi ideology?
Interestingly enough, such historical argument has been going on in Japan in regard to relationship with its neighbor, China.
China claimed that Japanese imperial army mass-murdered 300,000 innocent people in Nanking, 1937.
But Japanese right-wingers claim it was only 40,000 or less. Some extremists claims no such mass-murder occurred.
Recently Air Force chief in Japan was dismissed by the government over his publicly released essay which claimed Japan's invasion of China was legal. But he's been well-received by the public since then.
Germany and Japan were the losers of the Second World War. It is natural that such pheomenons occur.
People in both countries feel they have been forced to have negative point of views on their histories by victors of the war.
The title of the novel would be "Bauhausler". Hope you enjoy it. I am reading Ian Kershaw's book on Nazism for the research.
I think history should be viewed objectively. That's the very way of learning history.
Soon, I will start a novel which a story takes place in 1930's Germany. Japanese woman who travelled to Berlin to study Bauhaus art met a Jewish teacher and a Nazi-officer and then she got involved with the both men.