11 August 2007
I recently heard very, very surprising news that the U.S. navy has decided to station nuclear aircraft carrier, George Washington in Yokosuka city, which is 2 hour train ride from the capital of Japan, Tokyo. In fact it was agreed more than 3 years ago between the U.S. and Japanese governments.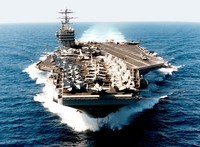 Outrageous and stupid! Japanese government allowed that happen. How ignorant they are!
We are paying so much money to the U.S. military. The government have to let them not to do what we hate.
Nuclear aircraft carrier is so dangerous. They've made some radioactive leaking accidents in the past.
The carrier will be stationed there permanently, we will have to live with the danger for half a year long every year.
If the worst thing happens in the Yokosuka, people living in the capital area would be required to evacuate, 30 million people have to leave! No way! Impossible! Millons of people would die after the accicent by cancers. It is like 3rd atomic bomb after Hiroshima and Nagasaki.
Local residents near Yokosuka navy base are suing the government not to construct pier to station the carrier. Since the carrier is US navy's property and its operation information is highly classified, we would never know how actually the inner nuclear reactor is operated nor intervene their operation. Even an accident happens, the U.S. government would not take any responsibility nor compensate for the damage because US-Japan Status of Force Agreement stated so.
It is time Japan rethinks the militaristic relationship with the U.S. We cannot get along with the U.S. navy's policy.
They made us help invade innocent Iraq.
We, ourselves have to realize the only military that can protect our country is ours. We have to amend the constitution so that we can have full-fledged military force so that we do not have to rely on the U.S. military any more.
Please read this article NUCLEAR CARRIER UNWELCOME on Japan Times. Yokusuka base is only 20 miles away from Japan's capital, Tokyo. This is just outrageous! U.S. government has to know this would just threaten relationship between the two countries. I became very anti-US person after I hear this news. A lot of us would be.
God damn America! Yankees, GO HOME!
02 August 2007
Is Japan regressing to its pre-war condition? The past and present cause me very much to think so. Prime Minister Abe's pronouncement that the "Imperial army's comfort women were not coerced in the strict sense of the word" has shaken the American political world and media. Consequently, criticism of Japan has risen, and the American Congress has adopted a resolution demanding that Japan apologize to the WW II comfort women in Asia.
In some respects, this evokes close resemblance to past generation. Before the war was an era before Japan and America were in conflict. During this era, criticism of the Japanese invasion of China mounted, and the Rape of Nanking was widely reported, leading to boycotts of Japanese products, etc. Americans at the time empathized with the Chinese, who were suffering under the Japanese, and with public opinion as a causal factor, sanctions against Japan in the form of the ABCD encirclement were implemented. "A" is America, "B" means British, the "C" means China and "D" means Dutch . At the time, in Japan , there was a sense that the Japanese themselves were not at fault over the sanctions, and with their backs to the wall there would be no option but to retaliate. They merely excused their stance out of emotional theory, which led to the attack on Pearl Harbor .
The same is happening now. Just as before, the conservative media and politicians claim that the Japanese government is not responsible for the comfort women problem, and maintain their position that the facts should be reexamined. This, despite the fact that an examination was completed 14 years ago, and the Secretary of the Cabinet at the time admitted in conversation direct army involvement. Just as in the prewar years, the judgment is extremely inward-looking and purely subjective. Further, there is no strategy behind the action. There is no sense that the resulting destination has been coolly considered. Indeed, it resembles Japan just prior to the attack on Pearl Harbor .
Nevertheless, in one sense, I can hope that the current adoption will lead to a cooling off. This is because public opinion and politics in America, which is our greatest ally overseas, has started to become greatly involved in the problem of our war responsibility, which was hitherto thought to be merely a problem of the Right and Left. This is so-called "outside pressure". This is not merely ideology, but clearly starting to develop into a question of national interest. The outside viewpoint becomes clear, forcing us to realize just how irrational our actions are. Relations with China and Korea have already chilled because of the ceremonial visits to the Yasukuni Shrine, and at this juncture, America can also now be added. This closely resembles the process that led to the formation of the ABCD encirclement previously. The adoption of this resolution may cause Japan to feel a sense of humiliation like having been scolded by a teacher. This should not lead, however, to citing "hara-kiri" as in the past, but should be linked primarily to coolly considering what is in the national interest. I want Japan to quit acting on emotion alone.
The first thing should be done is that Prime Minister Abe resign from his position. He made things worse.
22 March 2007
By John Mayer released last year.
I bought a CD which contains the song. I just happen to hear this song on the radio then I liked it very much. That is why I bought it.
I like the lyric very much. "It is hard to beat the system. So you have to wait on the world to change."
This song reflects the current situation of America regarding ongoing war in Iraq.
Many people want to stop the war but the system doesn't allow it.
It is true not only regarding the war but other issues in this world.
You just have to wait, you can't do anything to fix, not right away.
Things would be eventually changed after massive casualties were seen.
Yes, this is the world we live. And this is our life.
05 March 2007
Prime Minister Shinzo Abe who is a successor of Junichiro Koizumi, again made an indefensible mistake.
Just like Koizumi visited war-criminals graves.
He says Japan wouldn't apologize for forcing women into sex slaves for soldiers during World War II. Currently US Congress is considering resolution that request Japanese government to apologize and ackknowlege the wrongdoing.
He mentioned Japan wouldn't apologize even if the resolution passes.
The Pime Minister damaged Japan's image. Japan would be seen as nation who has no sense of human rights.
Prime Minister, Please resign for the benefit of our nation!
Stupid Prime Minister and Stupid what they call "Conservatives" or "Patriot" who are trying to rewrite the history to make it sound comfortable for them. Don't they know what they are doing is deteriorating the reputation of our country?
They aren't Patriots. They are in fact traitors. Abe is a traitor!