04 March 2014
Not homosexual, homosocial! I joined naked men in thong festival in Hobara town, Date-city, Fukushima Prefecture.
You may feel familiar with Fukushima. Yes, that is in the same prefecture in which that severe nuclear accident occurred after the earthquake and tsunami hit the nuclear plants 3 years ago. Hobara is 50 kilometers away from the Fukushima Daiichi Nuclear Power Plants.
On 2nd of March, I traveled to Fukushima from Tokyo. I brought my gaiger counter (radiation level measure). This was my 5th trip to Fukushima since that disaster. My purpose this time was my third time participation in the festival as naked man in thong walking and running on the street. Other 2 times I joined radiation clean-up mission of the town.
What my gaiger counter indiated at the Tokyo Railway and Fukushima Station were very similar.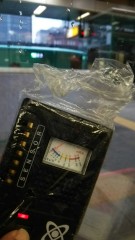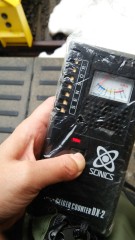 3 years ago, it was different. The below is what I took in Hobara Station July 2011, 4 months after the accident.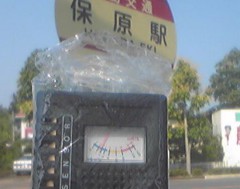 As you see, the counter needle went more right. It was over 0.1 Rem. More than 10 times of normal level.
However, it went down but still radiation level is higher than normal.
On that day I went to the gathering place near the Itsukushima Shrine in Hobara town to put on thong.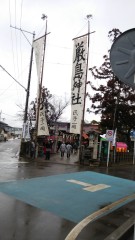 Over there around 70 men gathered to prepare for the participation. All guys became naked and bathed in hot water tub and after that they got themselves in thongs by local festival staff. Naked guys waiting in a room holding thongs in their hands. Talking about their bodies. Someone joked about that. (See the photos on this Japanese site which were taken 3 years ago) The thong contains cup to hold guys' private thing. After it was tightened by the staff, it was like being chained on your ass to hips. Kind of extra-ordinary feeling.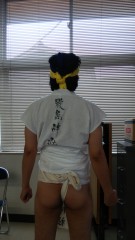 It is called, Fundoshi or Mawashi in Japanese. Sumo wrestler wear that. In the old days, it was maily used as underwear or swimwear for all the men in Japan.
The festival is named, Tsutsuko-hiki Festival. It literally means pulling the Tsutsuko, divine rice in a big straw bag which weighs 800 kg. To wish for rich harvest and health of the localies. By pulling the bag from all the direction the rice turns out to be soft and sweet rice cake. If you eat that, you can stay healthy all year around.
I learned about this festival when I joined the radiation clean-up mission. Then I decided to join the festival every year to wish for betterment of the town's environment. Only God can change things better, I guess.
After dress-up of the thong guys had to wait for the main event for 1 to 2 hours. Until then other things such as performances or children sports event went on outside.
During that waiting period, guys chatted each other drinking sake (Japanese alchohol beverage) and eating foods in a small room. It is the very men's world. Talking about life, sex and etc. I hesitated to talk about nuclear things because it was too serious for the localies.
Guys were mostly from Fukushima. One young man was from Australia. He said that he now lives in Iwaki-city in Fukushima as translator. He said that he enjoyed wearing Fundoshi. That amazed me. Only one caucasion young man among 70 Japanese men. It was like the short novel I wrote on this blog. A foreign guy experiences very traditional thing which modern Japense do not any longer.
After an hour long talk, I found myself very drank. The main event started and I ran with other guys to the shrine. Guys transported Tsutsuko on the carrier shouting "Wasshoi." After transporting it on main streets of the town, we placed that on the road. Then we, guys pull and bang that on the road shouting.
Later we transported that back to the shrine and the Tsutsuko bag was cut to open. Rice cake in it was divided and handed to participants and gallery. I enjoyed this festival last year and two years ago. However, this time I got too drank to remember what exactly I did.
I just hope things are getting better in Fukushima, Japan and the whole world.
03 January 2014
Year of 2014 started.
On one of new year's days I was invited to the dinner at Tokyo's most expensive French cuisine restaurant, LA TOUR D'ARGENT. It is located in The Hotel New Otani Tokyo, one of Japan's high class hotel chain.
The below photo is me in kimono at the waiting room of the restaurant. Only waiting room is as big as one ordinary restaurant. I was allowed to take a photo of me within waiting room area.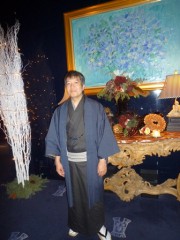 As you see the interior is georgeous. The dining room was georgeous as well. Mirror ceiling and chandeliers, candles. Tens of garsons in black uniform walking around to serve the same number of tables. That reminds me of the film "The Great Gatsby."
I had champagne, wine, and full course of very delicous meals. The speciality of the course was roast canard. Each guest was given a card of canard (duckling) he/she eats with its number.
A sommelier selected a wine that fits the course menu. He said one of most expensive wine the restaurant has is Romane Conti, which one bottle costs 2500000 yen, 25 thousands US $ or Euro. Of course it was not what our group could afford. So I chose half bottle of wine which costed around 19000 yen.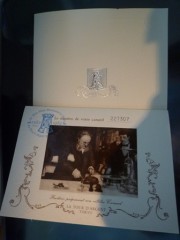 I really enjoyed that. But at the same time I had to feel guilty about it. The dinner cost a lot. That one dinner can equal a few people's monthly food expense. In the world half of the population are starving. This luxurious dinner should cost equivalentl to annual income of some portion of the people in this world.
Moreover, the bottle of Romane Conti costs construction of a school that hundreds of children can attend in third world nations.
Not just in third world but even in first world like Japan or America, such dinner is far exceeds the living standard of ordinary people. Last year I went to Okinawa. I visited the US Marine facilities. At the entrance of US Marine training camp, I saw the below sign that says "Hard training makes hard marine."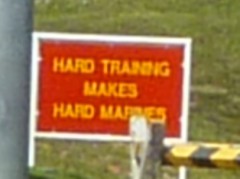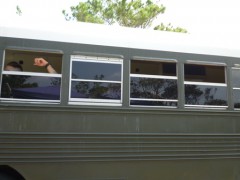 I saw the bus of trainees entering the gate. I heard those young people come from very poor family that could not afford college education for their children so they had no choice but to join the marine, what is called, Poverty Draft.
Meanwhile, very rich people like who can afford very expensive dinner like LA TOUR D'ARGENT exploits such young people to grow their wealth provoking wars all over the world. Kind of plutonomy. That is the social structure of today's world. I wrote a novel on this theme.
The bus transporting capitalism slaves to the military base reminds of one very historical place in Poland which I visited 6 years ago. The similar sign was posted at the gate of the facility.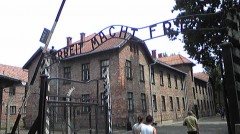 ARBEIT MACHT FREI. (Labour makes you free.)
18:55 Posted in Culture, France, Politics, Society, Tokyo Life, USA issues | Permalink | Comments (0) | Tags: military, poverty, class gap, economy, kimono, okinawa
24 December 2013
The novel was written by Japan's most notable novelist in 20th century, Endo Shusaku.
Recently the news that Hollywood decided to make the story into film next year was reported. The setting of the story was early 17th century of Nagasaki, Japan when the government ruled ban on Chrisitianity and entry of foreigners except Chinese and Dutch. That policy was aimed to get rid of western influence on its society in order to avoid colonization. Dutch was neutral as for this matter. Dutch hated Catholic nations and advised Japanese government to stop trading with Catholic nations.
The story started with a news that one most prominent and highly respected missionary sent to Japan abandoned his faith after severe torturing by Japanese authority. That shocked two Portuguese Catholic priests. They decided to secretly enter into one secretly Christian village in order to locate the missionary and continue Chrisian preaching for the localies.
However, they were found and arrested by Nagasaki authority and then their followers were tortured to death. One of the two died. One surviving one prayed God for his tortured followers but no salvage was done. God kept silence.
Later he finally met the person he wanted to meet from the beginning. The missionary he once respected whom he tried to locate. He was advised by the missionary to abandon his faith just as he did. Then he followed his advise. What he did was stepping on plate of engraved Jesus Christ picture. That was most usual custom to check if a person is Christian or not in those days. If you could do that, that proved you were never Christian or you just abandone your faith by doing so. He stepped on it to save tortured followers. It was a deal with the authority.
Since that era, Japanese Christian teaching was totally abandoned until it was re-allowed in late 19th century.
Surprisingly the story is based on real characters and real events. In the book the authority says "Christianity can never place roots on Japanese land. It is never universal teaching." That sounds true.
In fact centuries after that era, even after freedom of faith was insured by the constitution, less than 1 % of the population are Christian today. More surprisingly in this season you can veiw many illumination and Christmas trees and find Christmas events in Tokyo. But very few of them are dedicated Christians. Japanese Christmas events are nothing but commercial purpose.
One remain of Christianity of that era may be tea ceremony. There is a legend that Japanese tea ceremony was modeled after Christian mass ceremony in that era. In fact founder of tea ceremony, Sen no Rikyu was a man of the era that Christianity was still allowed and his wife and daughter were Christian.
If that is true, Christianity was continued throughout banned era. The root was placed. Praise Jesus and Praise tea!
26 June 2013
Recently I have become a big fan of Germany, Deutschland.
The documentary film I saw represents one aspect of that.
Germany has recently decided to terminate operation of all of nuclear power plants in their country until 2022.
German people started heated movement of non-nuclear policy after Chernobyl accident in 1986.
The film described non-nuke and self-sufficient power generation movement of people living in one small town, named Schonauer. After going through fierce battles with big power company and debates and referendums among localies, they established their own power generation system and company.
Germany is indeed very sophisticated society. German people are so enthusiastic about civil activities.
Since Fukushima accident, Japanese citizens are learning what Germans did and are doing.
I am one of student of German experiences.
Ich bin Deutsch!! Danke schonn!!
The below photo is me in German logo T shirt, that says "Nuclear? No Thank You."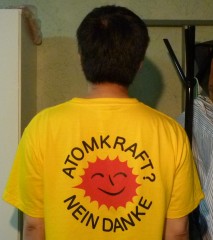 The below video is what I took at the anti-nuke event in September 2011. One German anti-nuke activist made a speech on the stage to tens of thousands of audience attending.