20 June 2013
Her name is Kanako Otsuji. She is now 38 years old. Last month she obtained the seat for Japan's upper house parliament.
On 18 of June, she made a speech in the meeting titled "Sexuality and Politics" held by Rainbow Action group, at Nakano Zero Hall in Tokyo. Around 60 people including me attended the meeting.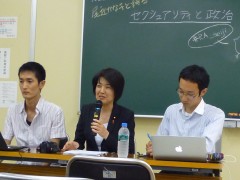 She was a candidate for that position in the election held 5 years and 10 months ago. She was listed in candidate list of nation-wide proportional representation constituency for one of Japan's major political party, Democratic Party of Japan. That was very first time in Japan's history that a major party nominates openly gay person as its candidate. She gathered some votes but could not reach passing border line. However, after more than 5 years, only 2 months left until the end of the term, she got to the position because several members died or resigned from the parliament. Kind of strange incident.
In the speech she talked about profile and how she is doing now. She used to be a member of prefecture congress in Osaka. She came out during that time. She is now actively working as a national parliament member and got involved in many law-making tasks. She recently was invited to and then attended a sexual minority's meeting held in US embassy in Tokyo.
I asked her how Japan can be changed in terms of this issue since Japan is different from western nations in the sense that Japan is not advanced in minority rights issues.
Her reply was, those nations and Japan have things in common that are practicing democracy. Democracy does not necessarily mean majority of people make the rule. Everyone has decision making right. We can make changes by making laws. Japan can change drastically when the time comes. Japan is not very religious like western nations. We are rather concerned about peer pressure matters.
That may be right, I think. According to the Reuter news report, the world-wide survey on ordinary citizens opinion about gay issue revealed Japan is as open-minded as western nations. Especially, younger generations' supporting rate for gays was higher than that of US.
Is it due to the recent gay liberation movement? That may not be a major cause. As she described Japan's morale standard is based on peer pressure. Homosexuality has been considered abnormal in this society but never been considered sin like Christian societies in the West. In fact histricaly Japanese society tolerated gay relationship until premodern time ended. Details in this post.
Furthermore, when we acquire new things, we can change very rapidly like late 19th century's industrialization or reconstrution after the second world war.
Ms. Otsuji said even after entry of parliament, she never experienced any harrassment by other people in the house. People are friendly and trusting her very well.
Thanks to her, her outing of what she is helps our nation progress further, to more democratic and civilized. She is the proof of our democracy, freedom and flexible culture. I am proud of her. We all should be proud of her.
09 January 2013
In the beginning of this year, I went to Nozawa Onsen village in Nagano Prefecture.
The below is last year's footage, February 2012.
It is famous ski resort but it is also famous for natural hot spring town. The word, Onsen means natural hot spring in Japanese.
Interestingly enough, the town is not only famous for Japanese skiers but Australians, New Zealanders and other foreigners. A ski resort famous for foreigners I knew was Niseko in Hokkaido. I visited there two years ago. Then I learnt Australians there became more interested in Nozawa Onsen. That was why I visited Nozawa last year and this year.
The place was better than expected. Snow quality was great. The courses were varied. I saw many Australians and other foreigners skiing and snowboarding. Not as many as number I saw in Niseko but I could meet some Aussies every time I got on a lift. I even could meet them attending ski school which only provided Japanese intruction. They told me they learnt it by body language. Wow!!
I saw them outside the ski areas. That is public bath houses. There are 13 community bath houses in the village. It is open early in the morning until late at night. All of them were managed by localies and free of charge for anybody including tourists. The hot water comes from volcano line underneath the village. It smells sulfur and some of them were really hot. I could not imagine foreigners enjoying that. But I saw them quite frequently.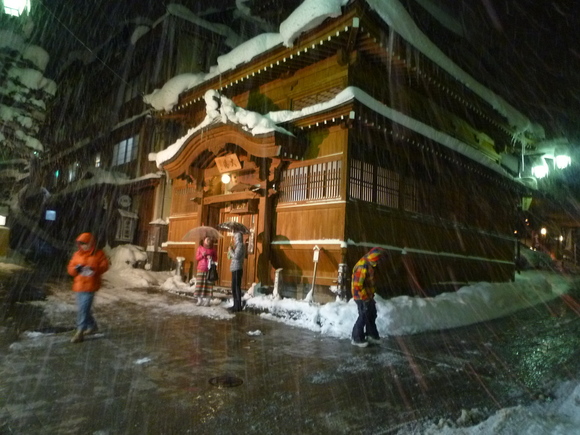 I spoke with localies. They told me they actually made sales to Australians flying there. However, they never change their village to resort style. They keep the way they have been from the past. You can't find any big hotels and leisure facilities over there. Just small local hotels, bath houses, temples, shrines, small shops, restaurants and bars. No big places except ski slopes. Very much like Japanese traditional village.
Localies seems to be proud of keeping their originality and personality. When I bathed in a community bath, one local man scolded a young boy saying "wash your penis before you get into the bath tub." That means keep the bath clean and respect the manners.
It is a very mystique place. Real winter wonderland!
11 December 2012
A plutonomy means a form of capitalism that is designed to make the rich control a nation's government, its economy and its society.
At a certain place in a certain country, the wealthy have gathered and are having a meeting.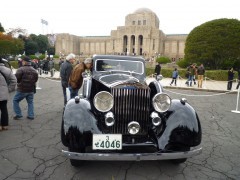 They are the elite of the country. Although few in number, they control the majority of the country's wealth. This is why they can do anything. They have the power to manipulate society to suit themselves. They have the economy, of course, politics, and even the media which forms public opinions in the palms of their hands.
As they all gather under the chandelier, one of the wealthy breaks the ice while drinking his champagne.
"Hey, the global economy is on a bit of a downturn recently. I feel that our wealth has also been on a decreasing trend. Shouldn't we come up with some kind of countermeasure to this?"
"You're so right. Taxes are still just too high! We should really bring down things like the income tax rate."
"-and let's privatize the public enterprises. And relax the regulations. Let's pressure the government to get rid of regulations which are an obstacle to business. And to reduce labor costs, make them allow more temporary workers. The politicians and government officials all got where they are now through our donations and pay-offs; they'll do whatever we ask."
"But the government's budget will shrink by the amount the taxes we pay goes down, won't it? How do we make up for the deficit?"
"That's easy. We just reduce the education and social welfare budgets which have been used for the public up to now. The expensive taxes that we've been paying have been diverted to those that barely pay any tax. That's why we just need to keep raising consumption tax, insurance and pension payments, which they have to pay an equal amount of."
"But surely the public won't allow it. If we do that, public services will be degraded, the burden on individuals will increase, and they'll be critical that the rich get preferential tax treatment, and that workers are treated as disposable. We have to be conscious of the fact that this country is a democracy. Even if we have all of the wealth, regardless of one's assets, when it comes to votes it's one person, one vote after all."
"Which is why we'll use the media. We are also their major stockholders and advertisers; we'll feed them this information. We'll tell them that freeing the economy will lead to the development of the public and government as a whole, that they should consider the principles of capitalism, and that a large variety of cheaper, high quality goods and services will become available to consumers thanks to this freeing up. We'll tell them that if enterprise profits, workers will also receive benefits through the trickle-down phenomenon. If we run a campaign like this using some kept scholars, nobody will oppose us!"
The proposals decided upon at the meeting were executed by the government, and went unopposed by society thanks to the media's guidance of public opinion. Now then, on to the second meeting ten years later.
To be continued to Chapter 2
The story is an interesting and cynical perspective of the past few generations of society, specifically focusing on the disparity in wealth between the wealthy and the average member of the public. The story shows the wealthy conspiring to widen the gap between themselves and the workers of society.
It may be interesting to read this story along with a song. "Mercedes Benz".
26 November 2012
1969 film that a young Texan boy travelled to New York hoping that he would make a fortune but just got troubles ending up being a male whore in cowboy outfit selling sex to men on 42nd street.
I learnt about this film by reading a magazine article published in the same year. That was Japanese magazine. It says "The film is about gay issue in America. That describes how hard for gays living in America. In Japan gays are considered abnormal but not outlawed and in showbiz industry gays can take advantage of what they are. In most states of America gay sex is outlawed. For politicians exposing himself as being gay means end of his political career." (November 18, 1969, PREIBOUI (Playboy) published by Shueisha) That was Japanese perspective of the film at that time.
Sounds odd. Now as we see, America is much more open society to gays than Japan. There are openly gay congressmen and a senator. In some states gay marriage is legalized. But just a generation plus ten years ago, America was a hell for gays. The film clearly described how homophobiac American society had been.
Maybe such oppression turned driving force for liberation along with other civil rights movement like Blacks and women.
The story of the film was very boring to me but I understand significance of the message delivered in the film. Surprisingly the film was released as X-rated at that time. It can never be classified as X-rated by today's standard. Maybe because it was a time even a Color TV with remote was considered most sophisticated product as depicted in the film.
Things have changed drastically over the decades.