07 December 2011
A book "Washington Heights" is written by a female journalist, AKIO Satoko. She studied how the United States government managed occupied Japan after the country defeated his enemy. Then she spotlighted on "Washington Heights," which was exclusive residential area for the U.S. military personnels located in the center of Tokyo. The area was built after the war was over by the order of U.S. occupational force. Before the war, it was Japanese imperial army's property. It was located next to Meiji Jingu Shrine, memorial shrine for the Meiji Emperor (crowned between 1868-1912) .

After the Olympic the place turned to famous public park, Yoyogi Park and Japan's public broadcasting station, NHK building.
The book mainly described episodes of Japan's Occupied era (1945-1952) and economic booming era until Tokyo Olympic in 1964. When the U.S. force arrived in Japan, they occupied many places in Tokyo for its administration purpose. The General Head Quarter was placed in Dai-ichi Life Insurance Building near the Imperial Palace.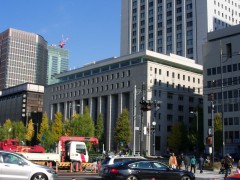 But they needed housing for soldiers and staff working for the G.H.Q. So they ordered the Japanese government to build housing block for Americans, requiring facilities and equipment equivalent to American standard of that time. That was the hell of a big job for the Japanese government because the places were all burnt down, and shortage of goods.
The Washington Heights, American style housing provided Japanese new culture and lifestyle. Because American personnels and their family living there wanted entertainment, many Japanese entertainers were recruited for performances for them. That caused a big entertainment icon, Journey's Production, which has released many great talents to Japan's showbiz until now. Morie Hana, a famous Japanese fashion designer opened clothing shop for women living in the residential area. She studied most sophisticated western clothing during that time. As for food culture, Japanese learnt fresh vegetable farming to meet demands from Americans. Japanese learnt how to farm vegetable for the fresh salad taking sanitation into account.
As for how Americans thought about occupying Japan was described as well.
When Americans first arrived in Japan after the war, they were surprised because their former enemy citizens were so friendly to them. Many Japanese in fact, felt liberated when the war was over. So occupation worked more smoothly than expected. The U.S. occupation in fact provided democratization of Japan including women's suffrage, reform of biased wealth distribution towards elite class. The U.S. aim was to demilitalize Japan so they thought cracking down feudal customs and elite class power was best way to do.
The U.S. at that time were so worried about communist threat from Soviet Union. So they treated Japan nicely although Japan was a former enemy.
Most interesting episode noted in the book was that a former Japanese military officer met Afro-American man working as lower rank staff of G.H.Q. who told him that Blacks were glad when Japan attacked Pearl Harbor.
The conclusion of the book was U.S. occupation provided Japan great things but we have to remember Japan has been controlled by U.S. since that time and even after Japan recovered independence, we are always facing indirect occupation by the U.S. such as military bases in Okinawa, Tokyo, and diplomatic pressure to liberalize trade and commerce.
Recently the U.S. hegemony has been on the edge as you see "Lehman Shock" and "Occupy Wall Street" movement. The U.S. can no longer function as a role model for Japanese.
Thanks to the U.S. we could have developed the nation acquiring many great things from them but it is time we develop us ourselves in our own way.
19 June 2011
I went to the Imperial Theatre near the imperial palace to view the stage show of "Gone with the Wind." As you know this is based on America's most famous novel written by Margaret Mitchel. It was written and made into film in 1930's.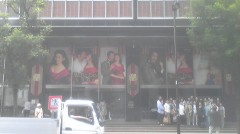 I've seen the film version many times and read some parts of the original novel. The stage show was 2 hours and half long. It was like summarized fairly tale version of the novel and film. It is surprising to know such show was played by Japanese actors. It is like Americans playing Samurai and Geisha.
Overall the show was well-done. I do not have to compare that with the film version or original novel. Stage version has its own flavour. This story has good essence of making good story telling. Like contrast of characters, contrast of situations. Good transition and developments so that viewers can easily follow.
However, I do not enjoy the story as much as before.
The story is in fact, unrealistic in the following points.
1. Egoistic and moody girl like Scarlett could attract so many men.
2. Such spoiled girl growing up in a wealthy family could take care of giving birth of a child and live through turmoil after the war.
3. Such young lady fell in love with much older guy like Rhett.
Furthermore this story has been criticized for romanticizing the slavery time in the South.
Afro-American people were portrayed as loyal slaves reveling with their oppressors. In the original novel the word "nigger" was repeatedly used. There was an event that Scarlett was assaulted by a Afro-American robbery and her second husband, Frank Kennedy took a revenge of that being Koo Klax Kuran.
Indeed the story was written from the viewpoint of conservative white people in the South. Slavery shouldn't be romanticized.
I am recently interested in an actress, Hattie McDaniel in the film version who won Academy Supporting role award. The film was clean-up version compared to the novel. Not using the word "nigger," Scarlett being assaulted by white man instead of Afro-American. Scarlett's Mammy played by McDaniel did played a very important and active role in the film.
I guess it was because the producer Selznick was Jewish and sharing some oppression experience with her. The film was made in 1930's when Nazi-Germany arose in Europe.
McDaniel made a speech that she was glad to receive the award on behalf of Afro-Americans. She did the great job in that sense although she had to play a sterotype role.
I guess it would be more interesting to make a film of how she lived and how she acted in the fim during that time. Such thing should be focused.
On the Stage version I saw slave role actors put black paint on their skin to look like Afro-American. Scarlett screamed at a slave "Kuronbo (meaning Nigger)." Scarlett was assaulted by Afro-American robbery. These are wrong things, aren't they.
30 April 2011
Tomodachi means "friend(s)" in Japanese. The U.S. military in Japan is undergoing "Operation Tomodach" after the earthquake of magnitude 9.0, tsunami and nuclear power plant explosion occurred in our country.
Yes, the U.S. has been our greatest and closest friend, especially in a turmoil caused by the earthquake, tsunami and nuclear power plant disaster.
The U.S. government and military helped us a lot by sending air craft carrier, Ronald Reagan to the disastor area coast to transport commodities and equipments in order to rescue refugees in the disaster areas. The U.S. goverment provided expertise and machines to crippled nuclear power plants.
We do appreciate that. But the U.S. is not only country that provides assistance to us. China, Russia, France, Israel and a lot of other nations do so. We do appreciate those nations as well.
I do know for the U.S. Japan is not just a friend, rather very important ally in terms of politics and economics. Japan is 2nd largest owner of U.S. treasury bonds next to China. Japan is one of the biggest trading partner for the U.S.
As for crippled nuclear plants, the U.S. should be very much concerned about this issue because the U.S. is heavily dependent on nuclear power generation having more than 100 plants in the nation. In fact crippled nuclear plants in Fukushima-Daiichi contains U.S. made reactors, designed by General Electronics. The same type of reactors are used in 23 plants in the U.S.
Like the U.S. France is very concerned as CEO of France's biggest nuclear power plant corporation came to Japan to fix the problem. France is much more heavily dependent on nuclear power generation, 80% of its electriciy comes from nuclear power, while 20% in the U.S. and 35% in Japan.
Just recently the U.S. and Japanese government agreed to relocate U.S. Marine in Okinawa. The plan is relocate around 8000 marines to Guam and newly building base inside Okinawa island. That plan has been disapproved by local Okinawans. Even the Okinawa governor demanded the change of plan.
But the both governments seem to go ahead despite the protest movement there because the "Operation Tomodachi" can ease the tension there. But it seems not.
We feel the U.S. is taking advantage of this turmoil to get what they want. In our country such act is called "stealing things from burning house." Later you will be demised.
Don't do that, please if you want to continue to be good friend to us.
Under this plan, Japanese government not only provides the area for the new base but the budget to build the new base. This is huge money.
You know we are now in a big crisis. We need so much money to rebuild the disaster areas and fix and safely abandon nuclear plants. How come you can receive such benefits from troubled nation?
In Yokosuka, USS George Washington evacuated from Yokosuka, home port for the ship right after the earthquake and nuclear power plant explosion happened. Now he returned.
Funny, that ship was deployed for the purpose of defending Japan. This time he did not. Ironically, the nuclear powered ship which contains so much of radioactive materials got away from radioactive.
After he returned, they say the ship is safe. But localies in Yokosuka cannot agree. People have been so concerned about radioactive since its home porting in 2008. Now we've got one from our own.
My advice as your Tomodachi is to rethink the whole package of US-Japan defense treaty and its operation.
We do appreciate great friendship so in order to stregthen such friendship why not just rethink about this issue?
Especially after the earthquake disastor, our nation's financial and mental situation has greatly changed. We do not want to suffer any more.
So be nice TOMODACHI!
11 February 2011
I went to Okinawa last month to help the localies protest against construction of new U.S. military bases on their island. I visited two sites. One is Henoko, where US marine's runways is planned to be constructed by reclaiming the coral reef ocean where endangered mammals, dugongs inhabit.
The other one is Takae, where the U.S. marine's helicopter pads are under construction in the mountain. The helicopters or ospreys will be deployed. They are very much concerned about big noises and accident caused by those.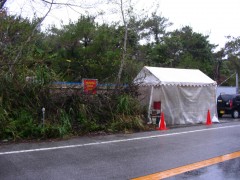 In both sites, localies set up tents to monitor what construction workers do and do protest activities in order to stop or delay the construction. They say they do not care what the government decides because they can decide what to do within their communities. I saw a local man stopping cars passing by including those belonging to the US marine. They had guts to protect their community. Some of them are even accused of blocking the road by the authority. But they still keep on doing what they do.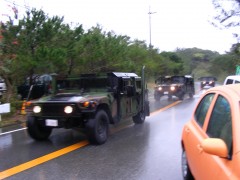 Ironically, this reminds me of what I learnt during my college days in the U.S. I think this is American way of doing democracy. If a citizen thinks his or her own government is doing wrong, right the wrong even by breaking the law. Like Rosa Parks' refusing to give front seat in the bus to white passenger which led to boycott on the commute buses by Afro-Americans and end up growing civil rights act movement.
The Japanese government and the U.S. marine is doing the wrong thing because they do the projects without approval from the localies.
It is also called "Libertarianism" which respects individuals' freedom not being intervened by the authority. That is why they protest gun control and public medical insurance offering. They want to minimize the government's restriction on individuals' lives. Their first priority is individualism and their most important community is their local town, not central governemnt. That is how the United States of America is constructed.
That means Okinawans' localies have the right to protest and overthrow the plans which the two big governments decide. Furthermore, Libertarians think such government should be overthrown by militias.