01 April 2007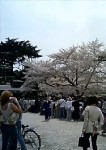 The above photo was taken this afternoon. Many people are making line to buy a ticket to enter the Shinjuku Garden. One of the famous "Cherry blossoms to see" spots in Tokyo. This is also one of the imperial gardens and well maintained. The admission fee is 200 yen. Around 1.5 US$.
I wanted to enter but there were too many people trying to enter. I just gave up. Then I left there.
Last year I remember I could enter without waiting and enjoyed cherry blossoms in the park. You can see the photos taken in the album.
05 March 2007
Prime Minister Shinzo Abe who is a successor of Junichiro Koizumi, again made an indefensible mistake.
Just like Koizumi visited war-criminals graves.
He says Japan wouldn't apologize for forcing women into sex slaves for soldiers during World War II. Currently US Congress is considering resolution that request Japanese government to apologize and ackknowlege the wrongdoing.
He mentioned Japan wouldn't apologize even if the resolution passes.
The Pime Minister damaged Japan's image. Japan would be seen as nation who has no sense of human rights.
Prime Minister, Please resign for the benefit of our nation!
Stupid Prime Minister and Stupid what they call "Conservatives" or "Patriot" who are trying to rewrite the history to make it sound comfortable for them. Don't they know what they are doing is deteriorating the reputation of our country?
They aren't Patriots. They are in fact traitors. Abe is a traitor!
12 February 2007
According to the Kyodo Press in Japan, English conversation teaching school in Kofu city of Yamanashi Prefecture posted the ad that recruits an English teacher on the bulletin board in public facility managed by Yamanashi International Association. The condition of the applicant was limited to blond hair with blue or green eyes. American Japanese person protested against the association. The facility apologized for this, saying they lacked the consideration.
What do you think about that?
Well, for us typical foreigner is Blond and blue or green eyes, so that English schools like to hire people with such features. Yes, it is racist. But blond and blue eyes are what we are longing for.
I always wanted to be like Brad Pitt.
08 February 2007
Does your First Lady, Laura Bush has a blog?
Surprisingly our First Lady does have it. Please see this if you can read Japanese.
The title of the blog is Akie Abe's Smile Talk. I am neither her fan nor one for her husband, Prime Minister Shinzo Abe.
But I like her blog very much. The posts may be written by some kind of ghost writer.
But I still like this blog.
Well, you cannot believe how close you feel to your First Lady by the blog.
Last Monday she talked about her coming back home. She talked about her dog in her home.
It seems she is a very kind lady. She visited facilities for street childeren in Phillipines and metally disables in Belguim.
First Lady should be a tough job as you can imagine how Laura Bush is. She has to smile all the time even when she is tired. You cannot believe such a busy woman is writing the blog, it is read nationwide.
However, liking her blog and approving her husband's work are two different things. I do not support our prime minister.
In fact he may be out of the job soon. But even after he resigns, I would continue reading his wife's blog.