14 August 2011
The book is letter format. A writer named Chikako Yamamoto's wrote her experience of life in West Germany during Chernobyl nuclear crisis between April 1986 and 1989.
During that time she lived in West Berlin. What she experienced had many similarities to my current life in Tokyo, or surprisingly even worse. Tokyo is 220 kilometers away from Fukushima, but West Berlin is 1200 km away from Chernobyl. But radioactives Germen had to deal with was the same or even worse than Fukushima. Is it because Chernobyl disaster was much worse and more wide-spread or what we've been told since Fukushima crisis was censored by the authorities?
The life in West Germany was dramatically changed since Chernobyl accident occurred. The newspaper was occupied by radioactive related matters.
In contrast as time passed by, people tried to adopt to such changed environment and not to pay attention to serious matters although food they ate had been kept contaminated.
West Germany at that time censored the reports on radioactives and supressed anti-nuke activities because at that time West Germany took pro-nuke policy. But some citizens stood up and started to fight against oppression.
Similar phenomenons have been happening here in Japan.
However, because this is quarter century after Chernobyl, we may have been a little wiser, I hope.
Japanese Prime Minister, Naoto Kan declared "Less dependency on nuclear energy" policy on August 6, the day of Hiroshima nuclear bomb day. It is like modeled after Germany's decision of abandoning all nuke plants in that country by 2012.
Now only 1 third of Japan's nuclear power plants are operated currently. No re-operation is scheduled at this point. Local governments of where nuke plants are located are very reluctant to OK re-operation.
Japan's Parliament decided to pass the law that promotes more use of renewable energy, so called FIT (Feed in Tarrif). This is modeled after Germany's system as well.
We have to learn a lot from Germany's experience, like we did in the past such as imperial constitution and ground force military system in late 19th century and how to recover relationship with neighboring nations which we invaded during the second world war.
Deutschland, be our good model. Danke!
17 August 2010
Anti-US military base activist, Mr. Ashitomi spoke to young students from Palestinean, and Israel with interpreter.
He talked about why he set up the tent to monitor nearby US marine base, Camp Schwab.
Japanese government recently agreed with the US marine on expansion of the current marine base for the relocation of the Futenma base in Okinawa.
Part 1 is environmetal issue related to the construction of new base. Part 2 is peace issue.
Anti-US base activist talks 反米軍基地活動家の話し Part 1
Anti-US base activist talks 反米軍基地活動家の話し Part 2
You can learn more detail in this blog's tag, Okinawa, which you can access by clicking the below.
14 June 2010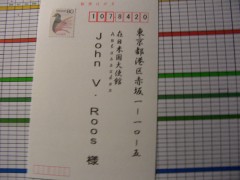 This is front side.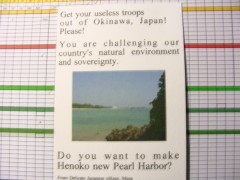 That's my message!
I hope he reads this and delivers it to Pentagon and Obama.
29 May 2010
Japanese loopy PM accepted humiliating agreement from the U.S.
He turned down the proposal of relocating US marine base, Futenma in Okinawa Prefecture to off the island.
However, if this is going to work out as stated in the agreement is uncertain. Okinawans are now very, very angry with the agreement.
So are a lot of Japanese voters. Maybe after July election, he will resign from prime ministerhood.
New government will then have to rethink the agreement.
But the good thing is because of this turmoil, more and more people have become aware that the U.S. military is not defending Japan at all.
It is not the issue of relocation, it is reducing or getting rid of the bases from Japan.
Even relocation site is changed to Guam or Hawaii, there is another problem.
Can't believe that the U.S. military has been messing islands in the Pacific. (Well, Japanese military did so partially.)
I just found very interesting show on the net. The voices from 3 islands in the Pacific.
Stupid, why not the U.S. government spend vast amount of money on poverty, education or environmental protection instead of messing people and environment of the islands or Iraq, or Afghanistan?