25 October 2009
The main purpose was to meet people in Okinawa who confronts most unwanted unwelcome environmentally destructive and dangerous facilities in Okinawa. I joined them. If you want to know the detail, please read this article.
The below is the video clip I made for the summary of my Anti-US base tour.
However, I really enjoyed sightseeing and leisure in Okinawa, too. Swimming in emerald green sea, attending a concert on the beach, eating delicous food, forest trecking and seeing magnificient views of the island. This is the most beautiful island in the world only if the US fucking bases are gotten rid of. See the below video clip. That's fun part of Okinawa trip.
Since the Cold War is over, their presence is useless. Potential threat, China? No. China is world's largest owner of U.S. treasury bonds. They can't confront China because they owe Chinese a lot. All they do in Okinawa or other base towns in Japan is spread pollution disease, killing endangered mammals, commiting crimes such as rape and murder.
What are they doing? Go back where they belong, where they are welcome. Not in Okinawa, Not elsewhere in Japan.
13 October 2009
In Henoko, Nago-city, Okinawa Prefecture, Southernmost island of Japan, Dugongs lives are endangered by US Marine Base construction.
Negotiation to change the plan is underway between the two governments.
It is in fact, part of US Military Transformation Program which includes relocation of Marines in Futenma. After Futenma is removed, half of the Marines there will be relocated to Guam, the other half will be to Henoko.
But endangered sea mammals, dugongs inhabit in that coastal area. They eat seaweeds in that sea.
The construction of the base will pollute the sea of that area thus kill that endangered species.
You know what! Americans who criticize Japan's whaling and dolphin hunting are killing such beautiful and endangered sea mammals.
The preview of the film portrays their hypocrisy. Not taking on evil act of their own govermnet but accusing us of sea mammal killer.
Japanese goverment and local people in Okinawa don't want that but the U.S. is pressuring to build that.
Don't they think it would cause damage on their country's reputation among Japanese?
Japanese don't like Americans any more and never want to buy things from Americans.
The U.S. base is not defending Japan at all. China is thought to be potential threat, but China lends so much money to their bankrupt economy.
Actually the U.S. needs financial help from Japan, too. Aren't they wise enough to be concerned about Japanese public opinion for their national interest?
Actually it is time Japanese stop being friend with Americans. They are not decent enough to get along with.
Well, I always try to avoid buying goods made in USA or those of American brands except necessary ones like Microsoft.
Since deployment of Nuclear Aircraft Carrier in Yokosuka port, my feeling towards America was really changed.
In fact, I realized that country sucks. I got tired of Hollywood films and pop music. I am more interested in other countries' culture and my own culture, not the one with no substantial tradition and history.
Poor country, even a President receives Nobel Peace Prize, they have to continue spending so much money to kill people and destroy environment. The people there are losing jobs, starving and cannot afford medical expenditure. Young Americans join military to get tuition for college education. Obama never deserves Nobel Peace Prize.
I can never believe I used to live in their country and study there for more than 5 years. That is away in the past.
09 August 2009
American dolphin trainer named Ric O'Barry is taking on Japan's traditional culture.
He loves dolphins so he doesn't like Japanese dolphin hunting in Taiji, Wakayama Prefecture.
He came to the town and shoot the scenes of hunting and made documentary film.
Here comes again after whaling in Antarctica. This time within Japan's territory. It seems he and his friends think Japan is part of US territory.
I don't eat dolphin meat. But the localies hunt and eat them for centuries. That is their culture and tradition. Japanese government provides the license to them. It doesn't matter whether their hunting method is cruel or not. We, human eat animal meat in order to survive. You can see as graphic scenes as that in beef processing factories.
Well, I believe such protestants are small portion of all. When I was in the U.S., Americans I met said they don't care about cultural thing. Unless the species is endangered, they don't care who eats what. I think that is the ordinary people's response.
I was against Japan's whaling in Antarctica because it is not worth it. There is not high demand any more and it hurts Australia's tourist business. I never agree with Aussie's idea that whales are cute and intelligent mammals so we shouldn't kill. It can mean you can kill less intelligent animals? Sounds racist.
Is it white Christian ideology that once you believe one thing is good, force others to follow?
Interesting thing is in 19th century westerners came to Japan and Southern Pacific islands and criticized local gay culture as "uncivilized" from their standard. Then the gay culture declined.
Now what are westerners doing about gay issues now?
If Mr. O'Barry really cares about Japan's cute mammals lives being threatened, he should go to Nago city, Okinawa. There are many mammals that are threatened by construction of US Marine base. He doesn't even have to visit Japan, he can go to Washington first. Actually WWF sued US Defense department for that matter. He should forget the dolphins but saves dugongs. Or he wouldn't because dugongs don't do the tricks he teaches?
WWF-Japan leader calls for dugong research by halting USMC training exercises
Dear Dave: I don't buy US goods, either lately. Whaling in Antarctica or dolphin hunting in Taiji are not illegal. Internationally and domestically. Americans are exporting beef with mad cow disease to the world. They let cows eat bones of dead cows, that cause mad cow disease.
I haven't seen the movie. I want to see the movie anyway. Documentary can be biased.
16 March 2009
From Cherbourg, France 2 ships that carries very, very hazardous nuclear fuels, so called MOX departed. The ships' destinations are several Japanese ports near nuclear power plants.
That is nothing but bothersome not only to Japan but also France and other nations in the world. From France to Japan the ships would sail on the Atlantic ocean and Pacific oceans. If the MOX fuels got some troubles such as radiation leak, coastal regions near the ships would be affected. The potential regions would include North America, South Africa, Australia, New Zealand. The transported MOX fuels contains 1.4 tons of plutonium that can possibly be converted to nuclear weapons.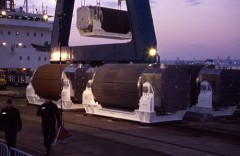 If the terrorist attack the ships, what would happen? Is this what people of the world can be happy with?
That MOX fuels are not even welcome by Japanese. Only by people related to nuclear power plant businesses.
The MOX fuels are very inefficient. The current power plants in Japan are not well equipped for MOX fuels.
The use of MOX fuels are not even permitted by local authorities. After the fuels arrived, it would have to wait for years in order to be used in the plants. It may never be used!
People of the world, especially French, Americans, Australians, New Zealanders, and Japanese. Please protest this stupid and dangerous sailing. That is much worse than whaling ship and even nuclear powered aircraft carrier like CVN 73.