20 October 2011
The Founder of computer giant, Apple, Steve Jobs died. He was a charisma, capable of inventing creative and sophisticated computer products such as Macintosh, iPhone, and iPad.
People mourned his death as though an emperor died.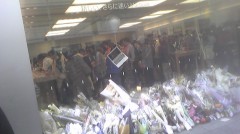 But at the same time in his homeland, there was a contradicting movement "Occupy Wall Street." This illustrates how serious the economy as a whole is despite the Apple marked record high sales.
Most Americans are not talented and lucky to be like Steve Jobs. From childhood, everyone is told that if you work hard, you can make yourself successful person. The reality is not.
But why should we treat him like a hero? After all, he is one of ambitious or greedy businessmen who wanted to make a huge money and prove himself very talented. He wasn't a saint like Mother Teresa or Ghandi. Nor was he a civil activist like Martin Luther King.
He was a member of richest 1 % which "Occupy Wall Street" people scapegoat.
I support Occupy Wall Street movement. It is not happening just in the U.S. but worldwide including Japan. Younger people are having hard time finding decent jobs. Partly because only 1 % occupy vast majority of the wealth.
I think a lot of people are now seeing the limit of capitalism and materialism. It is time to change our value in life.
Death of Steve Jobs and Occupy Wall Street movement symbolize coming of new era.
11 September 2011
A decade has passed since that incident.
The U.S. declared global war on terror. The U.S. sent troops to Afghanistan and Iraq.
After all, did the U.S. win?
The U.S. killed Hussein and Binladen.
But the Taliban wasn't defeated. They now revived their momentum gaining support from the localies.
Iraq was never democratised but became anarchic. Iraq never had weapons of mass-destruction.
It was a fake information. The U.S. provoked war based on the lies they made up. That deteriorated reputation of the U.S. government.
The U.S. spent 1 trillion dollars for the two wars. Now the budget is in serious condition.
The economy is in very bad shape. High unemployment rate, lower rating of U.S. treasury bonds.
The U.S. parliament passed PATRIOT law. The civil liberty has been violated. The distrust against Muslims is growing. The nation is divided. The U.S. is no longer free society.
Oh, it seemed things has moved as the terrorists wish.
14 August 2011
The book is letter format. A writer named Chikako Yamamoto's wrote her experience of life in West Germany during Chernobyl nuclear crisis between April 1986 and 1989.
During that time she lived in West Berlin. What she experienced had many similarities to my current life in Tokyo, or surprisingly even worse. Tokyo is 220 kilometers away from Fukushima, but West Berlin is 1200 km away from Chernobyl. But radioactives Germen had to deal with was the same or even worse than Fukushima. Is it because Chernobyl disaster was much worse and more wide-spread or what we've been told since Fukushima crisis was censored by the authorities?
The life in West Germany was dramatically changed since Chernobyl accident occurred. The newspaper was occupied by radioactive related matters.
In contrast as time passed by, people tried to adopt to such changed environment and not to pay attention to serious matters although food they ate had been kept contaminated.
West Germany at that time censored the reports on radioactives and supressed anti-nuke activities because at that time West Germany took pro-nuke policy. But some citizens stood up and started to fight against oppression.
Similar phenomenons have been happening here in Japan.
However, because this is quarter century after Chernobyl, we may have been a little wiser, I hope.
Japanese Prime Minister, Naoto Kan declared "Less dependency on nuclear energy" policy on August 6, the day of Hiroshima nuclear bomb day. It is like modeled after Germany's decision of abandoning all nuke plants in that country by 2012.
Now only 1 third of Japan's nuclear power plants are operated currently. No re-operation is scheduled at this point. Local governments of where nuke plants are located are very reluctant to OK re-operation.
Japan's Parliament decided to pass the law that promotes more use of renewable energy, so called FIT (Feed in Tarrif). This is modeled after Germany's system as well.
We have to learn a lot from Germany's experience, like we did in the past such as imperial constitution and ground force military system in late 19th century and how to recover relationship with neighboring nations which we invaded during the second world war.
Deutschland, be our good model. Danke!
12 July 2011
Last Sunday, I went to the Enoshima Island to participate in the Tenou Festival of the island's shrine.
It is located 1 hour and half train ride from Tokyo.
It is to commemorate the event occurred in 19th century, which local fishermen transported cast-away treasure of the shrine across the sea.
So in the festival, the decorated box of the below photo, so called "Mikoshi" was transported by tens of people to the sea from the shrine.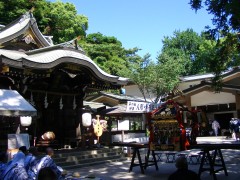 When the mikoshi arrived near the beach, only naked guys remained there and transport it to the sea.
I joined the naked transporter group. Of course we were not totally naked. We wore white loincloth so called "Fundoshi." Very traditional men's swim wear. The difference from modern one is it doesn't cover hips and asses. It has no rubber band in it. You tighten it by folding and roping.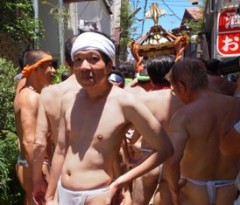 Bathing into water wearing fundoshi made me feel so nice. I could feel water almost all of my lower body. I can never wear boxer pants once I learned how it feels.
See this video to know what we did.
After swimming in the sea, the group got out of the sea and walked on the street carrying the mikoshi shouting, jumping to demostrate men's energy. Since we got wet and the fundoshi is soaked, private zone's shape became obvious.
Kind of embarrassing? No if you are really Japanese boy, so called "Nihon Danji." I never minded spectators looking at us or taking pictures. We were there to show what we were.
That is the spirit of Naked Festival. I really enjoyed it. I became "Nihon Danji."
However, in modern time not many Japanese men wear it so often because some are too embarrassed or it takes time and is difficult to wear casually. That is why fundoshi can only be seen as custume in festival today.
If you are interested in knowing how to wear it, please see the below video clip.