23 January 2013
Aren't they sexy? They are really Japanese men saving Japan's heritage.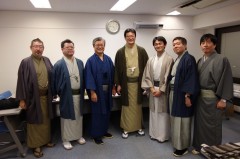 A tall man in the middle is Mr. Hayasaka Iori, who is a male kimono producer. A man in blue kimono next to him is a president of English learning school, CEL English Solutions. The pair held the kimono party in Tokyo on January 14, 2013.
Recently very few Japanese wear kimono. Especially among men, very very few do. So a lot of kimono business went bankrupt. Kimono industry has been shrunk by that.
If more foreigners encourage Japanese men to wear kimono, I think, more of us will wear that.
I would like foreigners visiting Japan to see more men and women in kimono and enjoy.
09 January 2013
In the beginning of this year, I went to Nozawa Onsen village in Nagano Prefecture.
The below is last year's footage, February 2012.
It is famous ski resort but it is also famous for natural hot spring town. The word, Onsen means natural hot spring in Japanese.
Interestingly enough, the town is not only famous for Japanese skiers but Australians, New Zealanders and other foreigners. A ski resort famous for foreigners I knew was Niseko in Hokkaido. I visited there two years ago. Then I learnt Australians there became more interested in Nozawa Onsen. That was why I visited Nozawa last year and this year.
The place was better than expected. Snow quality was great. The courses were varied. I saw many Australians and other foreigners skiing and snowboarding. Not as many as number I saw in Niseko but I could meet some Aussies every time I got on a lift. I even could meet them attending ski school which only provided Japanese intruction. They told me they learnt it by body language. Wow!!
I saw them outside the ski areas. That is public bath houses. There are 13 community bath houses in the village. It is open early in the morning until late at night. All of them were managed by localies and free of charge for anybody including tourists. The hot water comes from volcano line underneath the village. It smells sulfur and some of them were really hot. I could not imagine foreigners enjoying that. But I saw them quite frequently.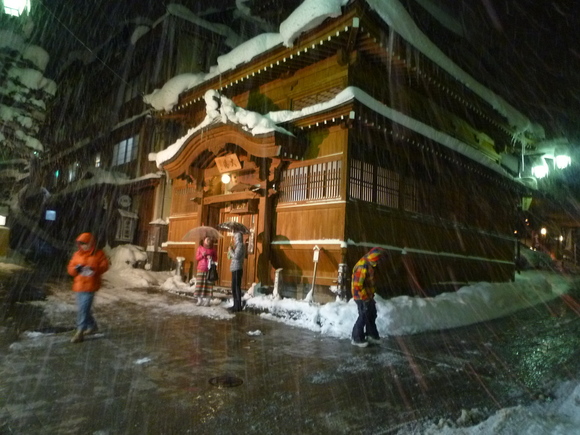 I spoke with localies. They told me they actually made sales to Australians flying there. However, they never change their village to resort style. They keep the way they have been from the past. You can't find any big hotels and leisure facilities over there. Just small local hotels, bath houses, temples, shrines, small shops, restaurants and bars. No big places except ski slopes. Very much like Japanese traditional village.
Localies seems to be proud of keeping their originality and personality. When I bathed in a community bath, one local man scolded a young boy saying "wash your penis before you get into the bath tub." That means keep the bath clean and respect the manners.
It is a very mystique place. Real winter wonderland!
31 December 2012
25 December 2012
A Candadin man experiences FUNDOSHI, Japanese traditional male underwear, swimming suit and custume for festival.

Read Chapter 1 first.


All the men walked to the beach and they got on the sand.
After while, they got near water's edge. Transporting hundreds of kilograms of mikoshi, they were moving into the sea. They had to walk for 300 meters to the end of shallow.
Jacques walked on the same course for the preview a few days ago. Deepest point was as high as his chest. For others, it would be as high as their shoulder. In water, their feet could easily lose balance but they had to proceed little by little. When they reached the rock, they had to turn around to get back to the ground.
Around them was sounds of flutes and drums. All together shouted "Wassshoi, wasshoi!" The water level got so high as water got into their tabi socks shoes. Then got near the crutch. They got in depth of fundoshi. That was 100 meters away from the beach. The spectators were seen far away in small size. That made them feel like left alone in the sea.
"Here! We got into deeper" said Taizo.
As they proceeded, it got deeper and deeper and water level was getting higher. They could see the rock tens of meters away. The important thing was not let the mikoshi sink in the water. They all got united.
"Wasshoi, wasshoi!" shouted simultaneously, so loud that spectators on the ground could hear them. The water level got to Jacques's chest. Deepest point! A few meters away was the rock.
"Now let's go back!" shouted Taizo. Taizo got his neck in water. Looked like he could not reach his feet on the bottom swimming. He led the group to the return course.
Go back, Go back to the shrine.
"Let's go" Jacques shouted.
The group was returning to the ground. He saw Yuriko and Annes waving their hands far away. Annes smiled at them together with Yuriko. Jacques was delighted to see that.

As they reached the beach, they found themselves wet from their feet to the shoulder. They got on the road and continue transporting the mikoshi shouting "Wasshoi, Wasshoi!" Wet bodies, wet fundoshi. They were all wet men.

Before they reach the shrine, they had to do something, which is called "Shonuki (Removing salt)" All the men were showered with pure water by a hose. They were already wet but with salt and muds they were not allowed to enter the shrine.
When the water touched the ground, a rainbow appeared. It was like a God's rainbow. Impressive view. It made them feel great to get showered with water in sunlight.
Yuriko was staring at Jacques being showered with shining eyes. Her eyes seemed like seducing him. Jacques got away from the mikoshi and came close to her. Then she came close to him.
Jacques instantly took her hand to himself and then lifted her in his arms. Then the two kissed each other on his arms passionately. He, just couldn't help doing it.
Oh, this was not to be done here. Here isn't Canada.
But the crowds around them were impressed and gave cheers. The mikoshi carriers said "You, two look nice."
After that the mikoshi got back to the shrine. They placed it on the table and the guys went away from the mikoshi. They had to go to the bath house to put off fundoshi and wash their bodies. There were some other events they had to join later.
Jacques went to see Yuriko and Annes before going to the bath house.
"Did you enjoy that?" Jacques said to Annes.
"Yes, I felt a little better. It is meaningless to regret what happened" said Annes.
"Jacques-san, let's go to the bath house" said Taro behind him.
"Ok" said Jacques. Taro looked at Yuriko but he looked so fresh and showed no ill feeling. Yuriko felt relieved.


Looking at Jacques and Taro heading to the bath house, Annes said.
"Who is that boy? He has very sexy ass. I want to get acquinted."
Annes's eyes focused on Taro's ass.
A year later, Jacques was on a fishing boat with Taizo. Jacques got training from Taizo as fishermen. Taizo recovered his health and got back to his job. Jacques got interest in fishing since that festival. He decided to be the one like Taizo. Now he's got training from Taizo. He decided to live in Japan from now on.
After fishing waits a pregnant wife, Yuriko. Yuriko will soon give birth to a baby.
By the way, Taro was in Canada now. With Annes. Annes was so attracted to his ass that she stalked and got him. Then the two decided to wed and have a new life there. Fundoshi changed her like a magic.
When they got near home, neighbor woman seemed hectic.
"Taizo-san, Jacques-san, a big trouble. Yuriko got into labor and now transported to the hospital."
Expected labor period was a month ahead. Jacques and Taizo hurried to the hospital.
And a child was born. It was a healthy boy. Accidently it was a day of summer festival. Thanks to that, Taizo and Jacques could not participate in the mikoshi carrying.
The boy was born on that day, he should really love festival like Taizo and Jacques. They all thought, when he grows up, let him join the mikoshi carrying wearing fundoshi.
The END