07 October 2012
Two films are stories about Afro-Americans in the U.S. Both of them described hard situations that Black people had experienced in the past and maybe even now.
"The Help" was a story of Afro-American maids working for white families in Mississippi in 1960's when segregation was very common. Afro-American maids were not allowed to share bathroom with white family members. They had to always put up with white people's arrogance. A young white writer decided to write about their experience and publish that by interviewing them.
"Precious" was about a girl of the same name living in Harlem, New York, 1980's. She got two babies with her father. She was raped since she was a child. Her mother abused her because of pregnancy. Her mother and she lived on welfare. She had to stop attending middle school for pregnancy. So she had to attend special school for dropped outs.
Portrayals of Black people in the both films are kind of, from white perspective although Afro-American characters played important roles. They spoke grammatically incorrect English like "You is smart." They looked uneducated, vulgar and violent, wheras white or lighter skin characters looked elegant, educated and kind. That reflects on reality? Maybe or maybe not.
For white viewers such kind of films satisfy their supremacy and ease frustration caused by forcible integration.
Has America changed since Civil Rights Act?
Mr. Obama is the president of the U.S. He is half-white and not descendant of slaves. If he was a pure Afro-American of slave descendant, he would have never been elected. He wasn't popular in the Southern States even among Democrats. Because he was elected, since his inauguration, number of Racist activist group has drastically increased.
Most recent survey for income gap among racial groups found Black and white gap recorded biggest since 1984 when the survey was first conducted. It was due to recession but why the burden biased to Afro-Americans? Racism? Poverty and lack of education caused by racial discrimination.
I don't like this part of America but this is reality of America.
06 October 2012
I hope some day I will be a very sexy muscular man. Now I am like this.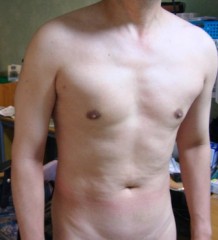 A Candadin man experiences FUNDOSHI, Japanese traditional male underwear, swimming suit and custume for festival.

Read Chapter 1 first.
Jacques wanted to swim in the water. Japan's summer is hot. Not just hot, unlike Canada, it was very humid. So he got so much sweat. Staying in a room with air-conditoner on was a way to avoid the hot and humid. Since Jacques was a sporty person, he could never stand staying home for a long time. After he finished translation work, he came to want to go out.
Yuriko recommended him to swim in the sea. It was first time for him to swim in the sea because Montreal had no sea. It had lakes and river but he never swam there. Where he swam was swimming pool.
Since he came to coastal town, he thought swimming in the sea wasn't so bad. For Japanese it seemed swimming in the sea was to avoid high temperature and humidity.
But there was a problem, latex allergy, he bought and tried to put on swimwear, allergy symptoms appear on his waist. This isn't good. Where can he purchase swimwear without rubber-band? Fundoshi? But fundoshi for underwear seemed not work for swimming. It can easily be loosen in the water and front cloth floats.
What did Japanese wear before they had modern swimwear? He just got interested in it. Was there any fundoshi for swimming? He searched on internet and found one.
That was different type of fundoshi, called Rokushaku. It goes like putting on a long cloth between legs and roll it around body knit it and bend on your back and then roll and finally connect and tie the edges. It was like origami technique.
Jacques went to kimono shop and asked the shopkeeper if he had any of it. The shopkeeper took out a roll sheet of cloth and cut it at 3 meters long from the roll.
"No one really wears things like that these days"he mumbled.
He imitated the way internet video showed how to put it on. After struggles, he finally could make it. Unlike modern swimwear, putting the cloth on to fit his own body and tighten not dropping was really hard work. It took 30 minutes to find best way to put on.
After wearing it, he felt totally different from when he wore modern swimwear. Showing his bare ass, the cloth was narrowly attached to his skin from front to break of his ass. It seemed like the cloth got into his asshole. It made him feel really weird. He felt like his asshole was tightened. It was very uncomfortable.
This is like sumo wrestler's cloth. Do they fight in feeling like this?
Jacques tried to go to the beach where not many people were in. Just in a few minutes walk, he found very quiet and small beach. It was a very clear day and nobody was there. Why he went there alone was he did not show his ass in public. Furthermore, he was foreigner so he had to attract more attention from others.
He did not even want Yuriko to see so he went to the beach while Yuriko was out. There he arrived and tried to bathe. Somebody called him in English of Japanese accent.
"Is this what your people think barbaric underwear?"
He looked back and found Taro.
Continued to Chapter 5
06 September 2012
Biopic of former British prime minister, the only female PM in British history. Maybe she was as notable as Queen Elizabeth in pre-modern time.
She was born in a family of grocery. Her father was local mayor. She studied in Oxford.
She lived through 2nd world war, and struggled with male dominated society.
After she became prime minister, she won the war with Argentine over terriroritorital sovereignty in South Atlantic sea. At that time US was not very supportive, rather Reagan proposed peace pact with Argentine. That taught us what would happen if similar thing happens between China and Japan.
At that time, Thatcher told the U.S., what did you do when Japan attacked Pearl Harbour? Did you abondon Hawaii because it was so far away and not many people lived there? Did you propose peace pact to Tojo?
She was once about to be assassinated by IRA but survived.
This film described her being woman did not matter to what she did. She had capability of what she wants to do.
Recently I asked some British people about their reputation of Mrs. Thatcher. Surprisingly they did not like her very much. Is it because of her neo-liberal policy? She cut budget spending and privatised national businesses.
Whether that resulted in a good way or not, she had done those things with her firm determination.
Why we never had such a strong leader in our country's politics!