31 July 2014
I saw the dragon there, in Henoko, Okinawa prefecture, southernmost chain of the islands in Japan.
You might not believe that. This is the proof.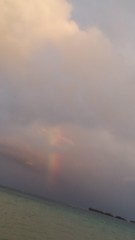 Yes, it looked like rainbow. But the sea is known to be sacred place for the dragon. The locals worship it and established a shrine on the sea coast.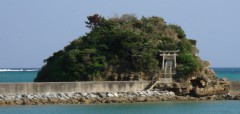 Recently the dragon seems not very comfortable living there because of construction project going on his or her place. On the sea coast is US Marine training camp base, Camp Schwab. There is a plan to expand the base by reclaiming the sea where he/she lives.
The locals oppose the plan because their environment would be deteriorated as well. However, US military and the Japanese government never mind local resisitance movement.
Will he/she leave as the things are? I doubt it.
The sea reminds me of what I experienced 3 years ago in Kaminoseki, Yamaguchi prefecture in the mainland of Japan. Actually I learnt about that town when I joined environment activists meeting in Henoko. I met Kaminoseki activists who protest the construction project that reclaims the sea to build nuclear power plants there. They did the same things as locals in Henoko do, kayaking the sea to prevent construction work from proceeding.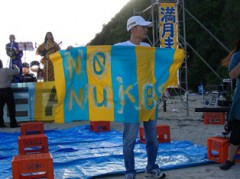 So I visited Kaminoseki later. There I saw the same scene.
Activists on the beach calling for the halt of the project but the authorities and power company never minded their voices. The project was about to be proceeded and the beach might be destroyed sooner.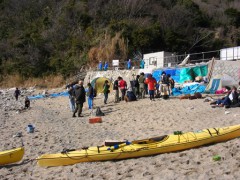 I felt something when I was on the beach. I sympathized, and then prayed to call for the help.
Two weeks later a big earthquake and tsunami occurred in Fukushima. 4 nuke plants were destroyed by the nature and massive radioactives were released to the environment.
Now the construction is halted in Kaminoseki (not yet terminated.) No nuke plants are operated in Japan at present.

In that town, there enshrined the sea dragon.
Was it just an coincident? I just don't think so. That is why I've been feeling fear.
29 June 2014
I have recently become a big fan of TV drama "Hanako and Anne" aired daily on NHK, Japan's public broadcasting station.
It is a story on a real woman who lived between end of 19th century and 1960's. The woman's name was MURAOKA Hanako. She was a translator who translated famous English books including "Anne of Green Gables" and "The Prince and the pauper."
She was born in a poor family but she could attend most prestigious girls' school established by a Canadian Christian missionaries in Tokyo because of charity. She learned hi-society manner and English there.
After she graduated from the school, she became a teacher, publisher, translator and radio announcer. She was also a sufferagist.
Surprised to know there was a life like hers. She met great people in life. Her life was far from average women at that period.
She lived through the second world war. During the air raid on her town she translated Canada's famous children's book "Anne of Green Gables", which she was given from her Canadian friend who left Japan because hostility erupted. In the war time, she could never expose herself to be English speaker in public. English was treated as the enemy's language. But she kept on translating the book although she never knew who would publish it.
Why could she hold on hopes in such severe time?
Maybe because she remembered words from her school's principal, Ms. Blackmore.
"If some decades later, when you look back on your time with us, you feel these were the happiest days in your life. Then I must say your education will have been a failure.
Life must improve as it takes its course. Your youth, you spend in preparation because the best things are never in the past but in the future. "
That was very impressive words.
In fact, her translation of the book was published 7 years after the war ended and became a best-selling novel, giving hopes to Japanese in the post-war era.
Yes, we should not give up hopes and look to the future, never look back the past.
Then we will make things better than the present.
04 May 2014
The story based on autobiography of former British military personnel in charge of radio communication, Eric Lomax, who became POW of Imperial Japanese Army in occupied Singapore during the second world war.
Even after the war he suffered from trauma caused by his experience as POW in Thailand where he and his comrades were transported to. Later he found that the interpreter, Nagase in the Japanese army, whom he met at that period was still alive in Thailand and decided to return there.
It was really shocking to see the film and know the facts. British soldiers were used as labour for construction of the railway and tortured by the Japanese army.
The film, itself was well-done however, reaction from Japanese audience seemed not so positive maybe because of portrayal of Japanese army in the film. It was indeed British perspective.
I was impressed by some words in the film.
"Japanese soldiers choose to die rather than being humiliated alive but Britons live to fight. "
"I have lived for this day. If the war did not end, end this (with your sword)."
Those were paraphrasing of what Nagase said when he re-encounter with Lomax and told him how guilty he had felt for what he did.
In the end, both men reconciled and kept good friendship until they both died recently.
We are all humans. We make mistakes. We hate each other but can understand each other. We hurt each other but can help each other.
We can learn from past mistakes and improve ourselves for better future and our decendants.
I think, that's the message from the two men.
30 April 2014
Recently in Japan one third of households are single person, meaning living alone in one residential unit. Percentage of life-long unmarried people is 25% in male and 15 % in female today. That is 3-4 times increase from 20 years ago.
Businesses respond to that trend. Home electric appliances such as toaster, juice mixer, hot plate targeted to single life people make big sales. Travel agents provide tours for single attendee, which only one person can apply alone. Karaoke room for one singer.
Share house, kind of dormitory style apartments have been built for single households. Since living alone for life is no longer marginalized, such lifestyle is no longer inconvenient one.
Some worry about aging population with low birthrate caused by more unmarried people. Why has such lifestyle become common recently in Japan? You might not believe that since Japan is more traditional and group-oriented society than any other advanced nations.
One of the factors is economy. Japanese economy has gone bad. Especially, among younger generation, income has dropped drastically from their parents' generation.
The other factor is Japan's lack of dating culture like the West. Japan is conservative society so marriages had been commonly arranged by the couples' parents and relatives. That way couples needed no love affairs to reach engagement. Marriage has been considered customary life event among older generations.
Nowadays free choice is important in terms of finding a partner. But not many youngsters do not know how to hunt their appropriate partners because their parents cannot teach them how and culturally such things are not popular so they are not trained to do so. That is a big difference from the West.
Anyway, Japan's population is aging and more people are becoming single-person household. Is it so bad? If so, how should it be amended?
One way to do is lowering life expense. Providing free school education, free medical care, free school meals and financial aids for households with children.
The other is acknowledging diversed lifestyle, not only single-person life but people with children like single-mothers or fathers. Traditional family lifestyle is father-mother and children but nowadays there are many unmarried parents in the world. Like in France more than half of all parents, in US one-third are unmarried. In Japan still only 2%. Japan's system makes single parents hard to deal with society. We have to change that if we are worried about aging population. It is better to help those who want to have children but give up than taking on those who are unreluctant.
Personally, however the population as a whole is aging, it is totally up to individuals to choose what she or he wants to be. No one should tell others what to do.
What do you think about this issue? How is the situation in your country?