22 June 2016
Last month, US president Obama paid visit to Hiroshima and hugged survivor of the atomic bomb which the U.S. force dropped onto the city.
For most Japanese he was very much welcomed because he was the first sitting president who paid visit although he never apologised for the atomic bomb attack.
Many people in the world wondered why Japanese are not so much angry with the U.S. for the atomic bomb attacks.
There are two major reasons. One is we are the one who started the war attacking Pearl Harbour, and the other is we are the aggressor in that period. Before the war between Japan and the U.S., Japan provoked war against China and invaded that nation. In fact, Japan is the first nation that targeted civilians in an enemy state. US modeled after that. Civilian victims in China actually outnumbered that of Japan. So Japan is not a pure victim of the war.
We should have mixed feeling about Hiroshima. Like Germans cannot easily accuse the allied force of atrocities in Dresden that claimed around 20000 lives.
Speaking of mass murder, the mass shooting occurred in Orlando, Florida this month was very shocking. Most of the victims are LGBT Latino people. However, the gunman's motive is still unclear.
Besides that, why is the U.S. still allowing such offenders purchase guns so easily? Even after the shooting US Senate voted down gun control laws. Gun lobbying is very powerful in the U.S.
Seems the U.S. is not the nation that can value human lives. Not just people outside but in their own land.
SO SAD!!
14:50 Posted in Japan News, Politics, Society, un-USA, US-Japan relationship | Permalink | Comments (0) | Tags: war, lgbt, nuclear weapon, history, hiroshima, gun, china, atomic bomb
23 March 2008
From last week until early in the next month would mark 5th anniversary of the major combat of the Iraq War.
There was a demonstration march to call for the U.S to end the war in Tokyo. The city also had a march to call for China to end the oppression against Tibet.
Japan's position is kind of complicated for the both issues. Japan helped your country with the war and occupation in Iraq sending troops there.
As for China, we invaded China in the past and currently we have been having controvesy over historical issues with them, such as how to acknowledge Nanking Massacre, and PM's Yausukuni shirine visits. It is just like Germany's position in Palestinean issues with Israel. Well, Germans have made up their mind to admit their faults. But we haven't done it enough.
American politicians criticize China for oppressing Tibetan. But I want to say, what about the U.S. for what they have done to Iraqis!
Tens of thousands of civilians were killed. Proportion of one out of 6 Iraqi have become refugees. They live lives without clean water, electricity and safety. You might insist Iraqi were liberated from tyranny like Hussein. But after Hussein, what is left is anarchism, division of the nation, and worsening the security.
American army dumped depleted uranium weapons that are very hazardous to human bodies with high level of radioactive. Iraqi were worried whenver they give birth to a child as if they get a defective baby.
Hussein was a monstrous dictator but he could at least maintain the minimum infrastructure for his people's lives. The U.S. never thought of what to do after Hussein regime was toppled. That is totally different from the U.S. occupation strategy of Japan and Germany. There was no strategy for Iraq.
Please think of your own problems before accusing others of human rights violation. Not only things related to Iraq, but also domestic ones such as health insurance, poverty and etc. Your government is not so different from Arabic dictators who use anti-Israel and anti-U.S. propaganda to distract attention from their own citizens who are frustrated with poverty and inequality of the society.
P.S. I am writing a novel on this blog that points out the above issues. If you read the story and learn the things you have to be aware of.
11 August 2007
I recently heard very, very surprising news that the U.S. navy has decided to station nuclear aircraft carrier, George Washington in Yokosuka city, which is 2 hour train ride from the capital of Japan, Tokyo. In fact it was agreed more than 3 years ago between the U.S. and Japanese governments.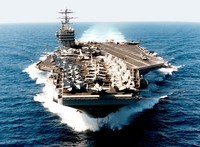 Outrageous and stupid! Japanese government allowed that happen. How ignorant they are!
We are paying so much money to the U.S. military. The government have to let them not to do what we hate.
Nuclear aircraft carrier is so dangerous. They've made some radioactive leaking accidents in the past.
The carrier will be stationed there permanently, we will have to live with the danger for half a year long every year.
If the worst thing happens in the Yokosuka, people living in the capital area would be required to evacuate, 30 million people have to leave! No way! Impossible! Millons of people would die after the accicent by cancers. It is like 3rd atomic bomb after Hiroshima and Nagasaki.
Local residents near Yokosuka navy base are suing the government not to construct pier to station the carrier. Since the carrier is US navy's property and its operation information is highly classified, we would never know how actually the inner nuclear reactor is operated nor intervene their operation. Even an accident happens, the U.S. government would not take any responsibility nor compensate for the damage because US-Japan Status of Force Agreement stated so.
It is time Japan rethinks the militaristic relationship with the U.S. We cannot get along with the U.S. navy's policy.
They made us help invade innocent Iraq.
We, ourselves have to realize the only military that can protect our country is ours. We have to amend the constitution so that we can have full-fledged military force so that we do not have to rely on the U.S. military any more.
Please read this article NUCLEAR CARRIER UNWELCOME on Japan Times. Yokusuka base is only 20 miles away from Japan's capital, Tokyo. This is just outrageous! U.S. government has to know this would just threaten relationship between the two countries. I became very anti-US person after I hear this news. A lot of us would be.
God damn America! Yankees, GO HOME!
02 July 2007
It has been a huge turmoil in Japanese politics. It was caused by Minister of Defense, Mr. Kyuma. In a speech he made at a University in Chiba Prefecture, he said "US dropping of atomic bombs helped Japan end the war and prevent the Soviet Union from entering in Japan, so we have to accept that."
After the criticism arose, he apologized and retracted the remark. But still the demand for his resignation is strong.
As one Japanese citizen, some point I agree with him, I do not want to blame the US for dropping atomic bombs for some reasons although these acts should never be justified. It was clearly attack on civilians. Huge number at one time.
In Hiroshima and Nagasaki in total, more than 200,000 people were killed. The Nuclear Era started by them.
But the war was in fact started by us, Japan, we started the war in China and then Japan had to face economic embargo by allied nations including the U.S. We've killed so many civilians in China and other Asian nations. After the economic sanctions was implemented, Japan attacked on Pearl Harbor.
We haven't done enough to compensate for the loss of the victims like "comfort women" who were forced to become sexual slaves for Japanese soldiers. This issue has been on debate in U.S. Congress lately. The resolution to demand Japanese government to apologize and ackknowlege this inhumane act.
Japan has not done enough to make up for the past aggression. In order to accuse U.S. for dropping atomic bombs, we, must have done what we have to do. We failed.
However, Mr. Kyuma, should have never made such remarks. That is the insult to the victims of the atomic bombs and considered justification of the use of nuclear weapons. Nuclear weapons should be all eliminated. No matter what cause the nation provoke the war, attacks on civilians should never be done.