05 January 2011
I watched documentary program on America's new movement in relation to 10th anniversary of 911 attack. In New York, there is a big controversy over opening of new Islamic Center located 2 blocks away from Ground Zero. People overlap image of Al Quaida with Islam.
Anti-Islam activist, Pamela Geller was interviewed by a Japanese journalist. She said "It is not a matter of freedom of faith, it is a matter of emotion. Why should we figure them out? It should be defeated."
Sounds scary! After I watched the program on TV, I accessed her blog and emailed her the below question.
"Your response and comments sound like what Nazi people said to Jews.
Aren't you using the same propaganda as Nazis did? Aren't you creating another holocaust like Israel is doing on Palestineans?"
Her response as follows,
"The Jews weren't blowing people up, slaughtering thousands in countries across the world, and killing their own if not devout enough.
Get a grip on reality."
Pamela Geller is Jewish American according to her blog.

According to the program, people like her is getting popularity. I think it is not just because of terror threat but also frustration caused by bad economy and failed wars. This is like 1930's Germany when Anti-Jew propaganda had been common like the below photo.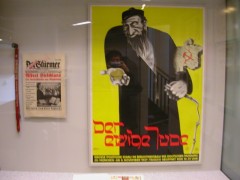 This time, the target is Muslims or Arabians.

Well, America is becoming like Nazi-Germany. It is devastating.

It is time for us to make a distance from America or totally stay away from the country.

America is no longer place of tolerance. It is becoming dangerous.
24 December 2009
I wouldn't do the same thing although I know importance of taking action like "Civil Disobedience."
He is like German Red Army and Japanese Red Army who were active in 1970's.
Interview with him reminds me of German film "Baader-Meinhof."
Their activity started with arson in department store and ended up with hi-jacking, killing innocent people and finally killing themselves in prison.
I don't like extremists, not real saver but egoist. They just enjoy their own party.
Really Stupid!
05 September 2009
I went to the theatre in Shibuya to see the film.
I really enjoyed it. German films are enjoyable if you know history of Germany such as Nazis, Berlin Wall, and 1968 anti-imperialist movement.
So far, what I have seen are as for Nazis "Sophie Scholl," "Der Untertgang" and as for Berlin Wall, "Lives of others," and "Good-bye, Lenin."
This time I watched post-war radical movement that took place in 1968, Germany. Youngsters became so radical because they believe they could wipe out imperialism and change the world better. One female liberal journalist with two daughters joined the movement.
But the consequence was disastrous. They became terrorists, bombers and hi-jackers, later ended up with commiting suicide in prison cells.
Japan had the same movement in the same era. The consequence were very similar. These days youngsters are not interested in such radical way of movement.
Germany and Japan went through the same path since 1930's in that sense. The country was dominated by militants in pre-war era. After the war, youngsters provoked radical social movement.
Recently my interest to foreign things was shifted from the U.S. to Germany.
I went to Berlin last year. I was really impressed. I get acquainted with German people in business. I am studying German now.
Germany has a lot of things we, Japanese can learn from. One of notable things is how they dealt with war review and compensation.
Other things are local sports club, farms, and ecology policy. Germany is leading producer of solar PV in the world.
Germany succeeded reduction of CO2 emission as it scheduled following Kyoto Protocol while other nations failed.
I want to know more about this country.
Deutcheland uber alles in der Welt!
11 September 2008
Today marked 7th anniversary of 911 attack on WTC and Pentagon.
The U.S. army attacked Afghan and Iraq without mercy to civilians. The purpose was to find Bin-laden.
But where is he now? In Guantanamo?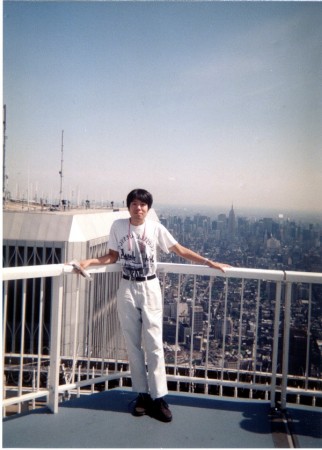 Things are getting worse since 911. The photo was taken in July, 1993 just after first terrorist attack took place in WTC. As you see, I was wearing United Nations T shirt. I don' t have that shirt any more.
I think 911 opened the door to awful 21st century.