21 June 2009
This was in fact Scottish folk song.
The song for rememberance and friendship. In 19th century the song was introduced to Japan and was used as martial song.
Japanese translated version "Hotaru no Hikari, The glow of a firefly" was for promotion of patriotism and imperialism.
I learned this song when I was small. Recently I enjoyed the song in the war story film "Umi-yukaba."
The story took place in early 20th century, when Japanese sailors fought against Russian fleet.
When the battle ship departed from Japanese imperial navy's port, Sasebo. This tune was played on the ship by its brass-band.
The sailors were waving their hand to the local people who were waving national flags to them.
The battleship was called "Mikasa." I have strong spritual connection with the ship.
I remember when I first visited Yokosuka to join the protest activity against deployment of USS George Washington last year.
I was invited to the ship by the souls of the sailors. At first I tried to get to the office of the activist group from the train station, but I got lost and after a while I found myself standing in front of the ship exhibited in the marine park.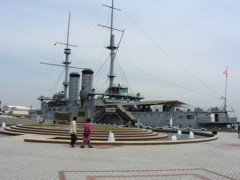 The Mikasa was flagship of Japanese imperial Navy in early 20th century. During Russo-Japan war (1904-05) the ship and its fleet struck down Russian imperial navy's Baltic fleet in Sea of Japan. Japan won Russian Empire. The ship was built by British. Japan was supported by Great Britain in the war. British did not allow Baltic fleet to pass Suez Canal so that the Russian fleet had to spend more time, supply and coals to reach Japan's sea.
We owe a lot to Great Britain but unfortunately two nations fought against each other in the war later.
I recently found a good video clip for the song. The background image is scenes from a classical film "Waterloo Bridge" which Vivien Leigh, an actress who also starred in the very famous classical film "Gone with the Wind." I don't know who sang the song. I wish some day I would be able to listen to the song sang by a famous British singer, Suan Boyle.
20 April 2009
A big surprise in this world.
A 47 year-old Scottish woman who had never been married and even kissed by a man sang a very beautiful song.
You can never match her appearance with her voice.
I am waiting for the CD of her singing released in Japan.
Surprisingly she was never noticed as a professional singer until now.
It is like Cinderella Story in 21st century.
She's having an ordinary sigle life living with a cat.
Now the world knows her.
This is where you can find her.
But you can easily find her by searching "Susan Boyle."
I learned that a song titled "I dream a dream" exists.
She gave a dream to everyone. Even you become a middle age person, you still have a chance in life.
22 February 2009
Well, very surprising! The movie was made in 1940 but the most important character was Black boy.
It was midst of World War I.
The story is a boy named Abu who lived his life by stealing things in Baghdad, met a young ousted king, Ahmad. Ahmad fell in love with a princess in Basra. Jaffar who was a closest retainer and ousted him to take over the position wanted the princess, too. Abu tried to help Ahmad and the princess. Then at last he killed a bad guy, Jaffar and saved the couple and had Ahmad to bring back his position, the king of Baghdad so that he could rule the kingdom peacefully. Ahmad said he wanted not to conquer the people but make them all happy.
Jaffar was Hitler at that time, or Hussein between 1979 and 2003, No! It is Mr. George W. Bush. Real war criminal.
Looked like a real story, I hope. Abu actually looked like Barak Obama, president of the United States.
Abu was a thief but very clever and brave. This was very different from a stereotypical Black character made by Hollywood. In fact it was British film.
In the last scene, Abu flew on the flying carpet and said to the king "I will go on a trip to find out what I want to do."
Well, the destination may be where Mr. Barak Obama is.
30 November 2008
That was DVD of the reality program broadcasted in U.K.
Ordinary people experience early 20th century life of rich family who owns a very big country house and their servants for 3 months.
They live exactly the same style as the old days wearing the same clothes.
The gap between the family and the servants was very obvious. The servants have to work all day long without day-off.
The family never know how hard their life is. That is like working poor of present days. They had work in such terrible condition with meager pay. Not only that, in those days there was no law to prohibite such slave-like treatment. Even if servants got sick, their masters can easily lay them off.
The other interesting thing is that how the relationship of Britons and colonial Indians in those days. It was imperialist time.
Great Britain colonized India. Indians seem to have had very hard time by British imperialism. But interesting thing is some Indian people admired British Empire. Some of the parliament members were Indian at that time.
Exploring old times is really fun thing. It is like doing time-travelling.
My interests in history inspired me to write some interesting novels such as below.
I am planning to write novel which a story takes place in 1930's Germany when Nazi came into power. A young Japanese woman and a Jewish man met in Berlin. They fell in love but Nazism got in their way. What do they do?
Or I may be writing a story that takes place in 1950's America. Young Japanese Fulbright exchange student rent a room in a middle class American couple. He was treated well by them. But the couple had some problems. He tried to help them out.
Or two young Japanese men came to London in late 19th century to study very sophisticated western science and culture. One was a big admirer of Western civilization and the other was very samurai-minded man who prided himself as Japanese but at the same time he thinks he should learn great things from the West for modernization of Japan. They met a British man who was Western supremacist who looked down upon other civilizations. They had to deal with him.
Wouldn't that be interesting?