11 February 2009
In Berlin film festival, a very controversial film would be shown.
The title is "John Rabe." The story of German business man who saved tens of thousands of Chinese in Nanking when the city was invaded by Japanese imperial army. He and other westerners set up International Safety zone in the center of the city. He became the leader of the committee that managed the zone. He is like Oskar Schindler in China.
The movie is scheduled to be released in April in Germany and China. Release in Japan seemed not be determined.
I think it should be shown in Japan, too at least in mini-theatres or civil conventions like No More Nanjing people did last December.
Please see the article for that event.
In September 2004, I actually visited the house Rabe lived.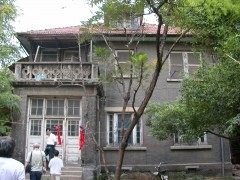 It may be very hard for Japanese to see the bad past.
Many right wingers denied the existence of the massacre. They say Rabe was liar.
John Rabe was kind of complicated figure of the history. He was loyal to Nazism. He used Nazi flag to avoid bombing from Japanese army. He reported Nazi officials the atrocities in Nanking. But he was detained and interrogated by that act because Germany at that time was allied with Japan. Actually Nazis has done more of Nanking things so called "Holocaust" afterwards.
The film would be very interesting in the sense a good man loyal to the evil organization has done good thing. The below is trailer of the film.
31 January 2009
According to Germany's prominent magazine, Spiegel, there has been a controversy over Roman Catholic Pope Benedict, who is German recovered ties with English bishop, Richard Williamson who is holocaust denier. Mr. Willamson claims there was no gas chambers, and the number of holocaust victims is 300,000 far lower than 6 million, which most historians suggest.
Pope Benedict seems to like stirring relations with other religions, a few years ago, he made some statement that insults Islamic prophet, Muhanmad. Does he represent German's still Nazi ideology?
Interestingly enough, such historical argument has been going on in Japan in regard to relationship with its neighbor, China.
China claimed that Japanese imperial army mass-murdered 300,000 innocent people in Nanking, 1937.
But Japanese right-wingers claim it was only 40,000 or less. Some extremists claims no such mass-murder occurred.
Recently Air Force chief in Japan was dismissed by the government over his publicly released essay which claimed Japan's invasion of China was legal. But he's been well-received by the public since then.
Germany and Japan were the losers of the Second World War. It is natural that such pheomenons occur.
People in both countries feel they have been forced to have negative point of views on their histories by victors of the war.
The title of the novel would be "Bauhausler". Hope you enjoy it. I am reading Ian Kershaw's book on Nazism for the research.
I think history should be viewed objectively. That's the very way of learning history.
Soon, I will start a novel which a story takes place in 1930's Germany. Japanese woman who travelled to Berlin to study Bauhaus art met a Jewish teacher and a Nazi-officer and then she got involved with the both men.
20 December 2008
Last Sunday, I went to the public conference building in Tokyo. One room was rent by Japanese peace group named "No more Nanjing."
The purpose of the room renting was to show a very shocking Hollywood produced documentary film "Nanking" and hold the public hearing of the masscre survivor from Nanjing. Plus public speech by journalist of Japan's mainstream newspaper, The Asahi Shimbun.
The below is the preview of the film. The film was shown in the U.S. and China.
It was the first showing in Tokyo, Japan. Very first one in Japan was done in Fukuoka, Japan on 7 of December.
The film started with the speech of memoires of westerners who stayed in Nanjing during the occupation by the Japanese army.
The speeches are made by the actors who disguised as actual characters in that event.
In August 1937, Japanese army grounded on Shanghai and started invasion of China. They bombed Nanjing (Nanking) which was the capital of China at that time. In November the troops arrived in Nanjing and occupied the city. They looted, raped and killed Chinese citizens there.
The westerners set up the safety zone to protect Chinese. American college teacher, Minie Vautrin acted by Mariel Hemingway, Ernest Hemingway's grand daughter defended young women from rape by Japanese.
The actual footages, real talking of survivors and soldiers are also shown. The survivors talked about their rape experience or what happened in front of them such as their parents or brothers or sisters being murdered in front of them. The soldiers talked how and why they mass-murdered thousands of POW or innocent citizens and raped women.
There is not much new to me because I've got involved in this peace activity and learned the history of Sino-Japan war in 1930's.
It was cruel, our people in fact did terribles things to neighboring nations before WW2 ended.
The survivor who talked to the audience (approximately 200) in the conference room was the old Chinese woman who experience rape by Japanese soldier. She was raped and survived in the hell. But even after the war was over, she had to go through very hard time because her husband treated her so badly because she was found not virgin. She never could tell him why she was not. After the age of 80, she decided to speak up.
After her testimony, Japanese journalist, Mr. Yoichi Jomaru made a speech on the role of his company in the war. During the war time, especially embedded journalists were not allowed to report anything unfavourable to their troops, they had to act as PR section of the military. But the media themselves actively became backers of their troops. That exactly happens even in present time when freedom press is insured.
Some right wingers criticize me and other peace activists for revealing such unfavourable stories of Japan's history. I do not get along with them. I love my country. I am proud of being Japanese. That is why I am involved in this activity. By doing so, we can appeal to the world including Chinese people, we are no longer brutal like that in the film, we know the facts, so we do not do that again.
And we all wish for the world peace and happiness of all the people on the earth.
Response to Christopher's question:
Rape is crime in modern Japan and even before the war ended it was a crime in our terriorty or outside. What the troops did in China was against Geneve Convention and even the marshal law of the imperial army.
The comic you suggest is not popular in Japan but maybe among porno comic maniacs, not among ordinary comic fans.
23 March 2008
From last week until early in the next month would mark 5th anniversary of the major combat of the Iraq War.
There was a demonstration march to call for the U.S to end the war in Tokyo. The city also had a march to call for China to end the oppression against Tibet.
Japan's position is kind of complicated for the both issues. Japan helped your country with the war and occupation in Iraq sending troops there.
As for China, we invaded China in the past and currently we have been having controvesy over historical issues with them, such as how to acknowledge Nanking Massacre, and PM's Yausukuni shirine visits. It is just like Germany's position in Palestinean issues with Israel. Well, Germans have made up their mind to admit their faults. But we haven't done it enough.
American politicians criticize China for oppressing Tibetan. But I want to say, what about the U.S. for what they have done to Iraqis!
Tens of thousands of civilians were killed. Proportion of one out of 6 Iraqi have become refugees. They live lives without clean water, electricity and safety. You might insist Iraqi were liberated from tyranny like Hussein. But after Hussein, what is left is anarchism, division of the nation, and worsening the security.
American army dumped depleted uranium weapons that are very hazardous to human bodies with high level of radioactive. Iraqi were worried whenver they give birth to a child as if they get a defective baby.
Hussein was a monstrous dictator but he could at least maintain the minimum infrastructure for his people's lives. The U.S. never thought of what to do after Hussein regime was toppled. That is totally different from the U.S. occupation strategy of Japan and Germany. There was no strategy for Iraq.
Please think of your own problems before accusing others of human rights violation. Not only things related to Iraq, but also domestic ones such as health insurance, poverty and etc. Your government is not so different from Arabic dictators who use anti-Israel and anti-U.S. propaganda to distract attention from their own citizens who are frustrated with poverty and inequality of the society.
P.S. I am writing a novel on this blog that points out the above issues. If you read the story and learn the things you have to be aware of.