11 April 2005
I am now just back from China. I visited Beijing and its neighboring cities.

Beijing was beautiful. I visited Forbidden city where last emperor lived, The great wall that was built thousands of years ago. I saw cute pandas.

Chinese people were so kind to me. I could never imagine in the past the two nations fought each other.

What was surprising to me is although China is known as communist nation, there were many capitalistic American things in the city. I saw KFC, McDonald, and HBO.



20 March 2005
Dear Bloggers,

Thanks for reading my posts!

I am flying to China for a few weeks. I might not be able to add any post until I come back home.

I might be able to add a post from China.

Anyway, I'll be reporting my trip to China to you. Please look forward to reading new stories.

The attached picture is Southern China's biggest city, Shanghai, where I went last time.

This time I am visiting Beijing and neighboring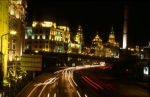 cities.