13 June 2009
Today, I have become a guide for free walking tour guide for Imperial Palace in Tokyo.
Though I am not a professional guide but I speak English so I joined the volunteer activity.
It was nice. Today I and other two guides started the tour from Tokyo Station.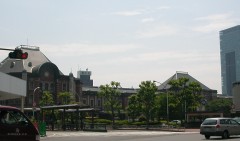 There were 10 people gathered at the exit. They were from Canada, Australia, Sweden and North Carolina (U.S.A).
After explaining to them history and current renovation plan of Tokyo Station, we took them to Tokyo's most famous tourist spot, Imperial Palace.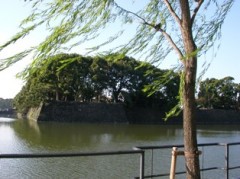 We explained to them how the castle was protected from invaders, such as surrounding mort, Stone Walls, Trap gate, and checkpoints.
We talked about middle age to modern time history of Japan as to how the country was developed into a unified nation.
It was sunny and hot day. They really seemed to enjoy the tour.
If you are living in Tokyo or have a chance to visit here, why don't you join the tour.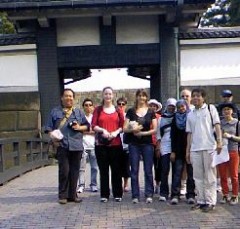 The tour is held every Saturday afternoon at 1PM. Gather at the Marunouchi central exit of Tokyo Station.
Straight-ahead is Imperial Palace.
See you there!!
10 April 2009
Not high-season any more, but you can do that on Shiga Highland, Nagano Prefecture, 2 hours and half train ride and 1 hour and half bus ride from Tokyo.
It was for me first time in 14 years. Last time was 1995 in Brockenridge, Colorado in that year's January and Zelmatt, Switzerland in August.
That was really fun. Acutually this time was first time I skied in Japan.
Skiing has changed since then. Snowboarding became more popular and new type of ski boards, curving skiing which is shorter and round shape are now commonly used. I used this new type of skiing equipment.
The photo is what I took from the top of the slope. The highland was very beautiful.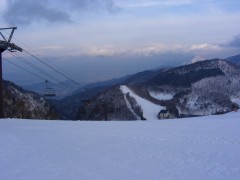 The town was also famous for hot springs. I bathed very good hot spring. The big bath room had big glass window that I could enjoy spectacular view of highland's snow mountain. That was awesome experience.
Skiing is not as popular as it used to be. It was very popular at the time of big economy boom between late 1980's and early 1990's.
The boom in the past was caused by the popular movie "Watashiwo-Ski-ni-Tsuretette (Take me out to Snow Land)."
I was impressed by the movie and decided to join the ski tour. Not only the skiing scenes were great but youngsters' life in the film was nice.
At that time youngsters could afford a nice sporty car to drive to ski slopes from a city on vacation and rent a lodge holding parties.
Now youngsters are struggling with their working-poor conditions. I skied and envied the life of ski boom period.
The below is You Tube clip of the Ski Slope I videotaped. Ski slope was really empty and I never had to worry about bumping to other skiers.
15 September 2008
On 14 of September, Sunday, I visited Japan's most famous shrine in Nikko city, which is 2 hour train ride from Tokyo.
It is called Nikko-Toshogu. The shrine was established for the grave of the Shogun, Tokugawa Ieyasu, who established Tokugawa dynasty in early 17th century. The dynasty established unified Japan. He placed Japan's capital in Tokyo, which was called Edo at that time.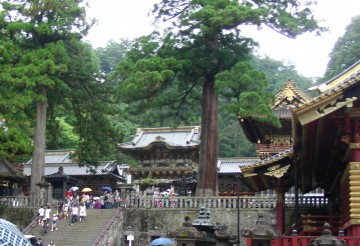 The reason I went there is not just to enjoy the views of the shrine but to pray the Budha or enshrined spirits to protect Tokyo capital region. The shrine is said to be built to forever protect Tokyo capital region. Tokyo is now in dangerous period because the dangerous ship of barbarians are coming and to be anchored very soon. Read this article.
The views of the shrine was magnificient. I really enjoyed. A lot of foreign tourists were there. The decorations of the shrine's gate and walls are very artisitic. The statues of Budha, engraves, paintings, all satisfied my expectations. The shrines decorations are relatively flashy compared with typical shrines in Japan. But they are still Japanese and outcompete Chinese temples or old buildings. I really found another type of Japanese beauty.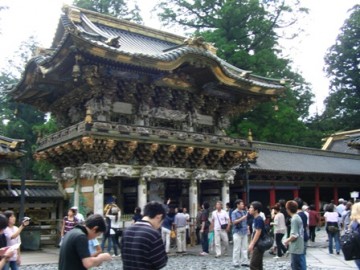 Next to this shrine is third Shogun, Tokugawa Iemitsu's grave shrine. He is grandson of Ieyasu. Iemitsu in fact established foundamental systems and rules of the dynasty that ran 15 generations, more than 260 years such as seclusion, banning of Christianity and alternate year attendance for regional lords. Those things were done to prevent colonization by the West and separation of the country. He really was great Shogun. Interesting thing is he was known to be very gay Shogun. Although as Shogun, he could have many girls to sleep with, he never made any successor until middle age. He had gay relationship with his retainers. It was openly done because being gay was not conceived inmoral thing in those days. When he died, one samurai lord committed suicide because he was very loyal to him and had strong love relationship with Iemitsu. Well, that is how Japanese samurais were different from western knights.
The below is video clip of the visit on You Tube.
17 August 2008
This is the sequel of already posted article "Ich bin ein Berliner." My trip in Europe last month. After I enjoyed my 2 day stay in Berlin, I flew to Krakow, the old capital of Poland. From the city, I went to one of the famous World Heritage sites. It took 1 and a half hour to get to Auschwitz Museum by car. It was clear and sunny day. The place looked strangely beautiful although what happend there was so scary. At first I went to the second part of the former concentration camp, Birkenau.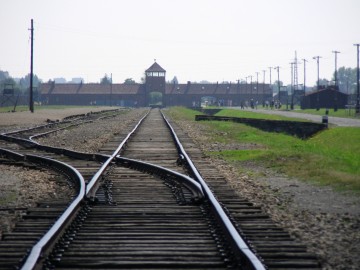 Over 1 million people were said to be murdered there. The below photo is the bombed gas chamber. Nazis bombed the chamber when they left that place to destroy the evidence. It looked like Roman ruin to me.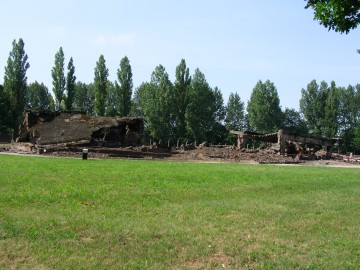 The below is where the prisoners slept and their toilet.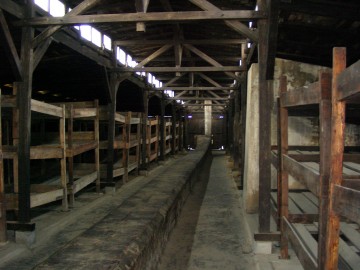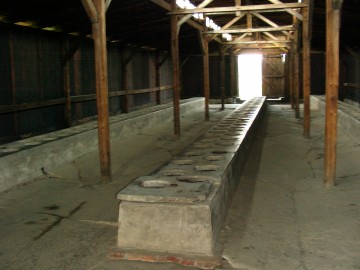 Also the below is the site of forced labour in the ditch.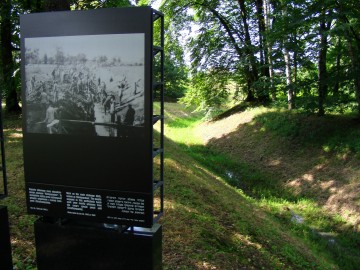 The below is the freight train car used for deportation of the prisoners. No seats in it. They had to stand up inside for days without food.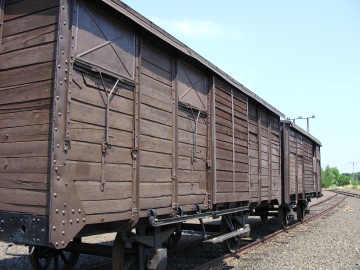 Then I went to the Auschwitz. That is me in front of the famous gate "ARBEIT MACHT FREI. (Labor makes you free.)" But the prisoners never became free. 90% of them died inside the camp.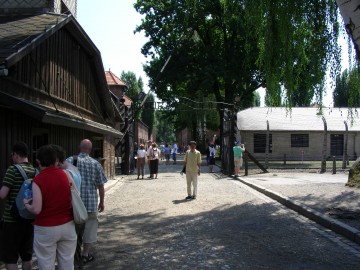 You can also see the
video clip
of my vist of the museum.
What lessons do we get from Auschwitz?
I think the most important thing is to learn what was the cause of such genocide. What was the beginning?
I recommend you to watch the DVD titled "
Hitler, The Rise of Evil
." Anti-semetism was not the only reason. What you can learn might help prevent similar event from occurring in the future.
GOD BLESS HUMANKIND!