03 March 2011
Last weekend I visited most weird beach in the world. That is in Kaminoseki town, Yamaguchi prefecture.
It is said to be the construction site for newly built nuclear power plant that is scheduled to start operation in 2018.
See this video.
This is what it was like. The beach is watched by construction workers and security guards but people set up tents and held music concerts like enjoying party. Although annoucement that says "This is construction area. Please leave here immediately" was made every hour, they never moved. I joined them. They are activists who protest ongoing construction of nuclear power plant in Kaminoseki.
If the plant is constructed there, people living on nearby island called Iwai-shima should have very harsh life. Not just fear of radioactive leaking but the sea being polluted by warm water released from the plant, which kills fish they hunt for living.
They occupy the beach to show objection to the construction. They also sail to the sea where construction ships are anchored. Using fishery ships and kayaks, they try to stop the construction of the plant.
Nuclear plant is out of date power generation. The cost efficiency is lowering and renewable energey has become more common around the world.
Nuke plants have now become like US military bases in Japan. Both do not function as people expect to do. However myth that these things are very functional is still common.
A few weeks ago I joined the protest march to the U.S. embassy in Tokyo to show objection to construction of U.S. marine helipads in Takae, Okinawa. Two people were arrested by the police near the embassy.
11 February 2011
I went to Okinawa last month to help the localies protest against construction of new U.S. military bases on their island. I visited two sites. One is Henoko, where US marine's runways is planned to be constructed by reclaiming the coral reef ocean where endangered mammals, dugongs inhabit.
The other one is Takae, where the U.S. marine's helicopter pads are under construction in the mountain. The helicopters or ospreys will be deployed. They are very much concerned about big noises and accident caused by those.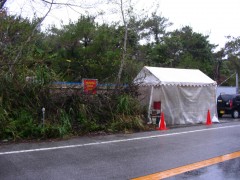 In both sites, localies set up tents to monitor what construction workers do and do protest activities in order to stop or delay the construction. They say they do not care what the government decides because they can decide what to do within their communities. I saw a local man stopping cars passing by including those belonging to the US marine. They had guts to protect their community. Some of them are even accused of blocking the road by the authority. But they still keep on doing what they do.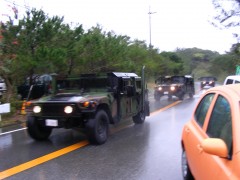 Ironically, this reminds me of what I learnt during my college days in the U.S. I think this is American way of doing democracy. If a citizen thinks his or her own government is doing wrong, right the wrong even by breaking the law. Like Rosa Parks' refusing to give front seat in the bus to white passenger which led to boycott on the commute buses by Afro-Americans and end up growing civil rights act movement.
The Japanese government and the U.S. marine is doing the wrong thing because they do the projects without approval from the localies.
It is also called "Libertarianism" which respects individuals' freedom not being intervened by the authority. That is why they protest gun control and public medical insurance offering. They want to minimize the government's restriction on individuals' lives. Their first priority is individualism and their most important community is their local town, not central governemnt. That is how the United States of America is constructed.
That means Okinawans' localies have the right to protest and overthrow the plans which the two big governments decide. Furthermore, Libertarians think such government should be overthrown by militias.
20 January 2011
Last week I went to Niseko Ski resort in Hokkaido, Northernmost island of Japan.
The ski slopes there is famous for powder snow, which skiers can ski very smoothly even in deep new snow. I could ski like this.
The Niseko town also has good hot spring bath (Onsen). Very healthy hot bath water that warms you up after you become cold by skiing or snowboarding.
But the most notable thing for me was that the town was almost occupied by foreigners mainly by Australians. The town has recently become very famous among Australians where the season is opposite, which they want to get away from the heat. It is like Hawaii or Gold Coast for Japanese.
I felt like staying in foreign ski resort like Switzerland or Canada. Thanks! Great experience.
By the way, if you are Australian who plans to visit Niseko, please see the following video which shows my experience in the trip including the scenes from Tokyo and other cities in Hokkaido. You can enjoy great snow views.
04 May 2010
James Cameron's world's biggest box hit film after "Titanic". An ex-US Marine man arrived on a planet and joined the native people by getting his brain signals into artificial figure of that native man. His mission was to blend in their community and negotiate with them in order to dig natural resources from their land.
Well, I did not really enjoy it because the story was cliche and animation scenes were not impressive maybe because I did not see 3D version. I watched it on DVD. After an hour, I just skipped chapters. I would rather like to see a full animated version of the film than mixture of real and animation.
The bottom line is that is the America's apology and remource to native Americans, Iraqi, Afghans, and global environmental destruction. But to me it is really hypocritical after years of deception and wrong doings. Isn't that what they talked about 30 years ago after Vietnam war?
Anyway, if they think they have been doing wrong, why not they rethink current destruction of great nature in Okinawa Prefecture, Japan?
It is taking place in the Henoko Sea right next to US marines' Camp Shwab. It was designated as the relocation site for Futenma base in Ginowan city on the same island. The coral sea is just beautiful. To me, it is better than Guam, Hawaii, Cancoon, and Kota Kinabalu.
Endangered marine mammal, dugongs habitat were recognized.
But construction of runway has been planned on that sea for the US marines by Japanese tax payers' money.
Is it for Japan's defense? No. US military deployed in Japan never functioned as Japan's defense. US marines use Japanese facilities for their training and missions. Well, this issue is very complicated. As you learn more about this issue, you can find Japan side has more to blame. In summary Japanese government can let most of US military leave Japan once they decide to do because there is no merit for Japan by the US military presence and the US military has no more strategic interest in Japan since the Cold War era ended.
However, if the US declares to withdraw troops from Japan without any relocation within Japan, this problem can be easily solved.
On May 4 2010, Japan's prime minister Hatoyama Yukio visited Okinawa governor and mayor of Nago city where Camp Shwab is located. Last month he said "destroying the sea by reclaiming is blaspheming the nature" but later he announced the plan to construct runway by QIP (placing sticks on the sea ground to support runway) format. He is crazy. It is just as destructive to the environment as reclaiming.
The Henoko has shrine on the coast. That god made him say that, I believe.
Or the charm I left in the wire on the beach. The wire divides the beach from restricted area. The charm is what I bought at the Admiral Togo Shrine in Tokyo.
However this construction plan will never be done because Okinawans and even the U.S. military oppose this newly fixed plan. Last September Japan experienced the change of governing party, then the relocation plan got on the review. After months of turmoil left distrust to the Japanese government and the U.S..
But I think this is great progress for Japanese to raise awareness that the U.S. military is nothing but trash and Japan has to defend its country all by themselves. Defending such beautiful sea like the below video from invaders.
But interesting history exists in Okinawa. Okinawa used to be an independent kingdom like Hawaii and Guam. But late 19th century Japanese government took over and annexed to the Empire of Japan. After the world war 2, the U.S. military grounded the island and had occupied until 1972. That is why tens of bases are located in Okinawa. The below photo is recreation of palace of what was called the Ryukyu Kingdom. This place is Okinawa's most famous tourist spot, called Shurijo.