25 July 2007
I went to Kyoto last night and came back home this morning. It was hectic trip. Indeed it was not a travel for private pleasure. The trip was for business. But I could manage to visit some tourist spots in Kyoto.
One of them is Gion town street, where my favorit movie "Memoirs of a Geisha" story took place. Geisha named SAYURI grew up there. It was pretty and very Japanese town. Unfortunately I could not see any Geisha walking on the street because it was early in the morning. But I enjoyed the street view very much. See the picture below.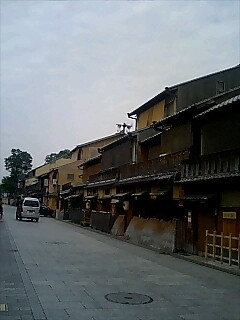 The other place I went to was Kiyomizu Temple. It is famous for high stage wooden building. There is a proverb in Japan, "Jumping off the Kiyomizu Stage." meaning trying to do a big new thing. Imagine how brave you have to be to jump off this stage.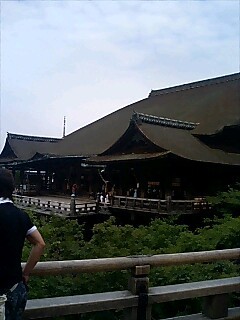 This is the view from the stage. It is 3-5 story building tall but in the old days, it was very high.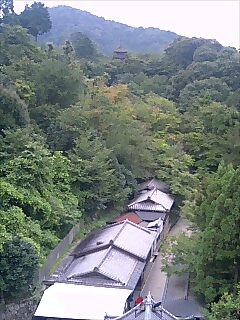 You can see other pictures of Kyoto along with other places in my photo album section on the right. Click on Japan Scenaries.
Kyoto is like foreign place for me because I used to live in US for several years and visite many foreign cities in Europe and China. Kyoto is one of great world's heritage.
Kyoto is beautiful, I am planning to visit there again near future. I will talk more about it later.
13 May 2006
Last week I went to famous theme park called "Museum Meiji Mura" that exhibites old time buildings in Japan including western style ones which Japan accepted for modernising its society.
It is located in Inuyama, Aichi Japan (Prefecture in the middle region of Japan, 2 hour SuperExpress train ride from Japan). Please look at http://www.meijimura.com/english/index-e.html
There were beautiful buildings that were transported from where it was. One of the most famous ones is the former Imperial Hotel building which was built in Tokyo, 1923. Only Entrance Hall and the Lobby were exhibited. It was designed by famous American architect named Frank Lloyd Wright. This building experienced a very big earthquake occurred in the year its contruction was completed but it survived.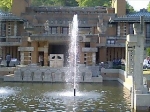 The inside is below.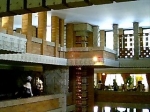 It was like a Retro trip.
25 December 2005
I went to Egypt last week. 14 hour flight from Tokyo.
I really had fun visiting pyramids and old ruins.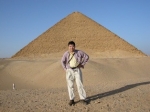 An Egyptian guide I met talked so much about the war in their neighboring country, Iraq.
He repeatedly said to our tour group that the US started the war because they wanted oil, not to provide democracy. He was so emotional about that. I've seen very few American tourists visiting there. I understood why.
I recommend Americans not visit there nowadays although the pyramids and ruins were magnificient.
04 June 2005
That's me 16 years ago. I was on the Hollywood billboard near the famous Chinese Theatre.

I went to the Southern California on vacation by the homestay program. I stayed with one American family for 2 weeks. It was wonderful experience. I remember they took me to a shooting range. It was my first experience of shooting. I was a teenager at that time. Then after I graduated from high school, I went to the university in Northern California.