25 December 2005
I went to Egypt last week. 14 hour flight from Tokyo.
I really had fun visiting pyramids and old ruins.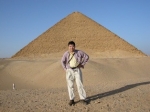 An Egyptian guide I met talked so much about the war in their neighboring country, Iraq.
He repeatedly said to our tour group that the US started the war because they wanted oil, not to provide democracy. He was so emotional about that. I've seen very few American tourists visiting there. I understood why.
I recommend Americans not visit there nowadays although the pyramids and ruins were magnificient.
04 June 2005
That's me 16 years ago. I was on the Hollywood billboard near the famous Chinese Theatre.

I went to the Southern California on vacation by the homestay program. I stayed with one American family for 2 weeks. It was wonderful experience. I remember they took me to a shooting range. It was my first experience of shooting. I was a teenager at that time. Then after I graduated from high school, I went to the university in Northern California.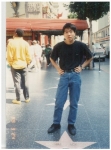 11 April 2005
I am now just back from China. I visited Beijing and its neighboring cities.

Beijing was beautiful. I visited Forbidden city where last emperor lived, The great wall that was built thousands of years ago. I saw cute pandas.

Chinese people were so kind to me. I could never imagine in the past the two nations fought each other.

What was surprising to me is although China is known as communist nation, there were many capitalistic American things in the city. I saw KFC, McDonald, and HBO.



20 March 2005
Dear Bloggers,

Thanks for reading my posts!

I am flying to China for a few weeks. I might not be able to add any post until I come back home.

I might be able to add a post from China.

Anyway, I'll be reporting my trip to China to you. Please look forward to reading new stories.

The attached picture is Southern China's biggest city, Shanghai, where I went last time.

This time I am visiting Beijing and neighboring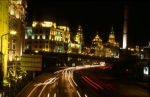 cities.