28 February 2021
It's been thought women are not good at mathematics and not suitable for engineering jobs. But that kind of notions were proved to be nonsense a long time ago. The film "Hidden Figures" described three Afro-American women working for NASA rocket engineering department as mathematicians, in Jim-Crow era, 1950's to 1960's.
I learnt about the film by Voice of America article on NASA's International Space Station program. NASA named the supply ship to the ISS Katherine Johnson after one of mathematicians in the biopic film.
They were not only being woman but Black women, who had to sit down on back seats in public bus and could not share the same bathroom with their white co-workers. But they did contribute to the very difficult space programs by calculating the orbit and designing rockets.
If they were white male, this story cannot be a film.
Breaking stereotype is the most important factor to counter racism or other type of discrimination such as gender, and sexual orientation. Stereotype is the origin of discrimination. Prejudice is biased view on others using stereotype images. Then people discriminate others based on prejudice.
Stereotype is baseless information about others. Like all Japanese can do Karate, which I don't. You cannot generalize others based on such stereotype. The sad thing is people judge others by these stereotypes and then sometimes treat them badly.
In the film, NASA officials found the women very useful to the organization's projects so they accepted them equally. If they hadn't accepted them as legitimate staff, NASA would have lost such great assets and wouldn't have succeeded in historic space missions in those days.
Stereotype, prejudice, and discrimination undermine progress of our society.
Let's get rid of such things from our world.
31 December 2020
I just happened to watch the old time TV show on internet. The TV drama-series "Little House on the Prairie" was first aired in 1970's US and later dubbed version of it was aired in Japan as well.
I liked the show but it seemed the stories in the show were mostly fiction or modified for the dramatic effect.
But the very first episode seems not since I read the original novel written by Laura Ingalls Wilder and compared to the episode.
It started with Ingalls family departing from the woods and found the place to settle down. They could have owned the land by cultivating the fields in accordance with Homestead Act of late 19th century, a pioneer period.
But they had to live in a very wild environment and had to deal with native people and wild animals. They had to dig the ground to make a well for water. They had to cut trees to make logs to build the house.
In a very small house, at first there was no floor boards and the roof was hood taken out from the horse carriage. What they had was only basic needs.
Our civilization is now on the edge due to the deadly flu and global climate change. It was because we try to have too much destroying the natural ecosystem. The modern system we rely on too much was found to be very vulnerable to such crisis.
It is time to rethink our way of life. "Little House on the Prairie" may be a good model of how one lives one's life without luxuries modern people have gotten used to.
The answer may be somewhat of that little wooden house or Native People, whom the family called "Indians" in the show.
27 August 2020
A real story about women who worked in America's conservative mainstream news media network, FOX during 2016 US presidential election.
A popular anchorwoman, Gretchen was demoted and finally fired because she refused to accept her boss, Ailes, president of FOX news network. Then she decided to sue him for his constant harassment over a year.
Another popular anchorwoman, Megyn Kelly was also harassed by him in the past. At first she was reluctant to join Gretchen's lawsuit fight but later she joined for women's rights.
What was surprising to me was, even in 21st century America, such cases happen in a major corporation and it was really courageous thing for women to file a lawsuit against a boss.
Women were still dealing with harassment but tried to conceal their emotional struggle in public. They often blamed themselves for what happened.
FOX and its owner Murdoch supported Trump. Actually FOX culture was really Trump-like, sexist and racist. But people love such culture. Actually, more people view FOX than liberal news channels like MSNBC or CNN.
FOX is like Goebbels strategy channel, attracting and harmonizing conservative people. The media represents the very honest opinion of some major portion of America who are fed-up with political correctness and diversity campaign. FOX is like silver-fox.
This year, another election, it seems Trump can be reelected. His opponent, Biden is not a very strong candidate. Even polls indicated Biden has got more support but Trump has been supported by hidden fans who never responded to the surveys.
America is dominated by FOX and Trump culture. It is just scary but this is the real America we have to deal with.
04 May 2020
While I locked down myself to prevent novel corona virus spread at home. I just happened to rent DVD drama programs "Ossan's Love" which was aired in 2018 on one of Japan's mainstream TV network channels, TV Asahi. The drama consists of 7 episodes. Each episode was about 40 minutes long.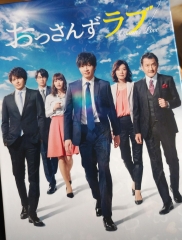 What was shocking to me is the comedy drama featured male gay love affairs all the way although it was aired on the mainstream channel and then it became so popular that subsequent film version was released in nationwide theatres and another version of the TV drama was aired on the same time frame next year.
The story took place in a real estate agency in Tokyo. The protagonist is 33 year-old male worker named Haruta (Middle in the picture.) Although the story evolved around him, the most important character was his supervisor Kurosawa (right edge in the photo), 55 year-old man, which in Japan commonly referred to as "Ossan" meaning "Old guy" usually middle aged.
Kurosawa was head of sales department of the real estate agency, equivalent to vice president of the company and a rich man. One day Kurosawa told Haruta that he loved him and would divorce his wife (Second from right) to be with him. Haruta was shocked to know that because he did not share love romance with his supervisor although he respected and liked him as a good business man.
Kurosawa then asked his wife for a divorce and then Haruta got involved in Kurosawas divorce quarrel. But Haruta also got in love affair with another man, Maki (left edge in the photo) in the office. But Maki had another love affair with another male worker. Two gay love triangles crossed over in the drama. Finally Kurosawa proposed marriage to Haruta.
The drama was all about gay love and love romance between man and woman was sidelined in the story. The gay male characters were portrayed as normal and decent person, not like psychopath or deviant ones. This is the big difference from the past. Gay characters were very normal and positive in the mainstream TV drama. Gay love romance was treated just as equivalent to straight people's love.
Not just broadcast nationally on mainstream media but the show became so popular that film version and another version in which similar gay love story took place in an airline company using the same main casts next year. In 2019 version Kurosawa was a captain pilot of the airplane and Haruta was a flight attendant. Airline company is really existing company meaning commercial airline company sponsored the program.
Recently in Japan, more people have positive views on gay relationship and more people have become supportive of gay marriage. In national assembly there are two openly gay members, who call for legalization of the same sex marriage. Some municipal governments approved of the same sex partnership and provide certificates for the residents.
This show reflects this social change.
If you are interested, you can watch the English version of the show on Netflix.