23 October 2011
The title is Russian but it is Japanese film about two Japanese women who had a sexual relationship in 1920's. It means "Yuriko, Good-bye!."
One of them is Yoshiko Yuasa, who was a translator for Russian literature. The other is Yuriko Nakajo, a novelist. They met in Tokyo and started to have sexual relationship and then travelled to Moscow together to study Russian.
Can you believe women in those days had relationship like today's gay couple? Indeed they did. They did it openly. Japan in those days was much more male chevinist society than today. Women did not have rights to vote. Women were expected to get married to men which their parents designated and work at home. But they could not resist passion they shared with each other.
The couple had 3 years of relationship and aparted. Yuriko later married a communist activist and then after the war, she became a leading figure of post-wolrd-war-2 democratic movement. She was actually a bi-sexual woman whereas Yoshiko was truly lesbian woman who had relationship with Geisha woman before she met Yuriko.
I went to see the movie on the first showing in Tokyo. The director, Sachi Hamano, and two actresses who played the couple appeared on the stage before the showing. The actresses were very pretty. Their act, especially lesbian sex scene was very fantastic and erotic.
There were viewers from foreign countries at the theatre. I don't know if they understood the language. I think they should be more curious than Japanese viewers were.
The film itself was great one although it did not describe their life in Moscow. The film was mainly about how they met and developed relationship before they went to Moscow.
I wonder if this film is shown in foreign country or translated version of it is produced.
Translated version should be like two western women met in London or Berlin and travelled to Moscow in 1920's or 1930's. Living together there in the cold Moscow. I recommend Nicole Kidman, or Jodie Foster to play the two.
The below is preview of the film (Only Japanese).
19 June 2011
I went to the Imperial Theatre near the imperial palace to view the stage show of "Gone with the Wind." As you know this is based on America's most famous novel written by Margaret Mitchel. It was written and made into film in 1930's.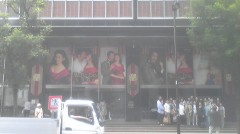 I've seen the film version many times and read some parts of the original novel. The stage show was 2 hours and half long. It was like summarized fairly tale version of the novel and film. It is surprising to know such show was played by Japanese actors. It is like Americans playing Samurai and Geisha.
Overall the show was well-done. I do not have to compare that with the film version or original novel. Stage version has its own flavour. This story has good essence of making good story telling. Like contrast of characters, contrast of situations. Good transition and developments so that viewers can easily follow.
However, I do not enjoy the story as much as before.
The story is in fact, unrealistic in the following points.
1. Egoistic and moody girl like Scarlett could attract so many men.
2. Such spoiled girl growing up in a wealthy family could take care of giving birth of a child and live through turmoil after the war.
3. Such young lady fell in love with much older guy like Rhett.
Furthermore this story has been criticized for romanticizing the slavery time in the South.
Afro-American people were portrayed as loyal slaves reveling with their oppressors. In the original novel the word "nigger" was repeatedly used. There was an event that Scarlett was assaulted by a Afro-American robbery and her second husband, Frank Kennedy took a revenge of that being Koo Klax Kuran.
Indeed the story was written from the viewpoint of conservative white people in the South. Slavery shouldn't be romanticized.
I am recently interested in an actress, Hattie McDaniel in the film version who won Academy Supporting role award. The film was clean-up version compared to the novel. Not using the word "nigger," Scarlett being assaulted by white man instead of Afro-American. Scarlett's Mammy played by McDaniel did played a very important and active role in the film.
I guess it was because the producer Selznick was Jewish and sharing some oppression experience with her. The film was made in 1930's when Nazi-Germany arose in Europe.
McDaniel made a speech that she was glad to receive the award on behalf of Afro-Americans. She did the great job in that sense although she had to play a sterotype role.
I guess it would be more interesting to make a film of how she lived and how she acted in the fim during that time. Such thing should be focused.
On the Stage version I saw slave role actors put black paint on their skin to look like Afro-American. Scarlett screamed at a slave "Kuronbo (meaning Nigger)." Scarlett was assaulted by Afro-American robbery. These are wrong things, aren't they.
25 December 2010
Ski season started. I am crazy about skiing. The below picture is taken at Kagura Ski resort in Niigata Prefecture.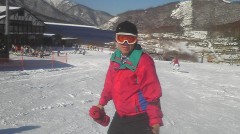 Why I started skiing, it is simple. Some film made me want to ski and enjoy ski resort.
The first one I saw was "Take me out to snowland (1987)"
It was shown when I was in high school. The story took place in Shiga Kogen, one of Japan's biggest ski resort.
But strangely where I first skied was not in Japan, it was in Colorado, US.
Well, I suppose I skied like that film. Ski episode in my most favourite American TV show.
I will ski more later but only in Japan. My passport already expired. But some day I will come back to the U.S. to ski again and also visit Austria to ski. The greatest skiing place in Europe, actually this country exported skiing to Japan. Next year will be a century anniversary of introduction of skiing to Japan.
08 November 2010
I just recently watched TV mini-series drama about Japanese Americans who immigrated to the U.S. in early 20th century. The title of the series is "99nen no ai (99 years of Love), Japanese Americans."
I watched last 2 episodes of 5. It was a story of young Japanese Americans who joined 442nd regimental Combat Team that rescued Texas Batallion in Germany. When they went for the battle with Germans, they shouted like "Go by Yamato-Damashii (Japanese Spirit)." Seemed "Go for Broke" is rooted from Kamikaze spirit. Is it really true?
I think not, because they were Japanese Americans who got the U.S. citizenship after they were born and raised in the U.S.
This in fact, typical portrayal of Japanese Americans by Japanese nationals, which in fact upset a lot of Japanese Americans, isn't it?
Japanese Americans are Americans, especially from the 2nd generation. But Japanese nationals tend to treat them like extention of Japanse nationals living in Japan.
I am concerned that the mini-series strengthened wrong portrayal of Japanese Americans.
The scenes of 442nd unit battle with German and their parade on Washington street was impressive. Cannot believe such people really existed in history.
But sorry, the drama was produced from Japanese national's point of view. I know they fought for their families in the internment camp, and for their homelnad, the U.S. not for Japan, which was one of the enemy states at that time.
Recently new documentary film on 442 was released, maybe this is what you can really learn about them. I would like to see it if I can get a chance.
There has been rumor that Japanese actor Ken Watanabe is directing a Hollywood film of this 442.
I can't wait to see it if the rumor is real.
Although I know Japanese Americans are not Japanese nationals, let me say that as Japanese national.
"I am proud of sharing the same ancestry with such brave people."
To Mr./Ms. Sansei or J/A,
I apologize to you if my comments on this blog offended you. I have no intention of harming American people by that. I respect your opinion although we have difference. Anyway, I am truly glad descend of 442nd unit soldiers left some comment on this post. I know my ideas are very emotional and simple-minded. It is because I am being honest when it comes to writing on this blog. I agree with your opinion that Japanese are too softies and don't know the value of freedom and justice. That is something we still have to learn from you, maybe. Please remember Japanese generally appreciate the U.S. help to reconstruct post-war Japan. I agree with that Japan made a big mistake in early 20th century and the U.S. fought against fascism, and won over it. Current U.S. military presence in Japan is another issue. No relationship with your father.