04 May 2014
The story based on autobiography of former British military personnel in charge of radio communication, Eric Lomax, who became POW of Imperial Japanese Army in occupied Singapore during the second world war.
Even after the war he suffered from trauma caused by his experience as POW in Thailand where he and his comrades were transported to. Later he found that the interpreter, Nagase in the Japanese army, whom he met at that period was still alive in Thailand and decided to return there.
It was really shocking to see the film and know the facts. British soldiers were used as labour for construction of the railway and tortured by the Japanese army.
The film, itself was well-done however, reaction from Japanese audience seemed not so positive maybe because of portrayal of Japanese army in the film. It was indeed British perspective.
I was impressed by some words in the film.
"Japanese soldiers choose to die rather than being humiliated alive but Britons live to fight. "
"I have lived for this day. If the war did not end, end this (with your sword)."
Those were paraphrasing of what Nagase said when he re-encounter with Lomax and told him how guilty he had felt for what he did.
In the end, both men reconciled and kept good friendship until they both died recently.
We are all humans. We make mistakes. We hate each other but can understand each other. We hurt each other but can help each other.
We can learn from past mistakes and improve ourselves for better future and our decendants.
I think, that's the message from the two men.
24 December 2013
The novel was written by Japan's most notable novelist in 20th century, Endo Shusaku.
Recently the news that Hollywood decided to make the story into film next year was reported. The setting of the story was early 17th century of Nagasaki, Japan when the government ruled ban on Chrisitianity and entry of foreigners except Chinese and Dutch. That policy was aimed to get rid of western influence on its society in order to avoid colonization. Dutch was neutral as for this matter. Dutch hated Catholic nations and advised Japanese government to stop trading with Catholic nations.
The story started with a news that one most prominent and highly respected missionary sent to Japan abandoned his faith after severe torturing by Japanese authority. That shocked two Portuguese Catholic priests. They decided to secretly enter into one secretly Christian village in order to locate the missionary and continue Chrisian preaching for the localies.
However, they were found and arrested by Nagasaki authority and then their followers were tortured to death. One of the two died. One surviving one prayed God for his tortured followers but no salvage was done. God kept silence.
Later he finally met the person he wanted to meet from the beginning. The missionary he once respected whom he tried to locate. He was advised by the missionary to abandon his faith just as he did. Then he followed his advise. What he did was stepping on plate of engraved Jesus Christ picture. That was most usual custom to check if a person is Christian or not in those days. If you could do that, that proved you were never Christian or you just abandone your faith by doing so. He stepped on it to save tortured followers. It was a deal with the authority.
Since that era, Japanese Christian teaching was totally abandoned until it was re-allowed in late 19th century.
Surprisingly the story is based on real characters and real events. In the book the authority says "Christianity can never place roots on Japanese land. It is never universal teaching." That sounds true.
In fact centuries after that era, even after freedom of faith was insured by the constitution, less than 1 % of the population are Christian today. More surprisingly in this season you can veiw many illumination and Christmas trees and find Christmas events in Tokyo. But very few of them are dedicated Christians. Japanese Christmas events are nothing but commercial purpose.
One remain of Christianity of that era may be tea ceremony. There is a legend that Japanese tea ceremony was modeled after Christian mass ceremony in that era. In fact founder of tea ceremony, Sen no Rikyu was a man of the era that Christianity was still allowed and his wife and daughter were Christian.
If that is true, Christianity was continued throughout banned era. The root was placed. Praise Jesus and Praise tea!
30 October 2013
I recently rent DVD series of TV show "Covert Affairs." The story is about a female CIA agent who is multi-lingual and her associates.
The show reminded me of 1970's most popular TV show, Charlie's Angels. But the main character, Annie Walker is not as sexy as the angels. It is more of how spies do covert activities. It is like female 007.
Her mission is not just steal classified information or investigate what is happening but recruit someone on target side to be information providers. Like in some episodes, Annie approached embassy worker of Syria to get access key of the embassy. She also convinced secretary of prime minister of Yemen to be that. It is like making someone another spy for CIA.
I am not sure how realistic the stories are. But recently news that cell-phone of German Chancellor, Merkel was tapped came out. US spends huge budget on covert activities. They do actually things like that to get what they want. That is most important matter in diplomacy.
Speaking of spies, there were people called Ninja in feudal Japan. Like Annie Walker and James Bond, they had extra-ordinary physical strength and spying ability. They were trained to be Ninja from their childhood. They were hired by regional lords to spy and assassin opponents.
Covert capability is like secret military for nations. Such spy matters should go on as long as human being exists. That is why such shows are interesting.
23 September 2013
Last weekend I visited Okinawa, Southernmost prefecture island. Over there I saw such cute view like Disney's animated film "Finding Nemo."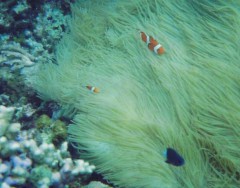 Clown fish over sea anemone with a blue fish. Looks like Marlin and his son, Nemo and their friend, Dolly. I was amazed but felt so sad at the same time. Because their lives are now in threat by planned construction of US Marine Base runway expanding from Camp Schwab.
The fish were in Ohura bay, which has been designated as most vulnerable place for environmental destruction because of rich bi-diversity such as clown fish, blue coral reef (the world biggest and Northernmost of its kind), dugongs and so on. If the runway is constructed by reclaiming the sea, the sea current will change and environmentally harmful substances would be released from the base. That must give adverse effect on wildife there.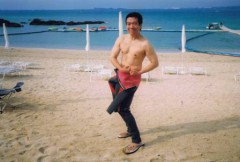 I scuba-dove into the sea from the opposite side of the bay to the U.S. Marine Base. Far away behind me in the above picture is where US Marine Camp is and where runway is planned to be constructed.
Growning opposition has emerged recently from localies. But the US and Japanese government are pushing hard to implement the project.
That coincides with hypocrisy in the film. That was, of course animated fiction. Fish don't talk and read. The film portrays them as good living creatures like human beings. In reality we eat fish and hunt them and put them in small aquarium unit just for viewing. In fact after the release of the film, clownfish were hunt overwhelmingly.
U.S. pretends like tropical fish loving and environmetally friendly nation but the reality is opposite and their act is very hyporitical. Not just Disney's fantazy but US policy against Japan's whaling. US is accusing Japan of whaling but at the same time it is harming most endangered marine mammals, dugongs in the bay with Defense Ministry of Japan. Some environmetal activists like Sea Shepherds even oppose dolphin hunting in Taich town of Wakayama Prefecture.
"Finding Nemo" is after all, Finding Nonesense and Hypocrisy.