30 July 2013
I just saw the film. It was not excellent but not bad, actually it was good considering it was made by Americans. It was indeed made from American perspective but thoroughly desriptive about Japanese personality and culture.
The story was based on memoirs of a former military officer who did research on the emperor's responsibility for the second world war. He interviewed with former politicians, military officers, and servants for the emperor to learn about what Emperor actually did before the war and end of the war. He also tried to find where his loved Japanese woman was.
One of impressive things about the film was one former prime minister said "Japan just followed what US and European nations did in terms of invading China and Phillipine. But why were westerners never convicted?"
The film described difference between Honne (true feeling) and Tatemae (appearance). Japanese seem to be calm in apperance but in their mind they have strong feeling and devotion which can make them brutal.
Emperor's role was very ceremonial so he was not actual starter of the war. It was the nation and militants that led the war.
However, I want to rate this film "B" not "A." It contains love romance essence but the conclusion of the romance was not what I expected. It was reverse and not so good.
Emperor has no responsibility for the war act. Not totally true. Recent research suggests the emperor actively coped with military people.
I just could not be totally satisfied with the film. I wanted more twists and surprises. Kind of clechay for Japanese who has studied this part of history.
Personally it was really helpful to me. I recently started to write a novel on the same period of the history. Mine is gender reverse. American woman and Japanese man. The woman character is inspired by a true character who helped rebuild and democratise Japan in post-war era. She visited Japan before the war.
Hope mine will come out as a film like this film.
26 June 2013
Recently I have become a big fan of Germany, Deutschland.
The documentary film I saw represents one aspect of that.
Germany has recently decided to terminate operation of all of nuclear power plants in their country until 2022.
German people started heated movement of non-nuclear policy after Chernobyl accident in 1986.
The film described non-nuke and self-sufficient power generation movement of people living in one small town, named Schonauer. After going through fierce battles with big power company and debates and referendums among localies, they established their own power generation system and company.
Germany is indeed very sophisticated society. German people are so enthusiastic about civil activities.
Since Fukushima accident, Japanese citizens are learning what Germans did and are doing.
I am one of student of German experiences.
Ich bin Deutsch!! Danke schonn!!
The below photo is me in German logo T shirt, that says "Nuclear? No Thank You."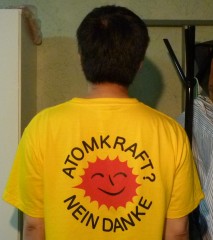 The below video is what I took at the anti-nuke event in September 2011. One German anti-nuke activist made a speech on the stage to tens of thousands of audience attending.
01 March 2013
I went to the cinema last night. It was a late show that starts 9 PM.
I was not particulary interested in the story of the film. I was only interested in music played in the film. One of the songs, I dream a dream, has caused a sensation recently by a British middle aged singer, Susan Boyle.
The story was about a man who escaped from probation and became a burgalar but later turned into an innocent man and tried to save others.
"Les Miserables" means "Poor people" in French. The story took place in an era of post-French revolution civil war in 19th century. People who are desperate, and in despair because of condition they were in.
I just could not get what messages the story delivers to the audience. The story goes on like a revue.
I just guess it tells life is not easy. You can't easily overcome. Even though you are desperate to change the world better, things cannot move as it should.
You should just be patient or keep dreaming. Dreams that never come true.
Does it mean we all live in hell and be as we are?
Yes, we are all "Les Miserables."
26 November 2012
1969 film that a young Texan boy travelled to New York hoping that he would make a fortune but just got troubles ending up being a male whore in cowboy outfit selling sex to men on 42nd street.
I learnt about this film by reading a magazine article published in the same year. That was Japanese magazine. It says "The film is about gay issue in America. That describes how hard for gays living in America. In Japan gays are considered abnormal but not outlawed and in showbiz industry gays can take advantage of what they are. In most states of America gay sex is outlawed. For politicians exposing himself as being gay means end of his political career." (November 18, 1969, PREIBOUI (Playboy) published by Shueisha) That was Japanese perspective of the film at that time.
Sounds odd. Now as we see, America is much more open society to gays than Japan. There are openly gay congressmen and a senator. In some states gay marriage is legalized. But just a generation plus ten years ago, America was a hell for gays. The film clearly described how homophobiac American society had been.
Maybe such oppression turned driving force for liberation along with other civil rights movement like Blacks and women.
The story of the film was very boring to me but I understand significance of the message delivered in the film. Surprisingly the film was released as X-rated at that time. It can never be classified as X-rated by today's standard. Maybe because it was a time even a Color TV with remote was considered most sophisticated product as depicted in the film.
Things have changed drastically over the decades.