24 August 2015
I bought a DVD of it. It was released in Germany and China, 2009. Until now it was never released in Japanese theatres. Only shown at one-time meeting by peace activist meeting or symposium. DVD version was released, which individuals purchase on internet.
The drama is based on real events and people involved in Nanjing, China, capital of Republic of China, December 1937.
John Rabe, a German businessman who worked for Siemens decided to be a leader of foreign nationals' committee that managed Refugee Safety Zone in Nanjing, that was about to be occupied by Japanese imperial army.
Because he was German, it was a better choice. In those days, Japan and Germany were allies.
Together with Rabe, some American men and women were in the comittee. They were eager to save Chinese people.
After Japanese army occupied Nanjing, its soldiers did terrible things to Chinese citizens such as theft, arson, rape and even murders.
They tried to help Chinese as barricades to keep soldiers out of Safety Zone. Because they were western civilians from countries neutral from China-Japan war, Japanese soldiers could not hurt them.
Rabe took notes of the events in his diary. The film was mailny based on his diary.
What Rabe and his comittee people experienced is what is known as "Rape of Nanjing." It is estimated 100000 to 300000 people were mass-murdered by Japanese army. As the film depicts, Japanese army had a policy of no alive enemy soldiers.
In Japan, the scale of the massacre has been controversial. Mainly because it is politically sensitive. Just like other nations in the world, such historical facts are considered "masohistic."
I became very interested in this massacre since US invasion of Iraq, 2003. How Japanese army proceeded to Nanjing from the coast was pretty-much like how US army proceeded to Baghdad. What happened to the citizens there was very similar.
I went to Nanjing 11 years ago and met survivors of the massacre. Some of them witnessed Japanese soldiers killed their parents in front of them.
2 years after Rape of Nanjing, Rabe's homeland, Nazi-Germany attacked Poland and occupied surrounding nations. Mass-murdered so many innocent citizens, known as "Holocaust."
By changing position, people could be hero or evil. That is human-history. That is human-nature as well.
Good lesson for all the people of the world.
01 June 2015
I just happened to know this film while participating in Tokyo Pride Parade event.
It was British movie. The Japanese title was "Parade e Yokoso (Welcome to the Parade)"
The story is based on facts. In 1980's coal miners did strike against Thatcher adminisitration's policy to close down unprofitable mines.
Gay activists in London launched fund-raising campaign named "Lesbians and Gays support miners."
At first they were not accepted by miners' community but later on both sides understood significance of corporation getting over the difference. Like one of important characters said "You support us so we support you."
In the end, miners joined gay parade to show solidarity with the activists.
The both oppressed communities got united to help each other.
I recently came up with the idea of new novel using the concept of unification among oppressed communities. Gays are not the only oppressed but women, disables, and recently those who are fearing new foreign military base construction in their local prefecture, Okinawa, Southernmost prefecture of Japan. For details, please read the articles tagged Okinawa in this blog.
The mining town in the film was in Wales. It was several hour drive from London but very different culture and people exist, even language is different. One different tribe in one nation. That thing is very much like Okinawa.
I kind of do the similar action to the film, helping that prefecture people. On 24 May 2015 I joined protest activity such as human-chaining demonstration around Japan's Diet building in order to show solidarity with them.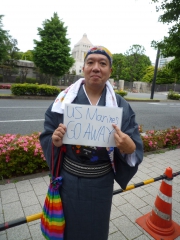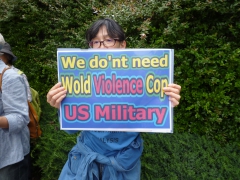 Last year I saw the rainbow on the construction area. It appeared from the sea. The construction project is reclaiming the beautiful coral sea. It was on the same day after I attended Okinawa's gay pride event.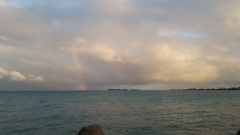 Well, it seems another oppressed ones got united helping each other for the better future.
Just my fantasy?
15 February 2015
A story of a man whose father was shot in front of him on the cotton field by a white farmer and later became a house servant of the farmer and then hotel servant and finally was hired by the White House.
It is a fiction but it is based on a real butler who served the White House from 1950's Eisenhower until Reagan's administrations.
It was like Black history of America.
How Black people struggled with the oppression and finally be honoured by the society.
Maybe Obama should have experienced similar things.
In order to change the society, people need to be not only brave but also clever. You cannot just fightback. You might have to get along with majority of the society regardless of their unfair treament of you.
It is a fiction but surprising thing was even in the White House, Afro-Americans were discriminated in salary and positions. It was fixed after Reagan's administration 1980's.
I like that part of America's history, not interested in founding fathers.
It is common with current event happening in Okinawa, Japan.
Because of that, America is no longer my favourite nation.
I can only feel mutuality with the oppressed Afro-Americans who lived in the past.
30 December 2014
I learnt the queen is called "Her majesty" by this film. Just like Emperor is called "His majesty."
The story is just as unrealistic as other films in the series. James Bond went to Switzerland to search for a bad guy who tried to spread poisonous chemical all over the world. While the search, he met a beautiful woman and fell in love with her.
Great thing about this film was that James Bond really fell in love with the woman and lastly married her. That was actually what her father asked him to do in exchange for the information Bond needed. But he really loved her.
The words her father told 007 about his daughter was very memorable. She divorced and lost her child and was in despair. She demanded too much but never met that demand so she could never make herself happy. Right, no one should not demand too much. I recently learnt why I've been not so happy these days by the words.
Interesting fashion was James Bond wore skirt as formal wear at dinner. Actually that was Scottish male formal wear. James Bond was said to be Scottish. It may be common with Japanese. Traditional Japanese male formal wear is skirt as well, actually longer.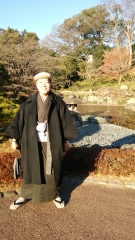 The Bond girl in the film seemed very advanced type of character in that era. She skied and drove very professionally and fought against a big man with her hands.
That made me think Bond girls in the series created original image of Charlie's Angels in 1970's. In fact introduction of the film is similar to Charlie's Angels TV shows, shadow image of women's figures.
Unfortunately, Bond girls in the series are killed. At least one in one film. That is the cliche of the series, making viewers sad. But maybe very realistic in that sense.
In this film this cliche was very passionately used. Very cruel way. It happened not in the beginning or in the middle like other films but in the end, which was very dramatic. That really made viewers sad.
That really impress viewers and let them learn how clever the film makers were.
Please see the film and you can share the same opinion with me.