01 August 2009
As I described before on this blog, I became a free walking tour guide of East Garden of Imperial Palace. Read this article.
Last week, I met an American woman who is a college professor. I guided her to the imperial palace and explained history of pre-modern Japan and the imperial palace.
Imperial Palace was in fact, Shogun's castle before modern times. Shogun literally means "General." He was a actual ruler of Japan. A lord that takes control of all the regional lords of Japan. The emperor has been the symbol of Japan although former constitution states he was divine and above all. He never actually took authorities. The emperor was relocated to the palace in Tokyo from Kyoto after Japan's modernisation around 1860's.
I talked with her about TV mini-series "Shogun." It was aired in US and Japan 1980. The drama was based on James Clavell's book.
She told me she watched the show and read the book, too. It was reall popular show.
I wonder why someone wants to remake it as movie. Recently Japanese famous film stories were being remade by foreign film maker like "HACHI" and "47 Ronins."
Then why not remake this TV mini-series?
Can they make this long hour TV drama into 2-3 hour movie story? I think it may be possible. The film should be remade by Britain.
It is a story of British navigator cast away to Japan coast and saved by a lord who later became first leader of unified Japan in 17th century.
The British man, Miura Anjin was modeled after a real person named William Adams.
This time, I would advise the film maker to insert clearer description of homosexuality in that period. In TV mini-series, there was a scene that implied how tolerated homosexuality was in those days Japan. Now a generation passed. It should be featured more openly. Like Anjin has a sex with beautiful boy for pillowing following the advice from his interpreter, Mariko.
It was openly done that a samurai who had a wife or wives and even children had sex with boys for pleasure. They even had sex with their retainers or sworn brothers. It was very common and never considered abnormal like modern times.
Surely Shogun enjoyed gay love affair and sex not just with his 1000 wive in the castle. It is said that one of the reasons the Shogun could maintain good governance of Japan for centuries was he tolerated sexual life style of people. Japan was originally free-sex society unlike some Christian societies where sexual regulation was a key to maintain order of a society.
I am excited to see the remake version of "Shogun" and gay scenes in it.
05 July 2009
I just happen to rent a DVD of this TV show. A story of 4 successful working women in New York.
Lucy Liu, Chinese American actress seems to be a main character. This is surprising thing. Asian woman took a main role in a popular soapopera.
The story features America's latest social movement but some of the things depicted were kind of surprise to me, even in 21st century American society is still conservative like Lucy Liu character's fiance cancelled engagement after she got promoted a head of him, a housewife woman harasses a working woman, and a top executive woman do not want to divorce her husband although he had an affair with another woman.
But the drama in fact reflects today's social movement such as openly lesbian relationship. Not just lesbian but also interracial.
America has really changed.
But this is the story of elites, tip of the big American society, that doesn't represent avarage of the society.
Actually most American women in the same age group as them are struggling to survive, working at much lower wages, cannot afford medical insurance, auto insurance and college education for their children. Such harsh reality was described in a novel I wrote on this blog.
Pathetic, poor working class people are watching this show to escape from the reality they face. They dream of becoming rich and successful elites while watching this show.
I, myself grew up so I cannot enjoy such phony show any more like when I was younger. I know it is just an illusion.
I do not admire America any more. The below photo is my current image of America. Sorry.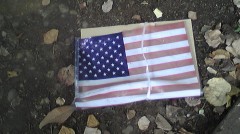 26 June 2009
Today was a big news day for showbiz.
The king of Pop Star, Micheal Jackson died of heart attack and one of the hottest angel of "Charlie's Angels", Farrah Fewcett died of cancer.
Two big icons of American entertainment died. Both of them were very familiar to me.
I remember when Micheal Jackson visited Japan in 1980's. He stayed in Japan for more than 40 days.
He really liked Japan and gave big compliments to our country. He said something like "In Japan shy people like me can be welcomed unlike the U.S."
Did it mean he was not welcome in the U.S.?
The other big star, Farrah Fewcett was one of the casts of my favourite show "Charlie's Angels."
Actually I liked Cheryl Ladd who acted as her sister better.
The three beautiful women acted as detective. The story was made into film.
I like the episode that Cheryl Ladd and Farrah Fewcett were together as sisters.
But Micheal and Farrah are gone.
Not only that, my image of America of those days were gone, too. America is not dream country any more.
Actually I hate that country although I had lived there for more than 5 years.
Maybe since I learned the U.S. Navy decided to deploy nuclear aircraft carrier in Yokosuka.
But America has drastically changed recently since 911, war in Iraq and financial crisis.
The End of Era.
Even Obama, the first Black man to be the president of the U.S. work too well, the things would not be much better.
This article describes why.
Good bye, Micheal, Angel and the era of America!
03 May 2009
A woman named Hester lived in a small Puritan Village in 17th century had been accused of adultfully. She had to wear scarlet letter "A" all the time because of the sin she committed. She and her daughter, Pearl were always harrassed by the villagers.
Local villagers and its headman wanted to know who was the father of Pearl. At last the villagers found who he was and got shocked.
It seemed that the film revealed the true nature of America. The origin of America was Puritans. Puritans were exiles from England.
They lived under the faith of God because of fear they experienced in England. They created a very closed society with very strict rules. As a result they became hypocrits.
In last scene of the film, Hester and Pearl ran away from the land of hypocrisy, not freedom.
That represents feeling I have right now. I am losing interest in America and growing contempt for it.
American is not a dream country to me any more since 911, war in Iraq, deployment of USS George Washington in Yokosuka, and financial crisis.
Good-bye, America! A country of Hypocrisy!
Now I wonder where I am heading. The film gave me a hint.
The film was produced by Germans. It was all German version although the story took place in America.
It is just like holocaust films in English version made by Hollywood.
I am now studying German and getting more interested in Germany than ever.