05 April 2008
I rented a DVD of Micheal Moore's documentary film "Sicko."
The film described how terrible the U.S. medical system is. 50 million of Americans don't have health insurance. Even if you have one, the insurance company wouldn't pay for your treatment by making up technical problems.
Once you get a serious disease, you might bankrupt. Insurance companies and the government don't want to provide national health insurance like Canada, England and France. Of course, in my country Japan does. You government prioritizes money over human lives of the poor people. They say national health insurance is socialist idea that restricts individual freedom.
My opinion for the realities presented in the movie was that America is no longer role model for the world. Such scary society. Spending so much money on invasion of Iraq and other parts of the world, killing innocent civilians outside the country and leaving sick people die inside. Pathetic!
Well, I wouldn't say my country is best nor other country in Europe. But USA is trush. I know nice Americans personally but where they come from is sick land.
Recently I've been regretting that I tried to imitate as many things from USA as possible in the past. There are things I should learn from them but they have things I never want to learn from.
Overall, the country is arrogant, corrupt, and undemocratic society. Who wants to live?
17 February 2008
President Bush was assacinated in Chicago. Who killed him?
Of course, this is the fiction. Janre of mockdocumentary, but it looked very real.
After the assacination, the U.S. government used this fear to justify amendment of Patriot Act, tightening the freedom of citizens. Muslim man was arrested but there was not enough supporting evidence to convict him but he was convicted by the jurors.
Why? This is the same old fashioned rhetoric. Once awful thing happened, no one can have objective view.
It was well-made documentary although it was a fiction.
But I wasn't very impressed. I am kind of tired of such anti-Bush propaganda films such as Micheal Moore's "Fahrenheit 911."
Yes, Bush was wrong. He did the wrong things. So did other politicians in the world. It is just easy to criticize the politicians but what are behind the actions they make? Think about it.
Even Gore was elected as President of the U.S., he might have dispatched troops to Iraq. Accusing just one politician for all the wrong things in the world doesn't actually change the world better.
13 February 2008
The Austraian government made an official apology to the Aboriginal people. The Prime Minister said "sorry" to the Stolen generation who were taken away from their families to concentration camps to be assimilated to white values.
I've seen the movie "Rabbit Proof Fence." Three Aboriginal girls forced to live in the camp apart from their parents escaped from the camp to go back their home by tracking down the rabbit proof fence. That was based on a true story. What a terrible thing whites did to them. This Aborigines' sad history was mentioned in the You Tube Video about whaling issue. Some scenes of the video showed Aborinial people and subtitles "Australians treated Aborigines inhumanely." The video was viewed by the Australia's foreign minister. It is now removed. But it was very interesting. The theme was Australians' anti-whaling is racist sentiment against Japanese.
Now we feel like Aborigines who were taken away their identity and culture. What is wrong with hunting whales and eating the meat? You are not only protesting whaling because of the extinction issue. You think whales are special animal that even there were plenty of it in the ocean, anyone should not hunt even one of them.
Your government showed the photos of captured whales being transported to the fleet from the ocean by the anchor. Cruel? Haven't you ever seen the photos of the meat factories? See this video.
Are you extracting meat from cows, pigs and kangaroos without killing them? Are you living in the Disney fantazy? Learn the history of your people, there were Australian whaler ships in the past.
I shall stop eating Australian beef because cows are cute and intelligent. That is how you think.
I do not think your country is civilized nation. You might poison the beef like what Chinese did to us.
It is just fair to decide not to eat the meat imported from the people who criticize what we eat.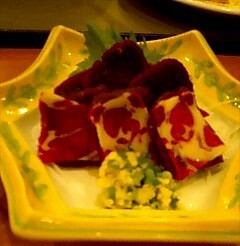 The photo of whalemeat sashimi served in a restaurant in Tokyo.
23 January 2008
This morning, I learned a very shocking news that an Australian actor, Heath Ledger died in his Manhattan apartment.
I've known him since I saw the movie "Brokeback Mountain." His act was superb. He turned out to be very American cowboy. His horse riding was great, too.
I would like to extend my deepest condolence on the sudden death of this great Australian actor.
But sorry, I don't like his home country, Australia because of whaling conflict.
I ate Aussie beef, tonight. But that's it. I do not think I would visit that country in my life.