04 October 2006
I've been moved by the film for more than a week since I saw the DVD of it. I playback it over and over.
The story is that two young cowboys met in Brokeback Mountain in Wyoming and fell in love with each other. Even after they were apart and married to women, their love had never faded. Then they got into a big trouble.
The theme is not about homosexuality. It is about love and agony in life.
Besides love story element of the film, I could learn so much about American country life including what cowboys are doing for living. Cowboys are tough guys. They can live in a tent on the prairie. They have to be very strong to take care of livestocks.
Country music played in the film were so great.
I never experienced such wonderful feeling by other films. The feeling remained for more than a week. This can even change my way of living.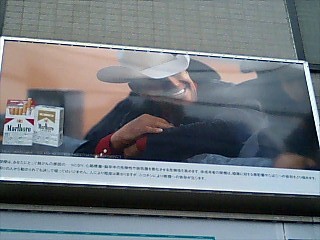 15 February 2006
This movie was a kind of remake of 1960's movie "Guess who's coming to dinner?".
But this movie is a comedy and the story takes place today's America. In the old movie white person is a woman, this time it was a man. I've heard the things got much better these days.
I remember 10 years ago, when I lived in US, I saw some interracial couples. I know a Japanese friend who married American guy who is white. But black and white was rarely seen.
Although the story was comedy, it tells how difficult black and white marriage still is.
In NBC show "The West Wing" a young Black man called Charlie became a boyfriend of the President Bartlet's daughter. But as that show describes, interracial marriage is still some issue in US. Charlie became the scapegoat for white supremacist group.
Racism still is. But the society should encourage the interracial marriage. It is a good thing.
Such marriage not only represents the love between two people but also the unity of different races.
Of course it is not comfortable for the couple to be symbol of the social reform but they would contribute to the society anyway.
I remember when I was in China last spring, I fell in love with a Chinese woman. I thought if I could marry her, this might some way help repair the worsened relationship between the two nations.
Let's get over the differences.
05 January 2006
I went to see the movie "Memoirs of a Geisha." Here in Japan the title was changed to "SAYURI."
The movie was kind of strange but also very interesting.
The characters in the movie speak in English. The hairstyle of the Geishas were appearently different from real Geishas walking on the streets in Kyoto.
The story was good in first half but the latter half was kind of difficult to understand. I actually did not like the story.
Some of Japanese argue Japan portrayed in that film was too strange to see. But how many of Japanese know the old time Japan, especially the life of Geisha? How many of us know how to wear traditional kimono?
So in that sense Hollywood made the best of their efforts.
One thing I find they are better than Japanese films is the scenes of the evening party. Usually those scenes are very bright like today's party room with fluor lamps on the ceiling. That never happened in 1930's. But in the movie "Memoirs of a Geisha," the room was not very bright and the Geisha's face was lit by orange paper lantern. That should be real scenes of those days, I think.
The thing I was kind of disturbed by was the main character was played by Chinese actress, Zhi Zhang. She is a great actress, but the point is the character she played might aggravate Chinese people. The story took place in 1930's Japan. It was a time Japan was invading China. The Geisha fell in love with Japanese rich man who once fought in Manchuria. Then after the war she helped him with reconstructing his business sleeping with American military man.
Today is the time the relationship between China and Japan has become worst in post-war time. It is due to our stupid prime minister and his uneducated conservative supporters.
As one of Japanese citizen who is very aware of how apologetic Japan should be to China, I could not enjoy this movie although the Chinese actress did played that role as Hollywood actress.
08 October 2005
I bought a DVD of the story behind America's one of the most popular show in history "Charlie's Angels."
It was almost like a story of the most popular Angel, Farrah Fewsett-Majors.
Since Farrah became the angel, her marriage life with Lee Majors, who was very popular as "6 million dollar man" in those days got in a big trouble. Then she decided to quit the show.
That was a big trouble for the production. The interesting thing was the contract between the production and Farrah was basically oral. You can't imagine this thing can happen in today's Hollywood. The actors there now have to sign on piles of contract papers in order to be in the show. In those days, oral agreement was common.
In 1970's America, women's action drama was considered to be very unique. But there was feminist movement in those days, so their sexy detective characters were very criticised. I thought it was highly accepted by feminists because they act as independent strong women, not just being sexy. It seemed feminist women in those days expected too much from entertainment industry.
Anyway, it was a nice story. It is not documentary. It is a drama based on the book written by a former manager of Farrah. The actress who acted Farrah resembles real Farrah so much. However, I like Cheryl Ladd best among real 6 Angels. I hate the Angels in the movies.
Please also read http://dearamericans.blogspirit.com/archive/2005/04/30/ch...