01 March 2013
I went to the cinema last night. It was a late show that starts 9 PM.
I was not particulary interested in the story of the film. I was only interested in music played in the film. One of the songs, I dream a dream, has caused a sensation recently by a British middle aged singer, Susan Boyle.
The story was about a man who escaped from probation and became a burgalar but later turned into an innocent man and tried to save others.
"Les Miserables" means "Poor people" in French. The story took place in an era of post-French revolution civil war in 19th century. People who are desperate, and in despair because of condition they were in.
I just could not get what messages the story delivers to the audience. The story goes on like a revue.
I just guess it tells life is not easy. You can't easily overcome. Even though you are desperate to change the world better, things cannot move as it should.
You should just be patient or keep dreaming. Dreams that never come true.
Does it mean we all live in hell and be as we are?
Yes, we are all "Les Miserables."
01 October 2009
The film featured early life of the founder of world's most famous fashion brand, Chanel.
The film started with her life as an orphan and later she became a singer in the bar. She found a patron, a rich peer man but she fell in love with a rich English businessman who later supported her avant-garde fashion business.
It seemed like Chanel was a whore rather than an independent lady who invented very liberated forms of women's clothes.
But she had no choice just like other women in those days. Women did not have rights to vote. Women did not have their own named bank accounts. They had to wear heavy clothes with so many accessaries, long skirts that bottoms should be on the ground.
The film was overall very boring but the message was kind of strong that her successful career came from her painful life experience.
I guess we had to know this side of her story to know life is not easy. The below photo is what I accidentally found on the street in Tokyo's shopping district. The lady in the photo secretly depicted Chanel's painful life experience before she got successful career.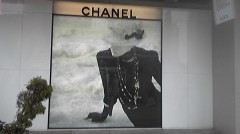 16 March 2009
From Cherbourg, France 2 ships that carries very, very hazardous nuclear fuels, so called MOX departed. The ships' destinations are several Japanese ports near nuclear power plants.
That is nothing but bothersome not only to Japan but also France and other nations in the world. From France to Japan the ships would sail on the Atlantic ocean and Pacific oceans. If the MOX fuels got some troubles such as radiation leak, coastal regions near the ships would be affected. The potential regions would include North America, South Africa, Australia, New Zealand. The transported MOX fuels contains 1.4 tons of plutonium that can possibly be converted to nuclear weapons.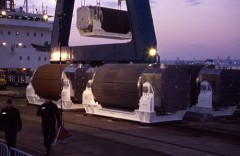 If the terrorist attack the ships, what would happen? Is this what people of the world can be happy with?
That MOX fuels are not even welcome by Japanese. Only by people related to nuclear power plant businesses.
The MOX fuels are very inefficient. The current power plants in Japan are not well equipped for MOX fuels.
The use of MOX fuels are not even permitted by local authorities. After the fuels arrived, it would have to wait for years in order to be used in the plants. It may never be used!
People of the world, especially French, Americans, Australians, New Zealanders, and Japanese. Please protest this stupid and dangerous sailing. That is much worse than whaling ship and even nuclear powered aircraft carrier like CVN 73.