13 December 2008
On December 6, Saturday, I went to Yokosuka Navy Base to see Japan's most unwelcome, dangerous and useless American ship.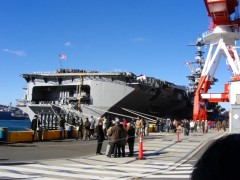 It was public showing and festival day. I got on the CVN 73, USS George Washington. It was huge aircraft carrier. It contains huge nuclear reactor. It is like Chernobyl or Third Atomic Bomb in Tokyo Capital Region. The U.S. Navy is threatening Japanese citizens lives.
Actually it was fun to visit there, all the things there were dynamic and very new to me. Luckiely I could see Mt. Fuji from the runway on the roof.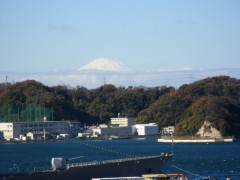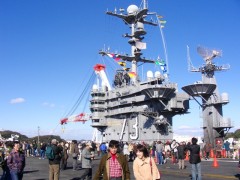 The below is what I videotaped.
But this is not Disneyland. I don't want the U.S. navy stationed in Japan. They are not safe things as you know what happened in San Diego.
The presence of U.S. navy is not working as deterrance like the Cold War era. Soviet Union fell apart.
China seemed to be new threat but China is a biggest financial supporter for the U.S. They are the biggest buyer of U.S. Treasury bonds. They buy Boeing, Intel chips from the U.S. China and the U.S. are close friends.
In fact just 2 days after the public showing Chinese ship entered Japanese sea illegally. Meaning they are not afraid of U.S. military at all.
The other notable threat is North Korea but the U.S. ended designation of "North Korea as terror supporting Nation" recently.
It is appearant the U.S. is not enthusiastic about North Korea issues such as abduction of Japanese citizens and nuclear weapon development.
They should leave Japan ASAP. Actually once Japanese government stops providing aid to them, they would immediately leave here.
The only reason they stay is Japan's financial aid.
See this videoclip to know how unwelcome the ship is.
22 November 2008
50 days after the departure from Yokosuka base since the deployment in September, the dangerous and troublesome ship came back.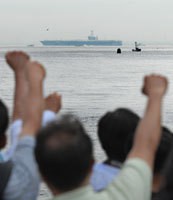 CVN 73, USS George Washinton, Nuclear Aircraft Carrier which navigate by nuclear reactors. They are deployed in Yokosuka which is near Japan's capital Tokyo.
They know they are not welcome by the citizens in Yokosuka.
Then they came up with very stupid idea, that is inventing "Navy Burger" and release it as the city's new highlighted good like "Navy Curry" whose recipe is modeled after Japanese imperial navy's curry meal and it has been popular for many years.
The mayor and chief commander of Yokosuka base jointly presented the burger to be released next year.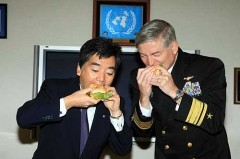 American beef would be contained? No thanks, I don't want to get mad cow disease. Even it contains safe Aussie beef like McDonald in Japan. I still want to refuse it. Not only because I am not hamberger eater but I keep resisting CVN 73, George Washington because of the fear of radioactive release by an accident or earthquake.
They have done similar thing already such as free stupid comic books, which the story is untrue and very propagated.
Do they think people are easily distracted by such foolish event?
The only way they can be welcome is cancel the deployment and leave Japan as soon as possible.
Well, what we can do is demand our government to stop funding foreign troops stationed only for cheaper expense.
Dear Jim,
Interesting fact: China is largest foreign owner of U.S. treasury bonds. Japan is No.2 owner.
China buys more U.S. goods such as Boeing and intel chips than Japan does. Everyone knows that the U.S. wouldn't help Japan even if China attacks Japan. U.S. commander, Mr. Keating said they would like to help Chinese army build aircraft carriers. Great! We would be defended by the army that is helping our enemy.
02 November 2008
Suprised to know our prime minister, Taro Aso is Catholic. I just recently learned that. He was elected on 25 of September this year.
But none of Japanese media reported his religious faith. He's been known as potential candidate for PM long time before. It has never become the issue.
I learned that by reading articles in BBC, CNN, FOX and Roman Catholic website.
Maybe you wonder why. Only a few percent of the population is Chrisitian in Japan. They are minority and experienced oppression during 16 to 19th century. But the thing is we really don't care. Are we atheist? No, actually Japan is known to be Budhist society and has many many Budhist temples. But native religion of Japan is Shinto. Shinto is polytheist. We welcome any kind of religion and personal religious faith doesn't matter to politics or so on. We rarely talk about religion in our daily life.
In recent politics, PM's visiting Shrines that memorize A-class war criminals has been controversial. He visited there, too although he is a follower of monotheist religion. Shiton has been considered kind of festivity or national symbolic spirit, not as religion you should be dedicated to.
In Western society, religious faith seemed to be a very big deal in politics and social issues such as abortion, homosexuality.
To tell you the truth I am Christian, too. I do not support him nor his party. Strangely I just feel intimate to him although I think he is most unqualified PM in history. Iraq war has been regarded as "Wholly war" by crusaders. Scary!
As far as I've checked his action and speech, I cannot find him practicing Christian. He caused tensions with neighboring nations by making provocative statements. He insulted the victims of the disastors, altzheimer patients and many others. He called opposition party as Nazis. His prime mister status wouldn't last so long because he is very, very unpopular so is his party. Soon enough, the parliament would be dissolved and new election will be coming up.
The nation would judge him and his administration and choose who to rule Japan. He will learn true meaning of the wholly bible words "Judge not others lest ye be judged."
Then he will shout "Jesus Christ!"
27 September 2008
After all the criticism and protests, the ship came, most dangerous ship in the world, CVN73 George Washington arrived in Yokosuka port on 25 of September, 2008. Yokosuka is 20 miles away from Japan's capital, Tokyo.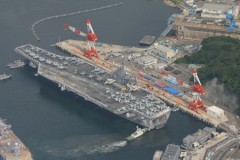 They've got a fire incident during the navigation on the sea near South America and the deployment was delayed for more than a month for the repairment. It contains nuclear reactor and is navigated by nuclear power.
Citiznes in Tokyo capital region including me have to live with fear of nuclear accident like Chernobyl from now on.
Why is it deployed in Japan? To counter the threat of Chinese navy.
What? Isn't China No.1 owner of U.S. Treasury bonds? They buy Boeing airplanes, Motorolla cellphones and other U.S. goods. They buy more than Japan does.
The U.S. navy commander said the navy is ready to help China build new aircraft carrier.
Are we protected from China by the country which is financially supported by China, deals big business with China and sell weapons to China?
This is just stupid. Well, after all, this is Japanese government's fault. Only if they could oppose the deployment, the U.S. wouldn't want to do that. They use bases in Japan as cheaper facilities because we are providing aid to them. Once Japanese government stops funding them, they would not want to use the bases.
Well, what we have to do is continue protesting and letting the ship go back home as soon as possible. Even mayor of Yokosuka said "I welcome the crews but not the ship."