08 October 2012
Joined demonstration march in Shibuya, most crowded shopping and entertaining district in Tokyo.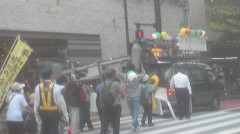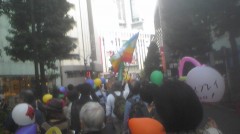 Estimated around 400 people participated. 12 ospreys were deployed in Okinawa, Southernmost island of Japan. Osprey is a hyprid helicoptor that cause strong noize and probability of accident is higher than conventional helicoptors. Propellers work as helicoptor on pad but when it goes high, the mode is changed to airplane that enables it fly further.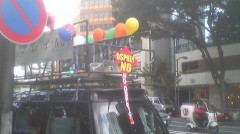 But this mode change action can cause severe accident including crashes onto the ground without control.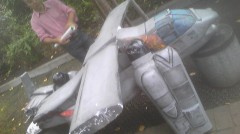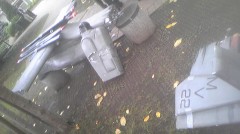 It is said that US military deployed Ospreys in Okinawa because they were not allowed to maneuver flying in their homeland because of safety problems, that aggrevated Okinawans and Japanese nationals. US-Japan treaty is one between independent sovereign nations.
As other issues such as Nuclear aircraft carrier (CVN 73) in Yokosuka, safety may not be prioritized issue. Highest prioritized issue is why we have to carry burden of US military which does not actually defend us. Threat from China? China is no longer enemy for the U.S. China has become even more important economic ally than Japan for the U.S. Even US influential congressman said military stationed in Okinawa is nothing but ruin of the Cold War.
Recently even after deployment of the new helicoptors, Chinese ships has invaded Japanese sea near Okinawa very frequently. If deterrence works, why do Chinese do that?
We really wonder why US military is stationed in our country.
We should stop treating America as friendly nation although it is not our enemy.
05 August 2012
Jane Fonda played as ambitious journalist who happened to witness a very serious nuclear accident, that revealed how ridiculous nuclear industry functioned seeking profit in priority to safety.
When it was first shown in public, Three Mile Island accident occurred. The film seemed to be a preview of that accident. Since then, there was no new nuclear power plant constructed in the US except military purpose.
Now the same type and even much more severe accident occurred last year in Japan, Fukushima accident. The China Syndrome-like phenomenon occurred. Nuclear fuels may have melted down to the ground and theoretically went to the opposite side of the earth. No one yet knows how serious the damage was.
I actually watched the film several years ago on TV. At that time it was just suspense action film to me. Now I watched the film on DVD I bought. It was totally different story to me. It was no longer fiction. All the words and events occurred in the film were too much familiar to me, and other ordinary Japanese. I fully understand why water level in a reactor is important in terms of managing nuclear energy.
I also learned "No Nukes" movement existed even before Fukushima, Chernobyl and TMI.
It was very much late 1970's style film. Anti-big power type of message was in as anti-Vietnam war activist played main role and detailed and obvious description of how greedy the corporations are. Late 1970's was post-Vietnam war era, which people have become suspicous of authorities.
In fact we have to, we always had to. In reality everyone had been too much reliant on authorities, believing what they say is true.
Now we have changed such attitude since Fukushima. Less people believe what politicians, scientists say. People take actions gathering near the parliament building and prime minister's office, demanding direct voting on nuclear energy policy.
I hope this movement would be called "The Japan Syndrome."
Japanese actors playing Roman people in Hadrian era of Roman Empire.
One Roman architect of the bath time slipps to modern Japan and experience modern style bath.
All dialogues are done in Japanese except some short Latin dialogues.
Interesting thing was viewers could learn how Roman Empire functioned. How Roman viewed other parts of the world, and how slavery functioned. How important it was for the Emperor Hadrian to be deifeid after retirement.
One of the shocking thing shown was Emperor Hadrian had a boy lover and he was very much saddened by the boy's death. It was very openly depicted in the film maybe because it was Japanese film. In the West, such depicting would be very controversial.
The film was in fact, comedy. But it can be great textbook to learn Roman Empire stuff. Since it is made by Japanese from Japanese perspective, portrayal of Roman people looked very neutral. Not too religious and not too ideological. Hope the film will be released in Italy and other parts of the world.
08 July 2012
On July 1, 2012 one nuclear reactor, Ohi No.3 located in Ohi town in Fukui Prefecture was restarted. It was first time re-operation of nuclear power plant in Japan since 311 Fukushima nuclear crisis.
The government says it was to prevent blackout in case of energy shortage in heated summer. But the truth is to help electric power company from financial crisis. That is why so many people protesting the restart. More than 100 thousand people gathered in front of Prime Minister's House and Parliament building to shout "No Restart!" on the eve of restart.
In Ohi, local town of the nuclear plant, 7 hour bus ride from Tokyo, hundreds of people gathered at the entrace of the plant.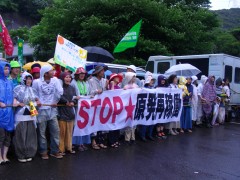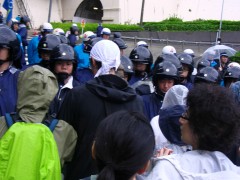 The problem is the plant had no safety measures to counter what happened in Fukushima. No wall to protect from tsunami, no filter ventilation, no earthquake resist building.
Even after a terrible disastor happened in Fukushima, there are people who want to forget about Fukushima and restart nuclear business.
In last two months, electricity was provided all over Japan without nuclear generation. That proves we never needed one. Japan has only relied 20-30% of energy on nuclear even before 311. It is easy to supplement that portion by other methods.
What we have to do is keep shouting protest against nuclear energy which is not only dangerous but cost-inefficient, harmful to the environment and human health even while regular operation. It consumes so much water and oil to dig and transport. Many got sick while digging uranium and maintenance. So much money is needed to operate including subsidies to local towns' poor budget in order to obtain approval for acceptance.
Stupid! We have to stop such stupidity.