23 October 2011
The title is Russian but it is Japanese film about two Japanese women who had a sexual relationship in 1920's. It means "Yuriko, Good-bye!."
One of them is Yoshiko Yuasa, who was a translator for Russian literature. The other is Yuriko Nakajo, a novelist. They met in Tokyo and started to have sexual relationship and then travelled to Moscow together to study Russian.
Can you believe women in those days had relationship like today's gay couple? Indeed they did. They did it openly. Japan in those days was much more male chevinist society than today. Women did not have rights to vote. Women were expected to get married to men which their parents designated and work at home. But they could not resist passion they shared with each other.
The couple had 3 years of relationship and aparted. Yuriko later married a communist activist and then after the war, she became a leading figure of post-wolrd-war-2 democratic movement. She was actually a bi-sexual woman whereas Yoshiko was truly lesbian woman who had relationship with Geisha woman before she met Yuriko.
I went to see the movie on the first showing in Tokyo. The director, Sachi Hamano, and two actresses who played the couple appeared on the stage before the showing. The actresses were very pretty. Their act, especially lesbian sex scene was very fantastic and erotic.
There were viewers from foreign countries at the theatre. I don't know if they understood the language. I think they should be more curious than Japanese viewers were.
The film itself was great one although it did not describe their life in Moscow. The film was mainly about how they met and developed relationship before they went to Moscow.
I wonder if this film is shown in foreign country or translated version of it is produced.
Translated version should be like two western women met in London or Berlin and travelled to Moscow in 1920's or 1930's. Living together there in the cold Moscow. I recommend Nicole Kidman, or Jodie Foster to play the two.
The below is preview of the film (Only Japanese).
14 August 2011
The book is letter format. A writer named Chikako Yamamoto's wrote her experience of life in West Germany during Chernobyl nuclear crisis between April 1986 and 1989.
During that time she lived in West Berlin. What she experienced had many similarities to my current life in Tokyo, or surprisingly even worse. Tokyo is 220 kilometers away from Fukushima, but West Berlin is 1200 km away from Chernobyl. But radioactives Germen had to deal with was the same or even worse than Fukushima. Is it because Chernobyl disaster was much worse and more wide-spread or what we've been told since Fukushima crisis was censored by the authorities?
The life in West Germany was dramatically changed since Chernobyl accident occurred. The newspaper was occupied by radioactive related matters.
In contrast as time passed by, people tried to adopt to such changed environment and not to pay attention to serious matters although food they ate had been kept contaminated.
West Germany at that time censored the reports on radioactives and supressed anti-nuke activities because at that time West Germany took pro-nuke policy. But some citizens stood up and started to fight against oppression.
Similar phenomenons have been happening here in Japan.
However, because this is quarter century after Chernobyl, we may have been a little wiser, I hope.
Japanese Prime Minister, Naoto Kan declared "Less dependency on nuclear energy" policy on August 6, the day of Hiroshima nuclear bomb day. It is like modeled after Germany's decision of abandoning all nuke plants in that country by 2012.
Now only 1 third of Japan's nuclear power plants are operated currently. No re-operation is scheduled at this point. Local governments of where nuke plants are located are very reluctant to OK re-operation.
Japan's Parliament decided to pass the law that promotes more use of renewable energy, so called FIT (Feed in Tarrif). This is modeled after Germany's system as well.
We have to learn a lot from Germany's experience, like we did in the past such as imperial constitution and ground force military system in late 19th century and how to recover relationship with neighboring nations which we invaded during the second world war.
Deutschland, be our good model. Danke!
19 June 2011
I went to the Imperial Theatre near the imperial palace to view the stage show of "Gone with the Wind." As you know this is based on America's most famous novel written by Margaret Mitchel. It was written and made into film in 1930's.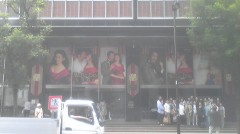 I've seen the film version many times and read some parts of the original novel. The stage show was 2 hours and half long. It was like summarized fairly tale version of the novel and film. It is surprising to know such show was played by Japanese actors. It is like Americans playing Samurai and Geisha.
Overall the show was well-done. I do not have to compare that with the film version or original novel. Stage version has its own flavour. This story has good essence of making good story telling. Like contrast of characters, contrast of situations. Good transition and developments so that viewers can easily follow.
However, I do not enjoy the story as much as before.
The story is in fact, unrealistic in the following points.
1. Egoistic and moody girl like Scarlett could attract so many men.
2. Such spoiled girl growing up in a wealthy family could take care of giving birth of a child and live through turmoil after the war.
3. Such young lady fell in love with much older guy like Rhett.
Furthermore this story has been criticized for romanticizing the slavery time in the South.
Afro-American people were portrayed as loyal slaves reveling with their oppressors. In the original novel the word "nigger" was repeatedly used. There was an event that Scarlett was assaulted by a Afro-American robbery and her second husband, Frank Kennedy took a revenge of that being Koo Klax Kuran.
Indeed the story was written from the viewpoint of conservative white people in the South. Slavery shouldn't be romanticized.
I am recently interested in an actress, Hattie McDaniel in the film version who won Academy Supporting role award. The film was clean-up version compared to the novel. Not using the word "nigger," Scarlett being assaulted by white man instead of Afro-American. Scarlett's Mammy played by McDaniel did played a very important and active role in the film.
I guess it was because the producer Selznick was Jewish and sharing some oppression experience with her. The film was made in 1930's when Nazi-Germany arose in Europe.
McDaniel made a speech that she was glad to receive the award on behalf of Afro-Americans. She did the great job in that sense although she had to play a sterotype role.
I guess it would be more interesting to make a film of how she lived and how she acted in the fim during that time. Such thing should be focused.
On the Stage version I saw slave role actors put black paint on their skin to look like Afro-American. Scarlett screamed at a slave "Kuronbo (meaning Nigger)." Scarlett was assaulted by Afro-American robbery. These are wrong things, aren't they.
30 April 2011
Tomodachi means "friend(s)" in Japanese. The U.S. military in Japan is undergoing "Operation Tomodach" after the earthquake of magnitude 9.0, tsunami and nuclear power plant explosion occurred in our country.
Yes, the U.S. has been our greatest and closest friend, especially in a turmoil caused by the earthquake, tsunami and nuclear power plant disaster.
The U.S. government and military helped us a lot by sending air craft carrier, Ronald Reagan to the disastor area coast to transport commodities and equipments in order to rescue refugees in the disaster areas. The U.S. goverment provided expertise and machines to crippled nuclear power plants.
We do appreciate that. But the U.S. is not only country that provides assistance to us. China, Russia, France, Israel and a lot of other nations do so. We do appreciate those nations as well.
I do know for the U.S. Japan is not just a friend, rather very important ally in terms of politics and economics. Japan is 2nd largest owner of U.S. treasury bonds next to China. Japan is one of the biggest trading partner for the U.S.
As for crippled nuclear plants, the U.S. should be very much concerned about this issue because the U.S. is heavily dependent on nuclear power generation having more than 100 plants in the nation. In fact crippled nuclear plants in Fukushima-Daiichi contains U.S. made reactors, designed by General Electronics. The same type of reactors are used in 23 plants in the U.S.
Like the U.S. France is very concerned as CEO of France's biggest nuclear power plant corporation came to Japan to fix the problem. France is much more heavily dependent on nuclear power generation, 80% of its electriciy comes from nuclear power, while 20% in the U.S. and 35% in Japan.
Just recently the U.S. and Japanese government agreed to relocate U.S. Marine in Okinawa. The plan is relocate around 8000 marines to Guam and newly building base inside Okinawa island. That plan has been disapproved by local Okinawans. Even the Okinawa governor demanded the change of plan.
But the both governments seem to go ahead despite the protest movement there because the "Operation Tomodachi" can ease the tension there. But it seems not.
We feel the U.S. is taking advantage of this turmoil to get what they want. In our country such act is called "stealing things from burning house." Later you will be demised.
Don't do that, please if you want to continue to be good friend to us.
Under this plan, Japanese government not only provides the area for the new base but the budget to build the new base. This is huge money.
You know we are now in a big crisis. We need so much money to rebuild the disaster areas and fix and safely abandon nuclear plants. How come you can receive such benefits from troubled nation?
In Yokosuka, USS George Washington evacuated from Yokosuka, home port for the ship right after the earthquake and nuclear power plant explosion happened. Now he returned.
Funny, that ship was deployed for the purpose of defending Japan. This time he did not. Ironically, the nuclear powered ship which contains so much of radioactive materials got away from radioactive.
After he returned, they say the ship is safe. But localies in Yokosuka cannot agree. People have been so concerned about radioactive since its home porting in 2008. Now we've got one from our own.
My advice as your Tomodachi is to rethink the whole package of US-Japan defense treaty and its operation.
We do appreciate great friendship so in order to stregthen such friendship why not just rethink about this issue?
Especially after the earthquake disastor, our nation's financial and mental situation has greatly changed. We do not want to suffer any more.
So be nice TOMODACHI!