23 September 2013
Last weekend I visited Okinawa, Southernmost prefecture island. Over there I saw such cute view like Disney's animated film "Finding Nemo."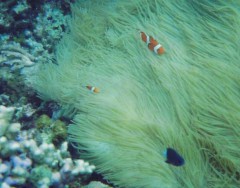 Clown fish over sea anemone with a blue fish. Looks like Marlin and his son, Nemo and their friend, Dolly. I was amazed but felt so sad at the same time. Because their lives are now in threat by planned construction of US Marine Base runway expanding from Camp Schwab.
The fish were in Ohura bay, which has been designated as most vulnerable place for environmental destruction because of rich bi-diversity such as clown fish, blue coral reef (the world biggest and Northernmost of its kind), dugongs and so on. If the runway is constructed by reclaiming the sea, the sea current will change and environmentally harmful substances would be released from the base. That must give adverse effect on wildife there.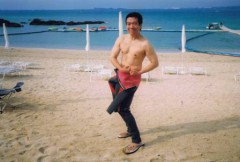 I scuba-dove into the sea from the opposite side of the bay to the U.S. Marine Base. Far away behind me in the above picture is where US Marine Camp is and where runway is planned to be constructed.
Growning opposition has emerged recently from localies. But the US and Japanese government are pushing hard to implement the project.
That coincides with hypocrisy in the film. That was, of course animated fiction. Fish don't talk and read. The film portrays them as good living creatures like human beings. In reality we eat fish and hunt them and put them in small aquarium unit just for viewing. In fact after the release of the film, clownfish were hunt overwhelmingly.
U.S. pretends like tropical fish loving and environmetally friendly nation but the reality is opposite and their act is very hyporitical. Not just Disney's fantazy but US policy against Japan's whaling. US is accusing Japan of whaling but at the same time it is harming most endangered marine mammals, dugongs in the bay with Defense Ministry of Japan. Some environmetal activists like Sea Shepherds even oppose dolphin hunting in Taich town of Wakayama Prefecture.
"Finding Nemo" is after all, Finding Nonesense and Hypocrisy.
30 July 2013
I just saw the film. It was not excellent but not bad, actually it was good considering it was made by Americans. It was indeed made from American perspective but thoroughly desriptive about Japanese personality and culture.
The story was based on memoirs of a former military officer who did research on the emperor's responsibility for the second world war. He interviewed with former politicians, military officers, and servants for the emperor to learn about what Emperor actually did before the war and end of the war. He also tried to find where his loved Japanese woman was.
One of impressive things about the film was one former prime minister said "Japan just followed what US and European nations did in terms of invading China and Phillipine. But why were westerners never convicted?"
The film described difference between Honne (true feeling) and Tatemae (appearance). Japanese seem to be calm in apperance but in their mind they have strong feeling and devotion which can make them brutal.
Emperor's role was very ceremonial so he was not actual starter of the war. It was the nation and militants that led the war.
However, I want to rate this film "B" not "A." It contains love romance essence but the conclusion of the romance was not what I expected. It was reverse and not so good.
Emperor has no responsibility for the war act. Not totally true. Recent research suggests the emperor actively coped with military people.
I just could not be totally satisfied with the film. I wanted more twists and surprises. Kind of clechay for Japanese who has studied this part of history.
Personally it was really helpful to me. I recently started to write a novel on the same period of the history. Mine is gender reverse. American woman and Japanese man. The woman character is inspired by a true character who helped rebuild and democratise Japan in post-war era. She visited Japan before the war.
Hope mine will come out as a film like this film.
20 June 2013
Her name is Kanako Otsuji. She is now 38 years old. Last month she obtained the seat for Japan's upper house parliament.
On 18 of June, she made a speech in the meeting titled "Sexuality and Politics" held by Rainbow Action group, at Nakano Zero Hall in Tokyo. Around 60 people including me attended the meeting.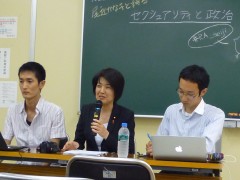 She was a candidate for that position in the election held 5 years and 10 months ago. She was listed in candidate list of nation-wide proportional representation constituency for one of Japan's major political party, Democratic Party of Japan. That was very first time in Japan's history that a major party nominates openly gay person as its candidate. She gathered some votes but could not reach passing border line. However, after more than 5 years, only 2 months left until the end of the term, she got to the position because several members died or resigned from the parliament. Kind of strange incident.
In the speech she talked about profile and how she is doing now. She used to be a member of prefecture congress in Osaka. She came out during that time. She is now actively working as a national parliament member and got involved in many law-making tasks. She recently was invited to and then attended a sexual minority's meeting held in US embassy in Tokyo.
I asked her how Japan can be changed in terms of this issue since Japan is different from western nations in the sense that Japan is not advanced in minority rights issues.
Her reply was, those nations and Japan have things in common that are practicing democracy. Democracy does not necessarily mean majority of people make the rule. Everyone has decision making right. We can make changes by making laws. Japan can change drastically when the time comes. Japan is not very religious like western nations. We are rather concerned about peer pressure matters.
That may be right, I think. According to the Reuter news report, the world-wide survey on ordinary citizens opinion about gay issue revealed Japan is as open-minded as western nations. Especially, younger generations' supporting rate for gays was higher than that of US.
Is it due to the recent gay liberation movement? That may not be a major cause. As she described Japan's morale standard is based on peer pressure. Homosexuality has been considered abnormal in this society but never been considered sin like Christian societies in the West. In fact histricaly Japanese society tolerated gay relationship until premodern time ended. Details in this post.
Furthermore, when we acquire new things, we can change very rapidly like late 19th century's industrialization or reconstrution after the second world war.
Ms. Otsuji said even after entry of parliament, she never experienced any harrassment by other people in the house. People are friendly and trusting her very well.
Thanks to her, her outing of what she is helps our nation progress further, to more democratic and civilized. She is the proof of our democracy, freedom and flexible culture. I am proud of her. We all should be proud of her.
15 April 2013
I posted the below comment on the NBC news article,
In Okinawa, the war isn't over: Protests aimed at new US base
!
#99 - Mon Apr 15, 2013 8:46 AM EDT