10 August 2010
Found and captured great scene in Henoko beach, where US marines are destroying the natural environment to harm local people.
This represents current situation of US-Japan relationship.
The text in Japanese flag is "We hope that the Japan-US alliance will continue to be consolidated and developed."
It was written by very generous Japanese citizen.
I would like to add the below words after that.
"Only if you can respect our sovereignty and natural environment. Otherwise, go back to where you belong."
02 August 2010
Who contributes to the world peace?
27 June 2010
The story took place in Highs School in Germany. One high school teacher taught students what the dictatorship (Autokratie) is.
Students never understood what it was and believed things like Third Reich would never happen again.
Then the teacher decided to do psychological experiment in his class and the students' attitude gradually changed in scary way.
The story was not well-done, not convincing althought it was based on a true story.
However, I understand fear of charisma featured in the film because I recently experienced something like that by the man in the below photo.

He has become public icon since fall of 2008 after being dismissed as Japanese Air force chief due to his publicly released essay which justified Japan's past invasion. Details are described in this article. He has published several books since then. I bought one of them.
He is in fact charismatic and neo-fascist-like but at the same time very realistic because of his knowledge gained in his career.
No one wants to be isolated in the society. So people want some kind of symbol to strengthen the unity.
Yes, it can revive as described in the film. Especially those who are not smart, and youngsters can be easily manipulated.
Being attracted to it sometimes makes you feel great like drugs.
We need to be cool about what a learder says in order to avoid tragedy.
14 June 2010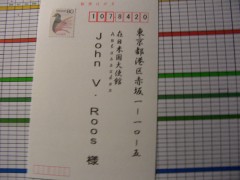 This is front side.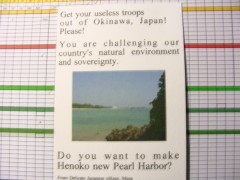 That's my message!
I hope he reads this and delivers it to Pentagon and Obama.