27 June 2010
The story took place in Highs School in Germany. One high school teacher taught students what the dictatorship (Autokratie) is.
Students never understood what it was and believed things like Third Reich would never happen again.
Then the teacher decided to do psychological experiment in his class and the students' attitude gradually changed in scary way.
The story was not well-done, not convincing althought it was based on a true story.
However, I understand fear of charisma featured in the film because I recently experienced something like that by the man in the below photo.

He has become public icon since fall of 2008 after being dismissed as Japanese Air force chief due to his publicly released essay which justified Japan's past invasion. Details are described in this article. He has published several books since then. I bought one of them.
He is in fact charismatic and neo-fascist-like but at the same time very realistic because of his knowledge gained in his career.
No one wants to be isolated in the society. So people want some kind of symbol to strengthen the unity.
Yes, it can revive as described in the film. Especially those who are not smart, and youngsters can be easily manipulated.
Being attracted to it sometimes makes you feel great like drugs.
We need to be cool about what a learder says in order to avoid tragedy.
14 June 2010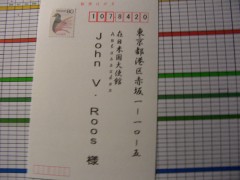 This is front side.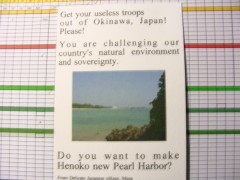 That's my message!
I hope he reads this and delivers it to Pentagon and Obama.
29 May 2010
Japanese loopy PM accepted humiliating agreement from the U.S.
He turned down the proposal of relocating US marine base, Futenma in Okinawa Prefecture to off the island.
However, if this is going to work out as stated in the agreement is uncertain. Okinawans are now very, very angry with the agreement.
So are a lot of Japanese voters. Maybe after July election, he will resign from prime ministerhood.
New government will then have to rethink the agreement.
But the good thing is because of this turmoil, more and more people have become aware that the U.S. military is not defending Japan at all.
It is not the issue of relocation, it is reducing or getting rid of the bases from Japan.
Even relocation site is changed to Guam or Hawaii, there is another problem.
Can't believe that the U.S. military has been messing islands in the Pacific. (Well, Japanese military did so partially.)
I just found very interesting show on the net. The voices from 3 islands in the Pacific.
Stupid, why not the U.S. government spend vast amount of money on poverty, education or environmental protection instead of messing people and environment of the islands or Iraq, or Afghanistan?
04 May 2010
James Cameron's world's biggest box hit film after "Titanic". An ex-US Marine man arrived on a planet and joined the native people by getting his brain signals into artificial figure of that native man. His mission was to blend in their community and negotiate with them in order to dig natural resources from their land.
Well, I did not really enjoy it because the story was cliche and animation scenes were not impressive maybe because I did not see 3D version. I watched it on DVD. After an hour, I just skipped chapters. I would rather like to see a full animated version of the film than mixture of real and animation.
The bottom line is that is the America's apology and remource to native Americans, Iraqi, Afghans, and global environmental destruction. But to me it is really hypocritical after years of deception and wrong doings. Isn't that what they talked about 30 years ago after Vietnam war?
Anyway, if they think they have been doing wrong, why not they rethink current destruction of great nature in Okinawa Prefecture, Japan?
It is taking place in the Henoko Sea right next to US marines' Camp Shwab. It was designated as the relocation site for Futenma base in Ginowan city on the same island. The coral sea is just beautiful. To me, it is better than Guam, Hawaii, Cancoon, and Kota Kinabalu.
Endangered marine mammal, dugongs habitat were recognized.
But construction of runway has been planned on that sea for the US marines by Japanese tax payers' money.
Is it for Japan's defense? No. US military deployed in Japan never functioned as Japan's defense. US marines use Japanese facilities for their training and missions. Well, this issue is very complicated. As you learn more about this issue, you can find Japan side has more to blame. In summary Japanese government can let most of US military leave Japan once they decide to do because there is no merit for Japan by the US military presence and the US military has no more strategic interest in Japan since the Cold War era ended.
However, if the US declares to withdraw troops from Japan without any relocation within Japan, this problem can be easily solved.
On May 4 2010, Japan's prime minister Hatoyama Yukio visited Okinawa governor and mayor of Nago city where Camp Shwab is located. Last month he said "destroying the sea by reclaiming is blaspheming the nature" but later he announced the plan to construct runway by QIP (placing sticks on the sea ground to support runway) format. He is crazy. It is just as destructive to the environment as reclaiming.
The Henoko has shrine on the coast. That god made him say that, I believe.
Or the charm I left in the wire on the beach. The wire divides the beach from restricted area. The charm is what I bought at the Admiral Togo Shrine in Tokyo.
However this construction plan will never be done because Okinawans and even the U.S. military oppose this newly fixed plan. Last September Japan experienced the change of governing party, then the relocation plan got on the review. After months of turmoil left distrust to the Japanese government and the U.S..
But I think this is great progress for Japanese to raise awareness that the U.S. military is nothing but trash and Japan has to defend its country all by themselves. Defending such beautiful sea like the below video from invaders.
But interesting history exists in Okinawa. Okinawa used to be an independent kingdom like Hawaii and Guam. But late 19th century Japanese government took over and annexed to the Empire of Japan. After the world war 2, the U.S. military grounded the island and had occupied until 1972. That is why tens of bases are located in Okinawa. The below photo is recreation of palace of what was called the Ryukyu Kingdom. This place is Okinawa's most famous tourist spot, called Shurijo.