12 June 2015
More than a year ago, I switched from the small mobile phone I had been using for more than five years to a cutting-edge smartphone. Almost everyone I knew had already made this change. Among young people, practically everyone uses a smartphone these days, while the users of mobile phones all tend to be in older age brackets.
A smartphone is operated by using its touch screen, but I had heard their batteries soon run out, so I had long been hesitant about getting one. However, my cell phone was getting old and its performance was fading, so I decided that if it had to be replaced, I would get a smartphone. I was surprised at how quickly I figured out how to use it. My new smartphone had so many functions I'd never seen before and was just like using a personal computer, so I became adept at doing various things on it. That in itself is quite impressive, but it recently got me thinking.
I wondered, is it OK to seek such convenient items even more than we already do? Should we constantly worship the latest technology and continue our lifestyles in which we buy one new thing after another? To take the question a step further, will this way of living continue unabated? Surely at some point, we will reach a limit.
I began thinking seriously about these questions after the Fukushima nuclear accident four years ago. How long will this era in which we take electricity for granted, no matter where we are, go on? I wondered about this when I saw towns and cities being thrown into darkness due to a power shortage.
Come to think about it, people began using electricity in their everyday lives only about 100 years ago. In the course of human history, this is merely the last couple of generations. Now we depend so heavily on electricity that civilized society itself would collapse without it.
Despite all this, electricity is actually not easy to produce. Most of it is created from natural resources that exist in limited quantities underground, such as the burning of oil, coal and natural gas, or through a nuclear fission chain reaction using uranium. Truth be told, some of these resources are so scarce that their supplies will run out within a century. Furthermore, using them creates some terrible by-products: burning these resources leads to global warming that generates rapid climate change, and fission runs the risk of radiation leaks as well as producing nuclear waste that will need to be permanently stored and managed.
Wind and solar are recognized as new ways of generating renewable energy, however comparatively the amount of energy produced is much less. Additionally, despite the production of these power generators, natural resources are still needed, therefore it's not all that significant of a contribution.
Eventually, at some point a time will come when we must live off ofmuch less power consumption than we do now. If becomes the case, what should we do?
This has nothing to do with our current generation. There is also the notion of using up natural resources and enjoying ourselves while we still can. This will also bring about a feeling of remorseful towards future descendants.
I think the best answer is to make an effort to promote the reuse of natural resources, increase the share of renewable energy, and develop more energy saving techniques. However, shouldn't we actually address it by moving more towards changing our lifestyles to not use so much electricity. We should be trying to move closer, even if only a little, to a lifestyle that was considered normal up until a century ago, a lifestyle without using energy, and save a livable world for our descendants.
Stop using vending machines, stop having things like 24 hour convenience stores and restaurants. Even stop using neon signs along roads. It's absurd to have cities that are always lit up.Start to curtail unnecessary things.
I think we must become able to enjoy these things, rather than think of them as painful. Last year I had a personal experience that can relate to this, a power saving tea ceremony held at a tea ceremony school. In fact, the tearoom did not use any power at all.
It was the afternoon but we did not use electric lighting, I had macha and sweets in a dark tearoom that was lit up by the mere glow of candles.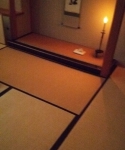 While I sensed the inconvenience and darkness around my hands, at the same time I experienced the elegance of it too. I was able to enjoy flavors in the macha and sweets that were not there before. If I think about it, Sen No Likyu of the warring states period (16th century) who began the tea ceremony must have felt like this, so this was like an experience of the original tea ceremony.
Why not try to gradually move our daily lives closer to this style.
If that happens people will say, what should we do about smart phones and computers, but on the contrary I think this is what we need. It is also for proposing those reactionary, but yet still aiming towards the future kind of lifestyles and spreading them to lots of people.
For those of you who have read this article, why not think it over.
01 June 2015
I just happened to know this film while participating in Tokyo Pride Parade event.
It was British movie. The Japanese title was "Parade e Yokoso (Welcome to the Parade)"
The story is based on facts. In 1980's coal miners did strike against Thatcher adminisitration's policy to close down unprofitable mines.
Gay activists in London launched fund-raising campaign named "Lesbians and Gays support miners."
At first they were not accepted by miners' community but later on both sides understood significance of corporation getting over the difference. Like one of important characters said "You support us so we support you."
In the end, miners joined gay parade to show solidarity with the activists.
The both oppressed communities got united to help each other.
I recently came up with the idea of new novel using the concept of unification among oppressed communities. Gays are not the only oppressed but women, disables, and recently those who are fearing new foreign military base construction in their local prefecture, Okinawa, Southernmost prefecture of Japan. For details, please read the articles tagged Okinawa in this blog.
The mining town in the film was in Wales. It was several hour drive from London but very different culture and people exist, even language is different. One different tribe in one nation. That thing is very much like Okinawa.
I kind of do the similar action to the film, helping that prefecture people. On 24 May 2015 I joined protest activity such as human-chaining demonstration around Japan's Diet building in order to show solidarity with them.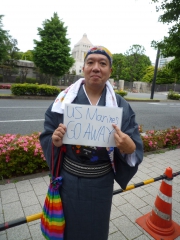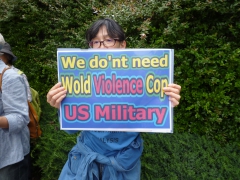 Last year I saw the rainbow on the construction area. It appeared from the sea. The construction project is reclaiming the beautiful coral sea. It was on the same day after I attended Okinawa's gay pride event.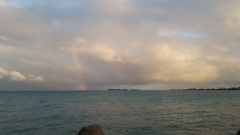 Well, it seems another oppressed ones got united helping each other for the better future.
Just my fantasy?
08 April 2015
Last Sunday, I went to Kanayama Shrine in Kawasaki city in Kanagawa Prefecture, neighboring prefecture to Tokyo. Over there held annual festival named Kanamara-Matsuri.
I saw very surprising scenes. The giant symbols of male genitals are exhibited.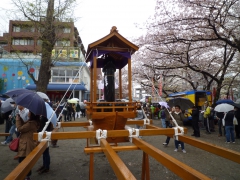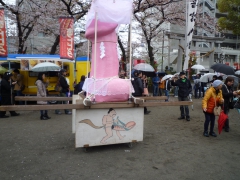 They are the things worshiped for centuries at the shrine.
The festival was to pray for the health of people, especially to avoid sexual transmitted diseases.
The symbols were to be carried outside the shrine and to be exhibited on streets in the town.
They are portable shrine, so called Mikoshi.
Not just Mikoshi, there sold candies whose shapes were like the genitals of female and male.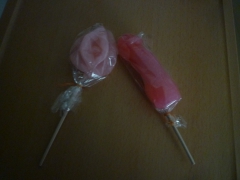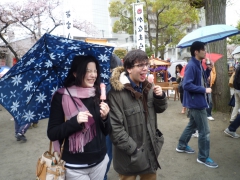 One third of spectators were foreigners although this place is not known as major tourist spot but it seems known as Japan's unique culture.
It is very unique taking Japan's conservatism into account. Japan is also very modernized and industrial state.
Then why such festival is held.
It is because that was Japan's very original culture before modernization in late 19th century, before westerners came to educate us to be "civilised." That was westerners who changed our attitude towards sex. Since then, sex has been treated as an indecent matter that we should avoid talking about.
Now westerners are campaigning free sex and praising Japan's native culture that has been forgotten.
The priest of the shrine claimed that significance of the festival is to know that you are living life. If not, one could never come to the festival.
It is not indecent thing but rather we should worship as humans.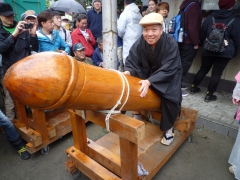 31 March 2015
I recently bought and read a very interesting book on Germans living in Japan during 1930's and 40's, when Japan was in war with China and the USA. The Japanese title is "Senjikano-Doitsujintachi." It illustrates very unique history between Japan and Deutchland.
There were estimated over 3000 Germans living in Japan in that period. That is as much as number of Germans living in Japan now.
During that time Japan was allied with Nazi-Germany. But the German law did not apply. So Jews could live safely in Japan. Not only Jews but exiles did like a former judge who convicted Hitler in 1920's. Other European nations were too close to Nazi-Germany so anti-Nazi people escaped to Japan crossing the Russia.
For them, Japan was like a paradise. Japanese respect Germans because Germany was considered a civilized nation that Japan should model after and was indeed the most important ally for Japan.
Nazi influence was already there. Nazis established a branch in Japan, early 1930's. However, in order to arrest anti-Nazi German citizen, they needed to ask Japanese police to do that. The Japanese at that time did not get along with Nazi ideology, expecially anti-Jew stuff.
Japan and Nazi-Germany made a Cultural agreement that bans using Jew-related materials in education. But even in 1940's Heinrich Heine poems were taught in Japanese colleges. No Japanese could not see the difference between Jews and non-Jews.
The wife of Foreign minister of Japan at that time was Jewish German. Japan was reluctant to corporate with Nazis in terms of oppression on Jews.
Not only Jews and anti-Nazi Germans but Germans who had lived in Indonesia which was former Dutch colony came to Japan after they were freed by the Japanese military. Germans in Indonesia were put in internment camp after Germany invaded Netherland. They were welcomed as citizens in an allied nation.
Japanese praised Hitler as a good and powerful allied nation's leader but did not care about details of Nazis policies. The Japanese government at that time corporated with Germany mainly to counter the U.S.
But after Gemany surrendered in May 1945. Their situation was drastically changed. Japanese thought Germany betrayed them. Some were arrested as enemy spies.
I am thinking of writing a fiction novel based on these facts.
Where the story took place is in Karuizawa, Nagano prefecture, highland resort for high-society in 1945. But there were Germans staying to escape from air-raid in ciities.
Some were Jew or anti-Nazi and some are nazi-sympathizers or nazi-officials dispatched from their homeland. They got along with Japanese who welcomed them feeling complicated. Some were very thankful but at the same time not very happy because Japan was allied with Nazis and some thought Japanese were second-class people not being white.
I guess it is going to be very interesting. In order to write a good story, I am now learning Heine's poems. It may be a main topic of the story.