31 March 2015
I recently bought and read a very interesting book on Germans living in Japan during 1930's and 40's, when Japan was in war with China and the USA. The Japanese title is "Senjikano-Doitsujintachi." It illustrates very unique history between Japan and Deutchland.
There were estimated over 3000 Germans living in Japan in that period. That is as much as number of Germans living in Japan now.
During that time Japan was allied with Nazi-Germany. But the German law did not apply. So Jews could live safely in Japan. Not only Jews but exiles did like a former judge who convicted Hitler in 1920's. Other European nations were too close to Nazi-Germany so anti-Nazi people escaped to Japan crossing the Russia.
For them, Japan was like a paradise. Japanese respect Germans because Germany was considered a civilized nation that Japan should model after and was indeed the most important ally for Japan.
Nazi influence was already there. Nazis established a branch in Japan, early 1930's. However, in order to arrest anti-Nazi German citizen, they needed to ask Japanese police to do that. The Japanese at that time did not get along with Nazi ideology, expecially anti-Jew stuff.
Japan and Nazi-Germany made a Cultural agreement that bans using Jew-related materials in education. But even in 1940's Heinrich Heine poems were taught in Japanese colleges. No Japanese could not see the difference between Jews and non-Jews.
The wife of Foreign minister of Japan at that time was Jewish German. Japan was reluctant to corporate with Nazis in terms of oppression on Jews.
Not only Jews and anti-Nazi Germans but Germans who had lived in Indonesia which was former Dutch colony came to Japan after they were freed by the Japanese military. Germans in Indonesia were put in internment camp after Germany invaded Netherland. They were welcomed as citizens in an allied nation.
Japanese praised Hitler as a good and powerful allied nation's leader but did not care about details of Nazis policies. The Japanese government at that time corporated with Germany mainly to counter the U.S.
But after Gemany surrendered in May 1945. Their situation was drastically changed. Japanese thought Germany betrayed them. Some were arrested as enemy spies.
I am thinking of writing a fiction novel based on these facts.
Where the story took place is in Karuizawa, Nagano prefecture, highland resort for high-society in 1945. But there were Germans staying to escape from air-raid in ciities.
Some were Jew or anti-Nazi and some are nazi-sympathizers or nazi-officials dispatched from their homeland. They got along with Japanese who welcomed them feeling complicated. Some were very thankful but at the same time not very happy because Japan was allied with Nazis and some thought Japanese were second-class people not being white.
I guess it is going to be very interesting. In order to write a good story, I am now learning Heine's poems. It may be a main topic of the story.
15 February 2015
A story of a man whose father was shot in front of him on the cotton field by a white farmer and later became a house servant of the farmer and then hotel servant and finally was hired by the White House.
It is a fiction but it is based on a real batler who served the White House from 1950's Eisenhower until Reagan's administration.
It was like Black history of America.
How Black people struggled with the oppression and finally be honoured by the society.
Maybe Obama should have experienced similar things.
In order to change the society, people need to be not only brave but also clever. You cannot just fightback. You might have to get along with majority of the society regardless of their unfair treament of you.
It is a fiction but surprising thing was even in the White House, Afro-Americans were discriminated in salary and positions. It was fixed after Reagan's administration 1980's.
I like that part of America's history, not interested in founding fathers.
It is common with current event happening in Okinawa, Japan.
Because of that, America is no longer my favourite nation.
I can only feel mutuality with the oppressed Afro-Americans who lived in the past.
31 October 2014
A biographic story of Grace Kelly who left Hollywood when she was a top star and got married to the Monaco Prince.
I remember TV documentary on her life a long time ago. It was her family's philosophy that leaving the business when he or she is on the top ranking. Not letting anyone see you downgrading.
Indeed, she did.
The film was criticized for historical inaccuracies, so it was noted as fiction based on facts.
But I enjoyed the film because Nicole Kidman who played Grace Kelly was really beautiful.
I first learnt that Monaco's official language was French. The kingdom always had struggles with its fearful neighbor, France.
Maybe getting Grace Kelly married to the royal family was one of biggest strategy to secure their kingdom's soverignty.
Monaco never had military but such a big weapon, the world's most famous celebrity so that no one wanted to destroy the kingdom including her.
A country image is a big thing. Japan has monarchy, emperor Akihito and his family.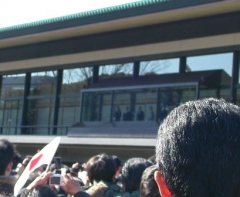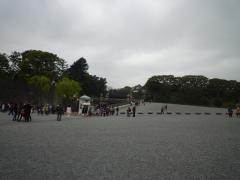 Their residence is size of Monaco. One family occupied huge area in the capital but they contribute a lot to the nation. Former emperor, late Hirohito was about to be accused of war criminal but the U.S. force did not indite him because of fear of rebellion from his people that might make occupation difficult.
The film made me think about Monaco whenever I go to the imperial palace in my city. Actually I am a guide who escorts foreign travelors to the imperial palace. If you want to know more about the tour, please visit this site.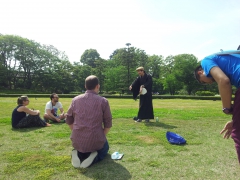 29 September 2014
I could never understand why a girl like her has become so popular internationally.
Her name is Kyary Pamyu Pamyu.
She is like Lady Gaga of Japan. Her sales points are very unique custumes.
But her singing is not music, just high tone voices.
Last Sunday I went to Tokyo Metropolitan Gymnasium. There was a festival of concerts, fashion shows and exhibitions. Those were awesome but the biggest event was her concert in the final session.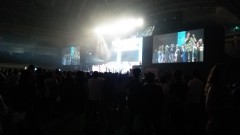 What surprised me was there were many audience from abroad including Europeans. Some wore custumes like she wore.
Can they understand and enjoy her singing?
It seems they did.
I can never follow what they are doing.
What is going on in this world? I felt like Alice in the wonderland.