27 September 2008
After all the criticism and protests, the ship came, most dangerous ship in the world, CVN73 George Washington arrived in Yokosuka port on 25 of September, 2008. Yokosuka is 20 miles away from Japan's capital, Tokyo.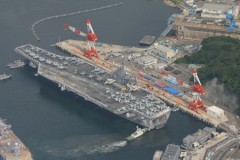 They've got a fire incident during the navigation on the sea near South America and the deployment was delayed for more than a month for the repairment. It contains nuclear reactor and is navigated by nuclear power.
Citiznes in Tokyo capital region including me have to live with fear of nuclear accident like Chernobyl from now on.
Why is it deployed in Japan? To counter the threat of Chinese navy.
What? Isn't China No.1 owner of U.S. Treasury bonds? They buy Boeing airplanes, Motorolla cellphones and other U.S. goods. They buy more than Japan does.
The U.S. navy commander said the navy is ready to help China build new aircraft carrier.
Are we protected from China by the country which is financially supported by China, deals big business with China and sell weapons to China?
This is just stupid. Well, after all, this is Japanese government's fault. Only if they could oppose the deployment, the U.S. wouldn't want to do that. They use bases in Japan as cheaper facilities because we are providing aid to them. Once Japanese government stops funding them, they would not want to use the bases.
Well, what we have to do is continue protesting and letting the ship go back home as soon as possible. Even mayor of Yokosuka said "I welcome the crews but not the ship."
13 September 2008
Last Friday, on the day U.S. Navy announced the entry of Nuclear aircraft carrier in Yokosuka city, George Washington to be 25 of September. The kind of granade weapon were fired from mountain near the U.S. Navy Base in Yokosuka. The shots could not reach the base, but it was appearent they were aimed towards the base. Yokosuka is located near Japan's capital Tokyo. The most dense region in the world with the population of 30 million.
Citizens have been protesting the deployment because of the danger of nuclear reactor inside the ship. The ship itself caught the fire on the sea and the deployment was delayed for more than a month. It was supposed to be deployed on 19 of August. The fear grew by the fire accident. Not only that it was found U.S. navy submarine, Houston leaked radioaction into the sea for 2 years.
Such incident was easily predicted. Americans might call it "Terror Attack." For us, it is not. It is a resistance attack like what happened in Occupied France by Nazi-Germany, Vietnam in 1960's to 70's and Baghdad currently.
It is illegal, and the violent act should not be encouraged but those who do not welcome the ship and the U.S. military presence at all, are reluctant to condemn such act.
However, I am doing another type of resistance. Boycotting American goods (except things necessary for my life and movies, music, books and art works.) That way is more peaceful. I also demand Japanese goverment not to provide aid to the U.S. military bases and eventually get rid of them from Japan. I am no longer American friend. The below is what I posted You Tube for the PR of protest. This was before the arrival schedule change was announced. So the scheduled arrival date indicated in the clip is August 19, which was delayed to September 25. I am planning to make new version of it with music and more details after the dangerous ship arrived in our capital region.
11 September 2008
Today marked 7th anniversary of 911 attack on WTC and Pentagon.
The U.S. army attacked Afghan and Iraq without mercy to civilians. The purpose was to find Bin-laden.
But where is he now? In Guantanamo?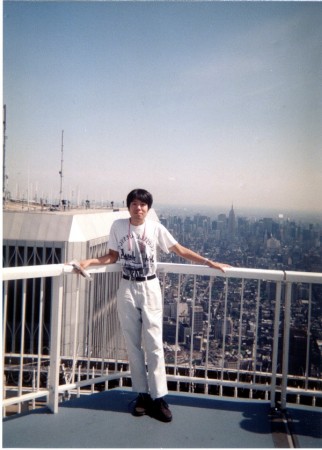 Things are getting worse since 911. The photo was taken in July, 1993 just after first terrorist attack took place in WTC. As you see, I was wearing United Nations T shirt. I don' t have that shirt any more.
I think 911 opened the door to awful 21st century.
28 August 2008
That is the title of a book written by Mika Tsutsumi, who wrote this book, which I wrote the review of.
She has lived in New York as college student and office worker but since she experienced 911 turmoil, she started to learn what went wrong in the U.S.
In this book, she paid attention to poverty issue. Some of the things mentioned overlap in her previous book.
The book became best-selling non-fiction book in Japan. It was sold at the price of 700 yen (US$7).
At first she talked about subprime loan crisis. The real estate business took mean advantage of poor people who have dreams of having their own houses, which they could never afford by their cheap salaries. They ended up losing houses and dreams and then being poorer than before.
50 million people don't have medical insurance. 60 million live by the wage under $7 per day. 35 million people are in hunger. That was a result of free economy. The poor gets poorer, the rich gets richer.
Although so many are in hunger, but at the same time so many of them are suffering from obesity. The poverty and the obesity are linked. Poor people cannot afford healthy food. They had to buy cheap junk food which is filled with oil and contain less nutrition. They get fat but lack nutrition that result in sickness but they have no medical insurance to cure. The medical insurance issue she mentioned is similar to Micheal Moore's "Sicko."
Americans favour free competition, smaller government, and privatization. Hurricane Katrina was a catastrophie caused by privatization. FEMA was privatized and disaster prevention budget was cut-off.
In the last chapter, she described working poor became new type of military drafting system. A truck driver was offered high-paying job in Iraq by a military contractor. After months of labor in Iraq, he got leukemia because he drunk highly radioactive water. He had no insurance coverage to take care of his illness. Even though he got a big money for that job, he had to use all of it to cure the illness and ended up being poorer and getting heavy illness.
The poor people had no choice but to work for the military which offers only very hard and dangerous tasks.
That is the true figure of America, now. The popularity of Obama seems to be supported by those who experience such hard situations.
Today the U.S. marked very historical moment, Afro-American was nominated for presidential candidate of major political party. Some might hope because he is Black, he should know how the oppressed feel.
Can Ob(s)ama-Bi(nla)den change things better for the U.S. rather than fighting against terrorists outside their country? No more war and poverty, please!