31 August 2014
The film was released last February. Recently DVD was released so I rented and watched that.
Animated film of famous Andersen story "The Snow Queen." The queen who had magical power which can freeze anything around her and cover her country with snow and then escaped to the top of a mountain. Her sister tried to save her.
It was as good as expected. Great thing is music because it is a musical film. "Let it go" was really great and aspiring.
However, I personally do not like such film. It is just an ordinary story of fairly tale except the prince being evil. I do not like computer graphic animation. It is OK to watch it on TV screen but not in theatre.
Computer graphic animation is very shallow image. Not very substantial.
Furthermore, this film just made me sure that American culture is after all, plastic replicas of European ones.
When we image American scenes of towns, people. Typical ones are very replicas of European ones. Not exactly Europeans but looks newer, modern and cleaner. But replicas are replicas.
Just plastic things with no souls.
When I visited European countries such as England, France, Switzerland and Germany from the U.S. during my college study years in US, 1990's. I felt that very strongly by comparing the two.
Maybe that is good things about America. Not being bound by tradition, and easy to join.
I really like such things in my younger days but not any more, I am over 40.
I want more substantial and traditional things in life.
In fact, America seems not giving good influence on our country like US military bases and global free market economy policies. We should make a distance from the U.S. Not too much being brainwashed by American things.
I do not enjoy replicas any longer but more substantial, real things.
Not easy to find that but I will find ones in order to make my life better.
23 January 2014
Last Monday, US Ambassadar to Japan, Caroline B. Kennedy wrote the below comment on her twitter page.
"Deeply concerned by inhumaneness of drive hunt dolphin killing. USG opposes drive hunt fisheries."
I guess she was impressed by the documentary film "The Cove" which describes brutality of dolphin hunting in Taiji town in Mie Prefecture.
Whether her remark is right or wrong, it is double standard. So I replied to her as below.
"Double standard! Saving dolphins in Taiji and killing dugongs for new Marine base (construction) in Okinawa at the same time."
If you want to know why I wrote that. Read the posts with Okinawa tag on this blog or the below newspaper article.
We are sick of America's hypocrisy.
03 January 2014
Year of 2014 started.
On one of new year's days I was invited to the dinner at Tokyo's most expensive French cuisine restaurant, LA TOUR D'ARGENT. It is located in The Hotel New Otani Tokyo, one of Japan's high class hotel chain.
The below photo is me in kimono at the waiting room of the restaurant. Only waiting room is as big as one ordinary restaurant. I was allowed to take a photo of me within waiting room area.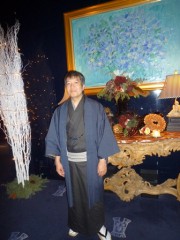 As you see the interior is georgeous. The dining room was georgeous as well. Mirror ceiling and chandeliers, candles. Tens of garsons in black uniform walking around to serve the same number of tables. That reminds me of the film "The Great Gatsby."
I had champagne, wine, and full course of very delicous meals. The speciality of the course was roast canard. Each guest was given a card of canard (duckling) he/she eats with its number.
A sommelier selected a wine that fits the course menu. He said one of most expensive wine the restaurant has is Romane Conti, which one bottle costs 2500000 yen, 25 thousands US $ or Euro. Of course it was not what our group could afford. So I chose half bottle of wine which costed around 19000 yen.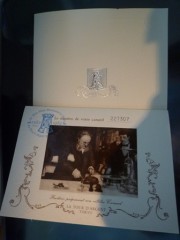 I really enjoyed that. But at the same time I had to feel guilty about it. The dinner cost a lot. That one dinner can equal a few people's monthly food expense. In the world half of the population are starving. This luxurious dinner should cost equivalentl to annual income of some portion of the people in this world.
Moreover, the bottle of Romane Conti costs construction of a school that hundreds of children can attend in third world nations.
Not just in third world but even in first world like Japan or America, such dinner is far exceeds the living standard of ordinary people. Last year I went to Okinawa. I visited the US Marine facilities. At the entrance of US Marine training camp, I saw the below sign that says "Hard training makes hard marine."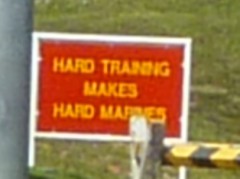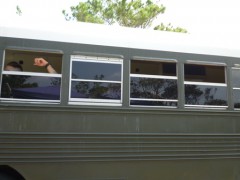 I saw the bus of trainees entering the gate. I heard those young people come from very poor family that could not afford college education for their children so they had no choice but to join the marine, what is called, Poverty Draft.
Meanwhile, very rich people like who can afford very expensive dinner like LA TOUR D'ARGENT exploits such young people to grow their wealth provoking wars all over the world. Kind of plutonomy. That is the social structure of today's world. I wrote a novel on this theme.
The bus transporting capitalism slaves to the military base reminds of one very historical place in Poland which I visited 6 years ago. The similar sign was posted at the gate of the facility.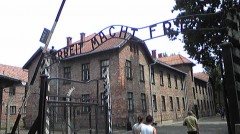 ARBEIT MACHT FREI. (Labour makes you free.)
18:55 Posted in Culture, France, Politics, Society, Tokyo Life, USA issues | Permalink | Comments (0) | Tags: military, poverty, class gap, economy, kimono, okinawa
30 October 2013
I recently rent DVD series of TV show "Covert Affairs." The story is about a female CIA agent who is multi-lingual and her associates.
The show reminded me of 1970's most popular TV show, Charlie's Angels. But the main character, Annie Walker is not as sexy as the angels. It is more of how spies do covert activities. It is like female 007.
Her mission is not just steal classified information or investigate what is happening but recruit someone on target side to be information providers. Like in some episodes, Annie approached embassy worker of Syria to get access key of the embassy. She also convinced secretary of prime minister of Yemen to be that. It is like making someone another spy for CIA.
I am not sure how realistic the stories are. But recently news that cell-phone of German Chancellor, Merkel was tapped came out. US spends huge budget on covert activities. They do actually things like that to get what they want. That is most important matter in diplomacy.
Speaking of spies, there were people called Ninja in feudal Japan. Like Annie Walker and James Bond, they had extra-ordinary physical strength and spying ability. They were trained to be Ninja from their childhood. They were hired by regional lords to spy and assassin opponents.
Covert capability is like secret military for nations. Such spy matters should go on as long as human being exists. That is why such shows are interesting.