21 August 2007
The film was shot in late 1940's Japan which was occcupied by U.S. led allied forces.

Humphrey Bogart was starred in this film as Joe, who came back to Japan after the war. Before the war Joe managed a club in Ginza, which is Tokyo's most famous shopping and entertainment district like 5th Avenue in NY.

The story was like post-war version of "Casablanca." The plot is very similar. Joe re-encountered his past lover in Tokyo, but she was already married to another man. First he was jealous of her but later he tried to help her out.

I was really surprised. "Casablanca" was war propaganda movie against enemies like Germans. But this movie was kind of friendship movie with Japan which was also the enemy during the war. It seems to reflect post-war diplomatic policy of U.S.

The description of Japan was not very strange even though it was filmed in such old days. Very precise, in fact. The streets, black markets, airport. Japanese characters portrayed in the film were very real. The film producers showed respect to our people. Bogart spoke some Japanese, not good accents but very accurate words.

In the last part, Joe said to his Japanese friend, "We are not enemies any more. Now we're helping you to stand up against old system."

Yes, indeed, we became democratic nation with the help of the U.S. and two countries became greatest friends.

Bogart was a great prophet. Thank you, Americans.
11 August 2007
I recently heard very, very surprising news that the U.S. navy has decided to station nuclear aircraft carrier, George Washington in Yokosuka city, which is 2 hour train ride from the capital of Japan, Tokyo. In fact it was agreed more than 3 years ago between the U.S. and Japanese governments.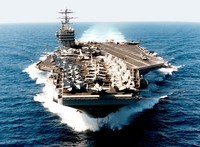 Outrageous and stupid! Japanese government allowed that happen. How ignorant they are!
We are paying so much money to the U.S. military. The government have to let them not to do what we hate.
Nuclear aircraft carrier is so dangerous. They've made some radioactive leaking accidents in the past.
The carrier will be stationed there permanently, we will have to live with the danger for half a year long every year.
If the worst thing happens in the Yokosuka, people living in the capital area would be required to evacuate, 30 million people have to leave! No way! Impossible! Millons of people would die after the accicent by cancers. It is like 3rd atomic bomb after Hiroshima and Nagasaki.
Local residents near Yokosuka navy base are suing the government not to construct pier to station the carrier. Since the carrier is US navy's property and its operation information is highly classified, we would never know how actually the inner nuclear reactor is operated nor intervene their operation. Even an accident happens, the U.S. government would not take any responsibility nor compensate for the damage because US-Japan Status of Force Agreement stated so.
It is time Japan rethinks the militaristic relationship with the U.S. We cannot get along with the U.S. navy's policy.
They made us help invade innocent Iraq.
We, ourselves have to realize the only military that can protect our country is ours. We have to amend the constitution so that we can have full-fledged military force so that we do not have to rely on the U.S. military any more.
Please read this article NUCLEAR CARRIER UNWELCOME on Japan Times. Yokusuka base is only 20 miles away from Japan's capital, Tokyo. This is just outrageous! U.S. government has to know this would just threaten relationship between the two countries. I became very anti-US person after I hear this news. A lot of us would be.
God damn America! Yankees, GO HOME!
02 July 2007
It has been a huge turmoil in Japanese politics. It was caused by Minister of Defense, Mr. Kyuma. In a speech he made at a University in Chiba Prefecture, he said "US dropping of atomic bombs helped Japan end the war and prevent the Soviet Union from entering in Japan, so we have to accept that."
After the criticism arose, he apologized and retracted the remark. But still the demand for his resignation is strong.
As one Japanese citizen, some point I agree with him, I do not want to blame the US for dropping atomic bombs for some reasons although these acts should never be justified. It was clearly attack on civilians. Huge number at one time.
In Hiroshima and Nagasaki in total, more than 200,000 people were killed. The Nuclear Era started by them.
But the war was in fact started by us, Japan, we started the war in China and then Japan had to face economic embargo by allied nations including the U.S. We've killed so many civilians in China and other Asian nations. After the economic sanctions was implemented, Japan attacked on Pearl Harbor.
We haven't done enough to compensate for the loss of the victims like "comfort women" who were forced to become sexual slaves for Japanese soldiers. This issue has been on debate in U.S. Congress lately. The resolution to demand Japanese government to apologize and ackknowlege this inhumane act.
Japan has not done enough to make up for the past aggression. In order to accuse U.S. for dropping atomic bombs, we, must have done what we have to do. We failed.
However, Mr. Kyuma, should have never made such remarks. That is the insult to the victims of the atomic bombs and considered justification of the use of nuclear weapons. Nuclear weapons should be all eliminated. No matter what cause the nation provoke the war, attacks on civilians should never be done.
21 February 2007
Congressman Mike Honda speaks on legistlation urging Japan to apologize for war-era sexual slavery.
There were once women called "Ianfu" meaning Comfort Women in Japanese. They were focibly taken to battlefield to be sex slaves for Japanese soldiers.
The congressman is trying to let our government make official apology to those women.
In fact, Japanese government did in 1993, but very grudgingly. The government at that time gave some speech of the apology and has made compensations to those women but by civil donation not by our tax.
The textbooks barely mentioned such history. The right wingers including some ruling party's politicians deny such women were forced to do so by the army and claim the women are all liars and making accusation for money.
They are doing the same things on Nanking Massacre which Japanese army slaughtered hundreds of thousands of Chinese including POWs and civilians in Nanking, the capitol of China in 1937.
I am afraid that I do not want such legistlation pass in US Congress because this is something our country should have done a long time ago so that no other country would claim Japan has not done enough of such matters. Unfortunately, we failed. Germans has succeeded in this and recovered relationship with former enemies, France and Britain. It is illegal to deny hollocaust in public. If you say that there was no mass-murder of Jews in Germany, you are put into jail.
Well, but I do support Mr. Honda's action. He is Japanese American. I just guess if he is doing this because he does not want to be considered that he is too gentle to his anscestral country. This should come from his childhood memory of Internment Camp. I know the tales of Japanese American during the war between Japan and the US.
Japanese should reflect on the past whether it is comfortable or uncomfortable to look to the future and recover relationship with neighboring nations. Maybe the legistlation would give a great chance for this.