08 April 2008
The American aircraft carrier USS George Washington, which is scheduled to enter and set anchor in Yokosuka base near Tokyo this year in August, uses highly concentrated uranium fuel and is, in a manner of speaking, "a nuclear reactor floating on the sea". A nuclear power plant generates electricity by creating steam which turns turbines, whereas a nuclear aircraft carrier uses this power to navigate.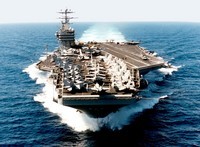 While the aircraft carrier is anchored the nuclear reactor is not generating power; during that time however the nuclear reactor must be continuously cooled and if an accident or a disaster such as an earthquake were to render the cooling process impossible, a catastrophe caused by the core melting down is capable of occurring. In such a case, the damage caused would cover the entire national capital region. In addition to a large number of people losing their lives, the region would also likely be transformed into an area similar to Chernobyl , where people will not be able to live for centuries to come. For the people living in the capital region, this cannot be allowed.
The American Navy insists that the aircraft carrier is "safe", in spite of the fact it won't release information regarding the structure of the nuclear reactor due to military secrecy. This kind of talk makes complete fools of the Japanese people.
While I was thinking about this, I was casually watching an American movie one day when something occurred to me. The movie was a good one, but I couldn't help getting irritated by the fact that the country where it was produced was trying to bring a "third atomic bomb" into our country's capital city. Probably because of this, I stopped enjoying the movie and turned it off halfway through. In addition, I can't help but detest all things that project the image of America . I once studied in the United States , but even so, when I think of the "American military superpower" insensitively bringing in a nuclear aircraft carrier for its own national interests, I just become disgusted. Of course, the Japanese government who "nobly" accepted this situation is also cowardly and irritating.
I thought about whether there was anything I could do. In Yokosuka signatures are being collected to hold a local referendum. In addition, a lawsuit has been filed requesting the suspension of the dredging work which is being done in the harbor in order for the aircraft carrier to anchor. However, these measures are surely not suitable to overcome what has already been decided between the two countries' respective governments. However I think there is something that can be done at an individual level, and moreover, which involves a greater number of people: the act of not buying American goods.
Naturally our everyday lives are filled with American goods including computer softwares I am using, yet we must try as hard as we can to not buy them. I have immediately stopped watching American movies. I am going to withdraw my funds from an American capital bank (Shinsei bank owned by Ripplewood), cancel my insurance (Aflac), naturally I'm going to stop eating at fast food restaurants (McDonald's) and family restaurants (Denny's), stop going to amusement parks (Disney Land) and do as much as possible from what's available.
There are some companies who simply borrow American copyrights while conducting their business through Japanese capital; however since they invoke the image of America , they must also become subjects of the boycott. By making this kind of proposal, there will likely be a lot of criticism stating that political and military affairs are being confused with commerce. However if citizens do not display their will through these kinds of means, then there is little chance that they will be able to alter this urgent situation. This is the same as the boycott movement that occurred on Japanese goods amongst Americans who were opposed to the Japanese invasion of China in the lead-up to the Second World War.
As is well known, individuals are free to decide which goods to buy and which goods not to buy. From America's point of view, economic relations with Japan are more significant than military ones. You could even say that America is quite reliant on good economic relations with Japan . In addition, the Japanese government is paying expenses for the American troops stationed in Japan in what it designates an "omoiyari yosan (Simpathy budget)", or which the U.S. calls "host nation support".
I would also like to suggest the following. Since the anxiety caused by the upcoming permanent deployment of the nuclear aircraft carrier is going to lead to emotional distress and pain, citizens should sue the American navy and its affiliates. It's not a matter of winning the lawsuit or not. This kind of action would be done to show that citizens are making a stand. If it is recognized that a large number of citizens approve of the boycott on American goods, then they will be forced to deal with the issue. A boycott circle should be symbolically created. If the government doesn't work, individual citizens will likely be able to provide in its stead.
The Cold War is already over, and I do not believe the presence of American troops has the same significance on security that it once did. Recently, troops are only being used for the American militaristic strategy including invasion of Iraq . There is considerable room for negotiation. We individuals, as well as the government, must work on cooling off the "Simpathy budget".
Nevertheless, many Japanese have remained uninterested even though the thought of their country's capital city facing the threat of radioactivity should leave them restless. A military ally which is supposed to protect Japan could cause it massive destruction. It's truly humiliating. In reality, it's being said that the American government also fears the problem of the Japanese people's sentiments towards the upcoming deployment of the nuclear aircraft carrier. It's also being said that the names given to other aircraft carriers could bring back images of the atomic bomb, which is why the USS "George Washington" was chosen.
While I was studying in the United States however, I was told the following by a Afro-American: "Washington was a hypocrite who was advocating liberty while at the same time owning slaves". This kind of view also exists. The USS George Washington, as well as the soon-to-be decommissioned standard warship USS Kitty Hawk have both borrowed the name of liberty while being used in a hypocritical aggressive war. Let's stop lending our land out with such ease to the United States . Isn't it time that we establish the trend of starting to take a greater responsibility for the defense of our own country? Before saying that the government is unreliable, it's time that individuals think of how their actions are able to change the principles of politics and diplomacy.
The above is translation of this Japanese article posted on Japan's most famous independent citizen media.
The below is related post. Please also read this.
Do not bring third atomic bomb to our capital.
P.S. I urge American people to boycott Toshiba products because the company received orders to build several nuclear power plants on the U.S. soil.
16 March 2008
It is been reported that Obama's long time inspirer, Pastor Rev. Jeremiah Wright made very controversial remarks in his Gospel speech. Obama denounced his remarks and he never knew the pastor did it until recently.
I can't find anything so controversial in his sermons.
He, himself is Afro-American, so there is no problem that he uses the word "Niger." He said America is founded on racist culture. I think he talked about slavery and masscre of Native Americans.
The most impressive to me, was he said "We bombed Hiroshima, we bombed Nagasaki, and we nuked far more than the thousands in New York and the Pentagon, and we never batted an eye," he said. "We have supported state terrorism against the Palestinians and Black South Africans, and now we are indignant. Because the stuff we have done overseas has now brought right back into our own front yards. America's chickens are coming home to roost."
This pastor is ex-marine. He knew what the war is like. He just criticized the U.S. foreign policy in his radical way, I think.
I don't think he meant to insult America.
For Japanese like us, Americans criticizing Hiroshima and Nagasaki were kind of impressive. Obama was spritually influenced by this pastor. Well, that sounds nice to us. Very humble attitude of Americans. He knows how the oppressed feel. That is why he is becoming popular among the impoverished layer of society including whites.
But I want to tell this pastor he should condemn not only the U.S. for dropping atomic bombs but also Japan who slaughtered many innocent Chinese and attacked on Pearl Harbor in the name of "justice." That is what I expressed in this post on this blog.
I understand why Mr. Obama had to denounce the pastor because today's America is no longer open-minded to radical leftist speech. This is sad thing to know. Isn't America free country any more? You can't criticize your government's policies because such acts are considered unpatriotical.
That is just like Nazi-Germany. I would be proud of a citizen of a country if the country is democratic and tolerates free speech including the things critical of itself.
Sometimes, by becoming anti of your nation, you will know better of your country and drive your country into right direction.
"God Damn America!" can change your country better after being tired of saying "God bless America."
29 February 2008
There have been some rape cases reported in Okinawa island, Japan's southernmost island and prefecutre this month. Actually rape incidents have occurred many times in Okinawa. In 1995 3 marine soldiers raped 12 year-old girl. The Okinawa islanders gathered in the park to protest the U.S. bases. This time they will do that, too. They have done the same things many times in the past.
There are more than 100 of U.S. base facilities in Japan. The biggest ones are in Okinawa. 3 quarters of total of U.S. military facility square footage in Japan is located in Okinawa island. Okinawa is a strategic point for the U.S. so they want to stay as long as they want. Great point for the U.S. invasion of other parts of the world such as Iraq.
The below is the photo I took from the plane over the island. Two big spots are Okinawa's U.S. bases. A runway on the left side is Futenma for marines, and the other one just under the clouds is Kadena for the air force.
Futenma's marine base is planned to be moved to the other place in Okinawa, Nago-shi, the famous place for Dugong's habitat. San Francisco court ordered the U.S. military not to review the development of that area because Dugongs are endangered species.
Okinawa had been U.S. territory between 1945 and 1972. Japanese government pays half of the military expense for the U.S. military resided in Japan. Because Okinawa has tens of thousands of marines who are kind of uneducated type of people and Okinawa had been occupied place for a long time after Japan was defeated by the U.S. Okinawas, especially women have become easy target for the American criminals.
Why does Japan need such bases? Simple. Japan is not allowed to have full-fledged military by its constitution.
The U.S. military is just wasting so much of our tax. They do not defend us, rather they are hurting our people, which they should protect. We have to know we should defend our nation by ourselves. We actually have our own military already. So we should amend the constitution to have a full-fledged military force so we do not have to rely on such violent and dangerous soldiers.
Of course, the U.S would continue to be our greatest ally but we have to make our foreign policy including militaristic strategy by ourselves. We should not help the U.S. invade the world and kill innocent people.
For Okinawa, not having military bases make this island safer and more attractive to tourists. Tourism is a major industry for Okinawa. See this photo. It is called Moon Beach. You can't find a beach as beautiful as this even in Hawaii or Florida.
26 August 2007
Last Wednesday, President Bush made a speech to the veterans in Kansas, Missouri.
His speech has been criticized by Japanese media because of his lack of knowledge about our history.
He talked about the doubts regarding democratization of Middle East nations.
His remarks about how our country developed to today's democratic society were, in fact not accurate.
Quote:
"
In the aftermath of Japan 's surrender, many thought it naive to help the Japanese transform themselves into a democracy. Then as now, the critics argued that some people were simply not fit for freedom.
Some said Japanese culture was inherently incompatible with democracy. Joseph Grew, a former United States ambassador to Japan who served as Harry Truman's Under Secretary of State, told the President flatly that -- and I quote -- "democracy in Japan would never work." He wasn't alone in that belief. A lot of Americans believed that -- and so did the Japanese -- a lot of Japanese believed the same thing: democracy simply wouldn't work. "
Well, even in pre-war era, we had the democracy movement so called "Taisho Democracy." Taisho is the era between 1911 and 1925. That was the most active era for deomocracy movement. In 1925, the parliament passed universal suffrage law that gives all men of 25 and older rights to vote regardless of their income level. It was done by Japanese democracy activists.
As for Japanese women, Bush said.
"For example, Japan 's Vice Prime Minister asserted that allowing Japanese women to vote would "retard the progress of Japanese politics."
It's interesting what General MacArthur wrote in his memoirs. He wrote, "There was much criticism of my support for the enfranchisement of women. Many Americans, as well as many other so-called experts, expressed the view that Japanese women were too steeped in the tradition of subservience to their husbands to act with any degree of political independence." That's what General MacArthur observed. In the end, Japanese women were given the vote; 39 women won parliamentary seats in Japan 's first free election. Today, Japan's minister of defense is a woman, and just last month, a record number of women were elected to Japan 's Upper House. Other critics argued that democracy -- (applause.) "
In pre-war era, there were women's suffragist activists in our country. They fought against the nation's male chauvinistic tradition. One of them, most famous one of all was Ms. Raicho Hiratsuka. She published women's liberation magazine "Seito (literary meaning is Bluestocking)" In the first issue of the magazine, she claimed "In the beginning women were suns that can shine themselves. Now we are like moons that shine only by others' lights. Let's get back our hidden suns."
In fact they made some achievement in pre-war era, they amended the law that barred women from attending political meetings in 1922. Then in 1930 they had lower parliament to pass the law that gives women's local voting rights but rejected by upper house which was dominated by peer members like House of Lords in England. Next year war in China started. The nation leaned towards militaristic mood.
Women's suffrage was approved after the WW 2, but such movement existed strongly even before. So that is why women's liberation became so successful in postwar era. Not just by the U.S. occupation.
Bush tried to compare Japan's democratization and cases in the Middle East. But two nations were foundamentally different. Our nation was pretty much homogeneous whereas Middle East is muti-national. Our country's democratization was easier because national unity was strong. In the places where the unity was so weak, "free" means disassociation, no base for authoritative entity. No trust in government. The government cannot manage economics and security. Just anarchism preveils. Anarchism is different from liberation or democratization. Just chaos, worse than tyranny.
Mr. Bush and Americans, please study more about history and the politics.